Day 1
Beijing Arrival (No Meal)
Upon your arrival at Beijing airport or train station, our driver will wait for you at the exit of arrival hall or train station by holding a sign with your name and transfer you to downtown hotel to check in. The rest of the day is free at your disposal.
Hotel: Beijing local 3* hotel
Day 2
Mutianyu Great Wall Group Tour (B)
Our guide and driver will pick up you from your downtown hotel lobby around 7am and then drive to the Mutianyu Great Wall. The tour guide will introduce you the history and travel notes of the Mutianyu Great Wall on the way.
You will arrive at the Mutianyu Great Wall at about 9:30, the site appraised as the World Best of Beijing Tourism in 1992. Before exploration to the Great Wall, you will have a short visit, about 30 mins, to Jade Carving Factory which belongs to the scenic spot. There you will visit some famous special Chinese Jade carving crafts which not only show the excellent skill on carving, but also contain Chinese traditional culture to the jade carving.
Afterwards, we will go directly to the foot of Mutianyu Great Wall, the most scenic part of Chinese Great Wall. It was built in the early Ming Dynasty in 1368. 90 percentage of the Mutianyu is covered by vegetation. If hiking is too much for you, cable car is available and optional. Enjoy 4 hours of free time at the Mutianyu Great Wall (We suggest you to prepare some food and water in advance as lunch. You can enjoy your food at the beacon tower while appreciating the beauty of the Mutianyu Great Wall around here, which will be an impressive experience).
The exploration of the Great Wall will end around 2pm and then you will be transferred back to your downtown hotel.
Hotel: Beijing local 3* hotel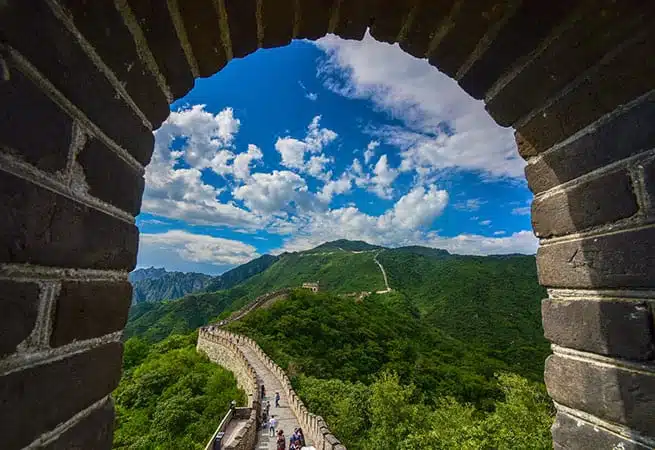 Day 3
One Day Beijing Downtown Highlights Group Tour (B+L)
At about 8:00 am, our guide and driver will greet you at your hotel. First we drive to Tiananmen Square, the heart and symbol of Beijing and the largest city square in the world. The spacious square has been used for many public celebrations, ceremonies, and demonstrations for over a hundred years. Next you will pay a visit to Forbidden City, one of the largest and most completely preserved palace complex built of wood. It functioned as the imperial palace in the Ming and Qing Dynasties (1368-1912). There were 24 emperors of the two dynasties once lived here.
After lunch, we will go to Temple of Heaven. Located at southern part of Beijing, it serviced as a complex of sacrificial building where emperors of Ming and Qing Dynasties prayed for peace and harvest. Today's last scenic site will be Summer Palace. It is located at the west skirt of Beijing and covers an area of 290 hectares. In the Qing Dynasty during the Qianlong Era, the Summer Palace was built by imitating the layout of the West Lake in Hangzhou. Now it is the largest and most completely preserved imperial garden in China. Today you will also stop by Chinese Herb Medicine Market to learn about traditional Chinese pharmacy and meet many kinds of herb medicine, and Pearl Market to appreciate some nice pearl artworks.
After the tour, you will be escorted back to hotel at about 5:00 pm.
Hotel: Beijing local 3* hotel
Day 4
Old Beijing & New Olympics One Day Group Tour (B+L)
After hotel pickup at about 08:00 am, you will be transferred together with the guide to visit traditional Hutong, where you will try to take Rick Shaw. Next go to Jingshan Park, opposite a street from the Forbidden City. In ancient time, Jingshan Park and its ancillary buildings not only served as a royal garden for visitors, but also had multiple functions such as learning shooting, offering sacrifices to ancestors, official learning, opera and regional activities, ect.
After a Chinese style lunch, we drive to Yonghe Palace (also called Lama Temple), the birthplace of the Emperor Qianlong in the Qing Dynasty. In the middle and late period of Qing dynasty, it was transformed into a Buddhist temple with the highest level throughout the country. When finishing visit here, we take you to Panda House in Beijing Zoo to see lovely Chinese treasures. Last, we will drive to and make a stop at Bird's Nest and Water Cube to pay an outer visit and take some pictures. Visitors can stay around 50 minutes to enjoy the outer look of the buildings in which the 2008 Olympics was held. Today we will also pay a visit to Silk Market to learn about Chinese silk culture and meet some nice silk products.
After the whole day tour, your will be transferred to the train station for the overnight train to Xian (Z19/20:40-08:31).
Hotel: Overnight Train
Day 5
Xian Arrival and Private Tour to Terracotta Warriors and Banpo Museum (L)
When your train arrives in Xian, our guide and driver will wait for you at the exit of the train station by holding a board with your name and directly transfer you to the Terracotta Warriors and Horses Museum. The museum was accidentally discovered in 1974 by a farmer who was digging wells and listed by UNESCO as a world cultural heritage site in 1987. It includes three pits, among which Pit 1 is the largest, as well as the exhibition hall of the chariots and horses.
After lunch, let's head to Banpo Museum. This New Stone Age site, dating from approximately 5,000 to 4,000 B.C. is one of the most complete examples of a Neolithic agricultural settlement in the world, and the largest ruins of the Neolithic Age in China discovered by now. Your tour will conclude with dropping off at your Xian downtown hotel.
Hotel: Xian local 3* hotel
Day 6
Xian Private Tour and Departure to Shanghai (B+L)
Today's tour will start at the lobby of your hotel where you will meet your guide and driver. The first stop is Big Wild Goose Pagoda, a landmark building in Xian, which was initially built to preserve the Buddhist sutras and statues brought back from ancient India by Monk Xuanzang in Tang Dynasty. You will listen to its interesting stories from your knowledgeable guide. Then you will move on to visit the Ancient City Wall, a military defensive system in old times. You can optionally ride a bike on the top of city wall and enjoy the amazing view of the entire area inside the City Wall. The last stop is the famous Muslim Street, which is a paradise for food lovers where you will find all kinds of delicious local snacks such as Biang Biang Noodle, Roujiamo (Chinese Hamburger), and Yangrou Paomo (Mutton and Bread Pieces in Soup).
After lunch, you will head to the Xian North Railway Station for the train to Shanghai (G1938/15:13-21:46 or similar one). Upon your arrival in Shanghai, our driver will greet you at the exit of the train station by holding a board with your name and transfer you to your hotel.
Hotel: Shanghai local 3* hotel
Day 7
Shanghai Zhujiajiao Half Day Group Tour (B)
You'll be free to relax in the morning before your Zhujiajiao Water Town in the afternoon. Meet your guide and driver in your hotel lobby at around 2:00 pm and drive to the ancient Zhujiajiao Water Town. You will stroll along the old-time town while listening to the guide's introduction about the its history. The town could be dated back to even 1700 years ago, as early as the time of Three Kingdoms. In the Song and Yuan Dynasties, the village grew into a town and got the name "zhujiacun village". The appearance of the town we see today was left from the Ming Dynasty. Nowadays the ancient town is best known for its bridges, old streets, and gardens built during the Ming and Qing Dynasties. The highlight things to see here are: Fangsheng Bridge, Baoguo Temple, Town God's Temple, and Zhuxi Garden. Capture snapshots of charming alleyways and ancient stone houses. You can also take the optional boat cruise here if you are interested in it.
After the tour ends, we will transfer you back to your downtown hotel.
Hotel: Shanghai local 3* hotel
Day 8
Shanghai Best Day Group Tour (B+L)
Our guide and driver will pick you up from your hotel in the early morning after the breakfast and transfer you to Jade Buddha Temple. This more than 100-year-old temple was built to keep two jade Buddha statues brought back from Burma by a monk named Huigen. Then you will pay a short visit to a Fresh Water Pearl Gallery to appreciate some fine pearl artworks. Afterwards, you will stroll on People Square to have a glimpse of the daily life of the locals. The square now is most famous for its match-making corner where parents try to seek partners for their children. Next, you will head to Shanghai Museum which houses millions of collections and especially features bronze wares, porcelain works, paintings and calligraphy works.
After lunch, you will move on to Yuyuan Garden. It is a famous classical garden which was originally built by the owner as a place for his parents to enjoy a tranquil and happy time in their old age. Then you will wander around Shanghai Old Street which combines sightseeing, shopping, entertainment and cultural exhibition. The next stop is the Bund. You will admire buildings of various styles, enjoy the beautiful Huangpu River, and listen to your guide explaining its history. After a leisure walk at the Bund, you will visit a Silk Factory to see how the silk is processed. Then you will visit former French Concession, a perfect place to learn the history of Shanghai from 1849 to 1943. The last stop of today is Xin Tian Di, a walking street converted based on the old Shikumen building district, where you can find nice bars, cafes and square. After all the activities, the guide and driver will escort you back to your hotel for a good rest.
Hotel: Shanghai local 3* hotel
Day 9
Shanghai Departure (B)
You will say farewell to Shanghai today. Our driver will pick you up from your hotel and transfer you to the airport or train station for your departure flight or train.