Are There Any Other Grottoes in Gansu Province Besides Mogao Grottoes?
Gansu Province is also a destination along ancient Silk Road greatly loved by the travelers who are interested in Chinese history and culture. Among the plenty of cultural relics and historical sites, the most famous one certainly is Mogao Grottoes which is regarded as the world's treasure house of grotto art. Actually, there are many other precious grottoes which have long been in the shadow of Mogao Grottoes but are also well worth a visit. Here we list 8 of them for your reference.
Binglingsi Grottoes
Binglingsi Grottoes is located on the western cliff of Dasigou Valley, about 40 kilometers southwest to Yongjing County of Linxia Hui Autonomous Prefecture. The grottoes were first dug in the early years of the Western Jin Dynasty (around the 3rd century A.D.). Its name "bingling" means "thousands of Buddhas" and "a holy land for 100,000 Maitreya Buddhas" in Tibetan language. Now there are 183 caves with a total of 694 stone statues, 82 clay statues, and about 900 square meters of murals.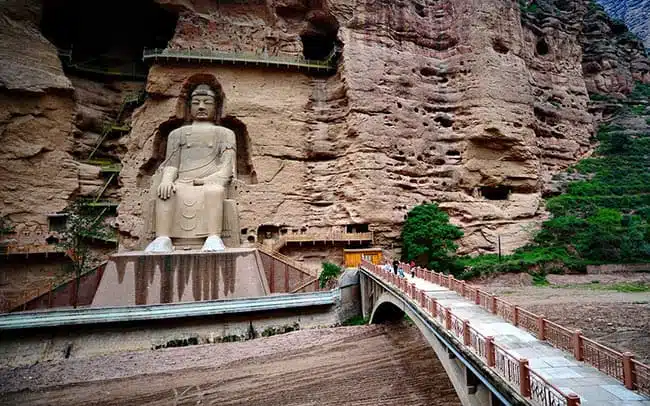 Northern Cave Temple
About 25 kilometers away from downtown Qingyang, Northern Cave Temple is sitting at the foot of Fuzhong Mountain and stretching for 3 kilometers from north to south. It is one of the four major grottoes in Gansu Province with 307 large and small caves and 2,126 stone Buddha statues.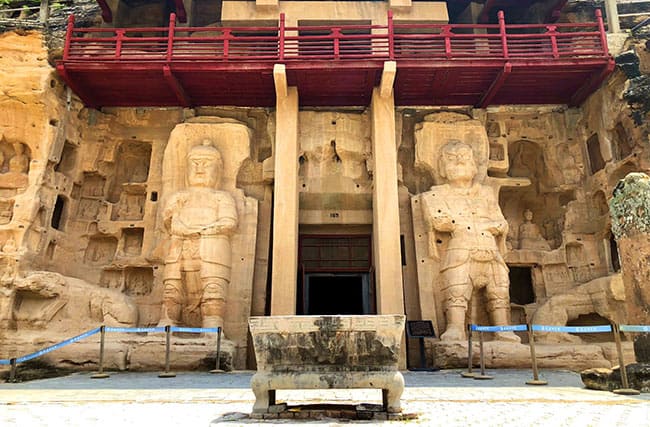 Yulin Grottoes
Located 70 kilometers to the south of Guazhou County, Yulin Grottoes was carved into the eastern and western vertical cliffs of the Yulin River Valley, and it was named after the elm trees on the banks. It is called the sister of Mogao Grottoes and is a significant part of Dunhuang grotto art. Its exquisite murals have something to do with Mogao Grottoes. You can see from the contents and style of the murals.
Matisi Grottoes
Matisi Grottoes was arranged in Linsong Mountain, 80 kilometers southeast of the Sunan Yugu Autonomous County. As one of the important Buddhist caves in China, it is composed of Northern Temple, Southern Temple, Thousand Buddha Caves, Jinta Temple, and upper, middle, and lower Avalokitesvara Caves, situated a few kilometers away from each other. Because the cliff is of coarse red sandstone, not suitable for carving, most of the statues you see are clay statues.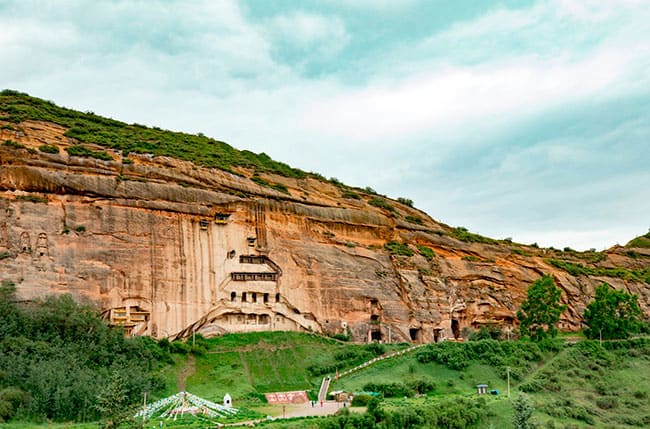 Wenshushan Grottoes
Wenshushan Grottoes was first excavated on the cliffs of Wenshushan Mountain in the Northern Liang Dynasty. It is the relic of early Buddhist culture in China. Its caves belong to the "Liangzhou Mode", and its murals share the characteristics of early cave murals in the Hexi region. It's said that the exquisite murals, rich in content, are comparable to those in Mogao Grottoes.
Maijishan Grottoes
Maijishan Mountain, 142 meters high, is a lone peak in Xiaolongshan Mountain. It got the name "maiji" (means haystack) for the reason that it rises straight from the ground in the shape of a big heap of hay. The grottoes were built between 384 — 417. Now there are 221 caves, 10,632 clay statues, and more than 1,300 square meters of murals. It is known to the world for its fine clay sculpture. Thus, it is often praised as the "Oriental Sculpture Gallery".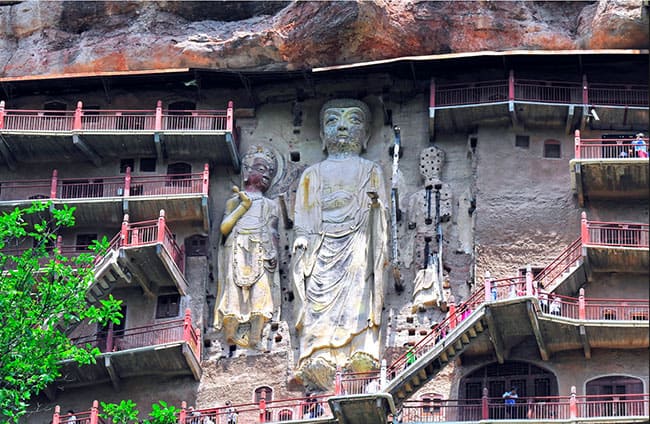 Tiantishan Grottoes
Tiantishan Grottoes, built in the reign of Juqu Mengxun of the Northern Liang Dynasty, is located on the bank of Huangyang River, about 60 kilometers to the south of Wuwei City. Reputed as the "Originator of Chinese grottoes", it once played an important role in the development of Chinese grotto art and even in the history of Chinese Buddhism. It also had a huge impact on Yungang Grottoes, Longmen Grottoes, and Mogao Grottoes.
Daxiangshan Grottoes
Daxiangshan Grottoes, about 3 kilometers away from the suburb of Gangu County, Tianshui City, can be traced back to the Northern Wei Dynasty. There is a big cave on the cliff, in which sits a huge stone Buddha, 23.3 meters in height and 9.5 meters wide across the shoulders. It's hard not to be impressed by it, so tall and majestic.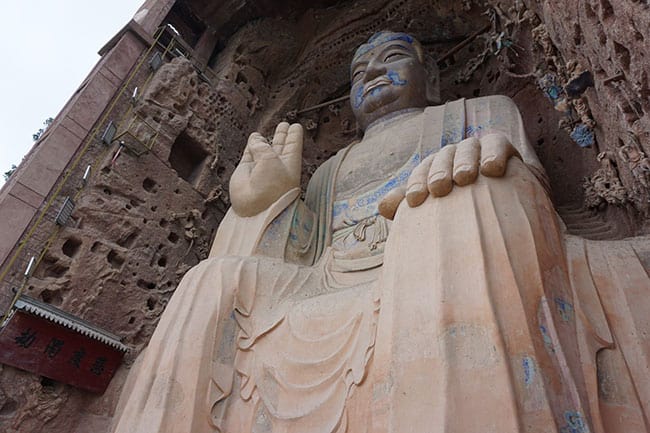 So if you have enough time in Gansu Province on your Silk Road tour, you can consider exploring some other worthy grottoes beyond the bucket list. There are a lot of treasures waiting for you. All in all, Gansu Province is a so stunning place full of mystery, solace and adventure that it has enthralled travelers at home and abroad since ancient times. If you are going to see the breathtaking beauty of Gansu Province some day and need any help, you can always turn to us at [email protected].