Attractions: Temple of Heaven (No meal)
Arriving in Beijing, our tour guide will hold a welcome sign with your name at the airport and transfer to your hotel in Beijing. Free for the rest of the day.
Accommodation: Hotel booked by your own
Attractions: Tiananmen Square, Forbidden City, Summer Palace, Kungfu Show at Red Theater (Lunch)
Our guide and driver will pick you up from hotel after breakfast. Then you will visit the famous Tiananmen Square and the Forbidden City. After a short sightseeing at Tiananmen Square, you will walk across the Golden Water Bridge and come to the splendid Forbidden City built 600 years ago, where you will be impressed by the gorgeous imperial palaces and vast storage of historical relics. After lunch, visit the Summer Palace, the best preserved and largest imperial gardens in China.
In the evening, you will be escorted to Red Theater to see a Kungfu Show. Afterwards escort back to your hotel.
Accommodation: Hotel booked by your own
Attractions: Dingling Tomb, Mutianyu Great Wall (Lunch)
At about 8:30am, our guide and driver will pick you at the hotel and begin the trip to the famous world's heritage, the Mutianyu Great Wall which enjoys the best scenery among all Great Wall sections in Beijing. If you want to reach the highest point, your guide will help you to buy the cable car tickets on spot. After lunch we will pay a visit to Dingling Tomb, the mausoleum of the 13th emperor of the Ming Dynasty (1368-1688).
Accommodation: Hotel booked by your own
Day 4
Beijing – Xian by G651 (06:58-12:50)
Attractions: Terracotta Warriors and Horses, Dumpling Dinner and Tang Dynasty Show (Lunch, Dinner)
In the early morning you will be transferred to train station to take the fast train departing before 7:00am to Xian. Arriving in Xian meet your local guide and driver and have lunch first. In the afternoon you will head to visit Terra-cotta Warriors and Horses. Known as "the Eighth Wonders of the World", the museum shows a surprisingly high level in sculpture, which is the most significant discover of the 20th century. The splendid scene and format will leave you an impressive memory.
This evening, you will participate one of the most welcomed night activities: Dumpling Dinner and Tang Dynasty Show. You will firstly have dumpling dinner in dinning hall, then move to performing hall to watch the Tang Dynasty Show. After the show ending at about 21:00 you will be escorted back to hotel.
Accommodation: Hotel booked by your own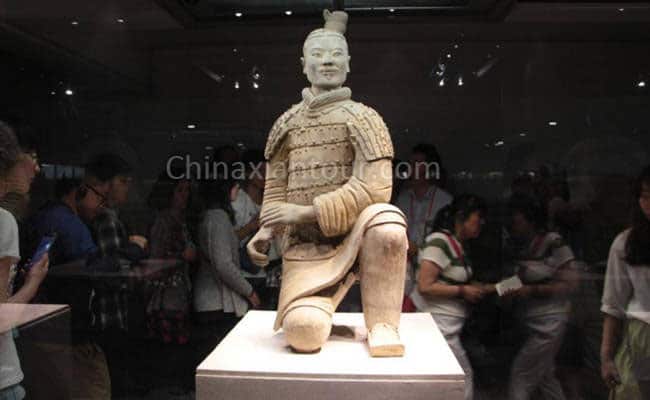 Attractions: Shaanxi History Museum, Big Wild Goose Pagoda, Xian City Wall, Muslim Quarter (lunch)
Our English-speaking guide and the driver will pick you up from your hotel in Xian and then transfer you to Shaanxi History Museum, which displays the longest history of China. It possesses a huge collection, ranking 6st among the whole museums of the nationwide. Afterwards go to visit Big Wild Goose Pagoda, a well preserved ancient building and a holy place for Buddhists. It was build to hold sutras and figurines of the Buddha brought to China from India by the Buddhist translator and traveler Xuanzang. After lunch, continue to visit Xian Ancient City Wall. It is the most completely preserved and the largest city wall in China. It was built for the military defense in the ancient time. Biking on City Wall is optional. At last you will take a walk in the best known food street in Xian – Muslim Quarter. Your stomach will be surprised by various food and snacks.
Accommodation: Hotel booked by your own
The driver will meet you in hotel lobby and transferred to train station or airport to depart to your next destination.