Attractions: City Wall, Yongxingfang Food Culture Square(No meal)
In the morning at 07:30, your driver in Chengdu will meet you in hotel lobby and transfer to Chengdu Dong Station for the train D1918 (09:00-12:25) to Xian. Please get off the train at Xian Bei Station. You local guide will greet you at exit by holding the welcome board with your name.
Then you will board the private car and after a 40-50 minutes driving, you will arrive at the Xian Ancient City Wall which is the most completely preserved and the largest city wall in China. It was built for the military defense in the ancient time. Since it is cycling the city, visitors can ride a bike around the city wall. They you will pay a visit to Yongxingfang Food Culture Square  which was opened in recent years with better sanitary condition. In the old Chinese architectural style food square you will meet many famous local food brands.
Accommodation: Hotel booked by you
Attractions: Terracotta Warriors and Horses, Banpo Museum, Muslim Quarter (Lunch)
Our tour guide will pick up you from your hotel at 08:30 and transfer eastward to Terracotta Warriors and Horses Museum. Terracotta Warriors and Horses is known as "the Eighth Wonders of the World" with a surprisingly high level in sculpture. It includes Pit 1(the largest pit), Pit 2, Pit 3, and the exhibition hall of the chariots and horses. Visiting time here will last 2-3 hours. Then on the way back to city area, you will visit the Banpo Museum. This New Stone Age site, dating back to 5000 to 4000B.C., is one of the most complete examples of the Neolithic agricultural settlement in the world. Then back to city area you will take a walk in the Muslim Quarter, the best known food street in Xian. You will meet lots of local snacks and specialties. It would be a good chance to record the local food with your camera.
Accommodation: Hotel booked by you.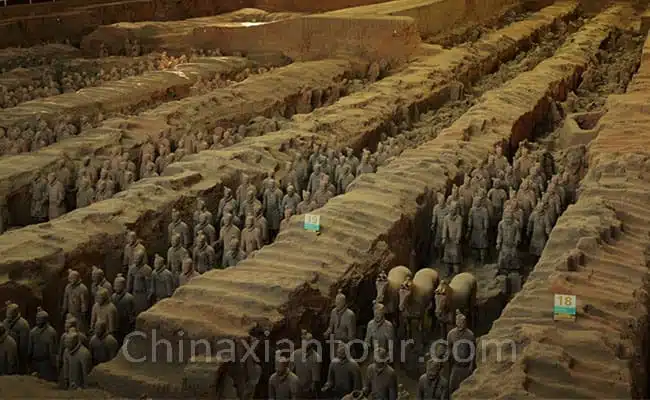 Attractions: Big Wild Goose Pagoda, Shaanxi History Museum (Lunch)
In the morning please meet your guide and driver in your hotel. Then you will visit the Big Wild Goose Pagoda which was originally built to hold Buddhist sutra and figurines of the Buddha that Xuanzang brought back to China from India. Now surrounding the Big Wild Goose Pagoda there build a big Garden, where people can have a retreat at there. Afterward continue on to visit Shaanxi History Museum which is one of the biggest museums in China. The museum houses the cultural heritage unearthed in Shaanxi Province which shows the development of the Chinese civilization.
After lunch you will be escorted to Xian train station or airport for departure.