Day 1
Chengdu- Leshan – Mt. Emei
Attractions: Leshan Giant Buddha (Lunch)
At09:00, pick up by our tour guide and driver from the hotel lobby in Chengdu downtown, then drive to Leshanfor the Leshan Giant Buddha, the world's largest stone-carved Buddha so far. The Giant Buddha was engraved on a cliff face, with his head reaching top of the cliff and feet treading on the river face, total height at 71 meters. Nearby the huge Buddha figure there are also some other figures and Buddhist grottoes engraved on the cliff. After visit in Leshan, drive to Mt.Emei and transfer to local hotel for check in.
Accommodation: Hotel at Foot of Mt. Emei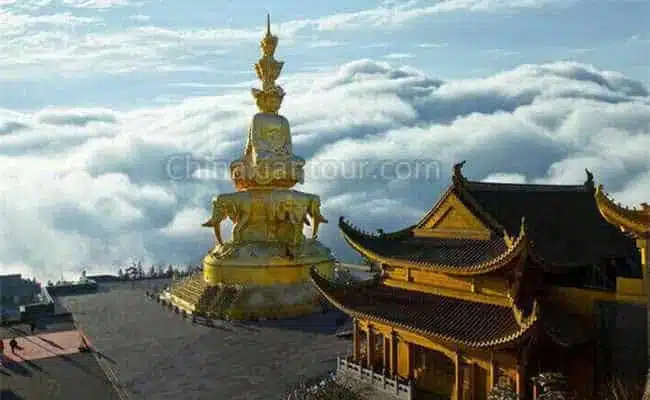 Attractions: Emei Mountain (Breakfast + Lunch)
Today you will spend full day to explore Emei Mountain. First, take an Eco-car in the Scenic Area to Leidongping and hiking to Jieyin Hall, from where you will take a cable car up to the Golden Summit (altitude: 3077 m). At the highest peak of the mountain, you will be amazed by the awe-inspiring view of Huazhang Temple and witness the breathtaking sea of clouds if it's sunny. Next, go down to Wannian Temple parking lot by car. Take a cable car up to Wannian Temple at the middle of the mountain. Appreciate the most beautiful landscape of Mt. Emei in Qingyin Pavilion as you hike from Wannian Temple to Wuxiangang parking lot. After the tour, you will be escorted back to Chengdu downtown hotel.