Xian Hot Springs
Aiqinhai Hot Spring, Mt. Huashan Royal Hot Spring, Xianyang Ocean Hot Spring.

Air condition car + driver + english speaking guide

Yes
Tour Overview
In the cold winter days, taking a hot spring bath is such an enjoyable and relax thing. Besides, there are also many advantages for taking the hot spring bath. We list some best welcomed hot springs information nearby Xian. If you like to include one in your Xian tour, we are glad to help with it.
In the cold winter days, taking a hot spring bath is such an enjoyable and relax thing. Besides, there are also many advantages for taking the hot spring bath.
First, the water of the hot spring has much chemical elements that are beneficial to human skin and it can keep body thin and beauty. Second, it helps for curing muscle pain.Last, taking the hot spring bath could eliminate fatigue, relieve nervous tension and ease the stress of working. Especially after one day's tire, it is so wonderful to relax your body in the comfortable environment.
For taking the hot spring bath, there are some tips to remember:
*Don't spend too much time at the hot spring pool, 30 minutes will be all right.
*Drink enough water before you take it to avoid dehydration.
*After finishing the bath, it is better to take a warm shower and dry up your body and hair.
Hereunder we would like to introduce some famous hot springs in and around Xian to you.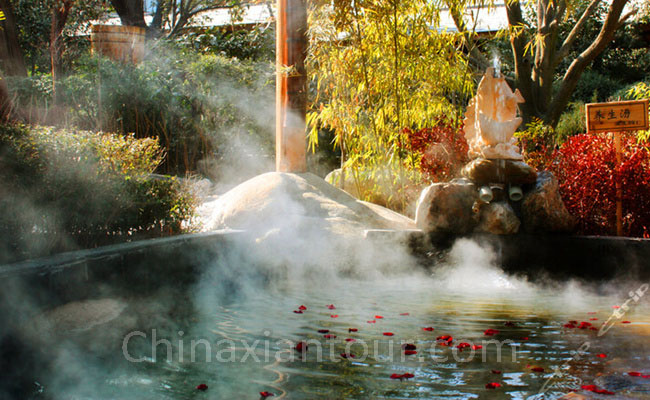 1. Aiqinhai Hot Spring (Huaqing Aegean International Hot Spring)
The Aiqinhai Hot Spring (Sea of Aegeon Hot Spring) located in Lintong area and it is just about 2 kilo meters away from the Huaqing Hot Spring scenic spots. The famous Terra-cotta Warriors and Horses Museum is also very close to it. Generally speaking, the average consumption here is more than RMB200.
Here have 26 hot spring pools with different styles and functions. For example, the function hot spring pools have the lavender essential oil pool, the tea pool, Aloe vera pool and so on and the health care pools have the foot massage pool, the waterfall pool, pomegranate ripe wine, etc. available. The outdoor hot spring experience will make you fully feel the joy of returning to the nature.
2. Mt. Huashan Royal Hot Spring
This hot spring situated at the foot of the Mt. Huashan and it is a fabulous place for taking hot spring bath, relaxing, going on vacation and amusing. Here is a paradise for young people who want to get the feel of romantic. The temperature of the water outlet port reaches 105℃, also, the water contains rich minerals, such as iodine, sodium, fluorine, lithium, which have high health care value. The consumption per person is around RMB200.
3. Xianyang Ocean Hot Spring
Xianyang is well known for its foot massage. The Chinese always pay much attention to the health care from the ancient time. And the aim of Xianyang is to be the first imperial city of China and a famous cultural city of health maintenance. Xianyang Ocean Hot Spring is a big indoor vacation resort which has various nations' pools, such as Roman bath, Turkish bath and Indian Buddha bath. People can experience different styles of hot spring bath from other countries without going abroad.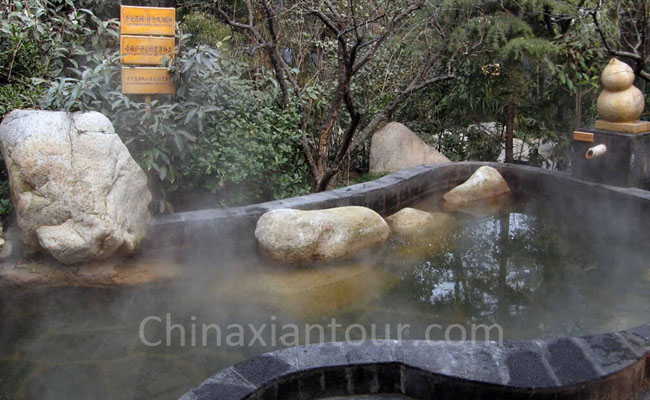 Booking Method
Step 1: You can directly book online or please feel free to share your tour plans or thoughts at 
[email protected]
 , our travel consultant will contact you within 12 hours. Step 2: A small amount deposit will be required to book a tour. After deposit received, a detailed service voucher will be sent to you to confirm the booking. Step 3: Balance due will be required 7-15 days ahead of your travel date. If you have any further question, please feel free to contact us! Email: 
[email protected]
Cellphone number: +86 18792910029 WhatsApp / Wechat ID: 008618792910029 Facebook: 
@xianholidaystravelagency
Our Hotels
In each destination, you'll enjoy a comfortable stay in a great location!
The hotels we choose are based on star rating, great locations, well-equipped facilities, cozy bed, high quality service and guests' feedbacks. Choices are a lot ranging from luxury 5 star, comfortable 4 star to budget 3 star. You could decide where to stay to best suit for your budget and likes. Generally, the hotels have both Western and Chinese breakfast with a wide choices.
If you have already got an ideal hotel, please feel free to tell our travel consultants and they'll book the hotel for you.
Our Tour Guide
The core of our service is excellent travel guides. Over 20 years, we have built up a considerable professional guide team that is knowledgeable, attentive and flexible. The most experienced and reliable guides will be arranged for your unique China tour. Our passionate guide team is full of contagious enthusiasm and keen interest to share culture and history in a pleasant manner. We are always glad at your service to lead you to explore a real China and experience authentic local life in China.
Our Driver and Vehicle
The first mission of our service is to ensure you feel safe and comfortable during your travel. The vehicles we use are air-conditioned, clean and well-maintained. Our drivers are all licensed drivers with many years of driving experience. Moreover, we offer free baby seats for families with little kids.
Meals
Food is a very important part of Chinese culture. You won't want to miss the opportunity to taste the real local Chinese food!
Buffet breakfast will be included in the hotel if you would like accommodation to be arranged by us. Having lunch at local restaurants close and convenient to the attractions you will visit, you would enjoy the local dishes in each city. Chinese style, Vegetarian or Muslim meals are all available. If you have any other diet requirements or allergies, please feel free to let us know, we will try our best to organize it.
For daily dinner, you are suggested to have it on your own when you are exploring each city in your own time, this way would be more flexible for you to choose food as per your interest and preference.