Dunhuang Yardang National Geopark is a large, remote desert area, listed as both a World Cultural Heritage Site and a Global Geopark by UNESCO for its unique Yardang landform and its importance in the history – Silk Road. Located about 185 kilometers (115 miles) northwest of Dunhuang City, it looks like an ancient medieval city as a whole, about 25 kilometers (15.5 miles) long from east to west, and 1-2 kilometers (0.6-1.2 miles) wide from north to south. The Yardang National Geopark is also dubbed as the "Ghost City" because it makes a sound like a devil's cry when the strong wind blows by.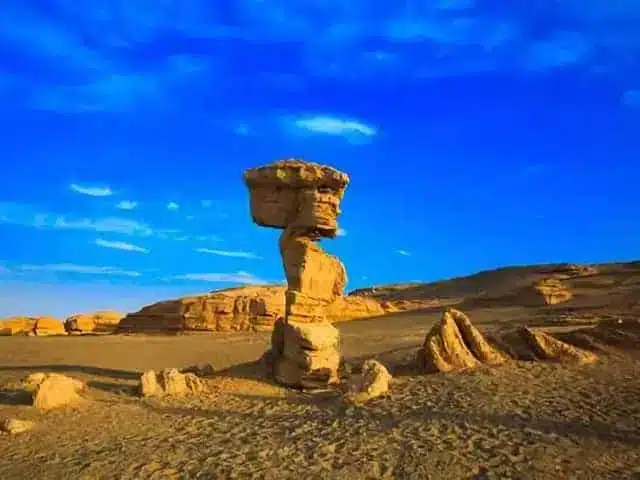 Recommended visiting time: 2 ~ 3 hours
Opening hours: 08:30 ~ 16:30
Tickets:
50 CNY (about 8 USD) per person for admission;
25 CNY (about 4 USD) for children over 1.2 m (3.9 ft.) and seniors aged 65-70;
Free for children under 1.2 m and seniors over the age of 70.
Landform Features
The overall scale and strange forms of the Ghost City are rare in the world. The height of these fantastic rocks ranges from 4 to 30 meters (13-98 feet), and its length and width ranges from more than ten meters to hundreds of meters (33-330 feet). The "Ghost City" is just like an architectural museum, holding miniature models of numerous world-famous buildings, such as the Potala Palace of Tibet, the Temple of Heaven of Beijing, the pyramids and sphinxes of Egypt, and the Arab mosques. In addition, here you can find a lot of remarkable naturally-formed sculptures, and you are sure to be amazed at the majestic General, the elegant Peacock, the greeting Golden Lion, the Silk Road Camel Fleet, and the spectacular Sea Armada.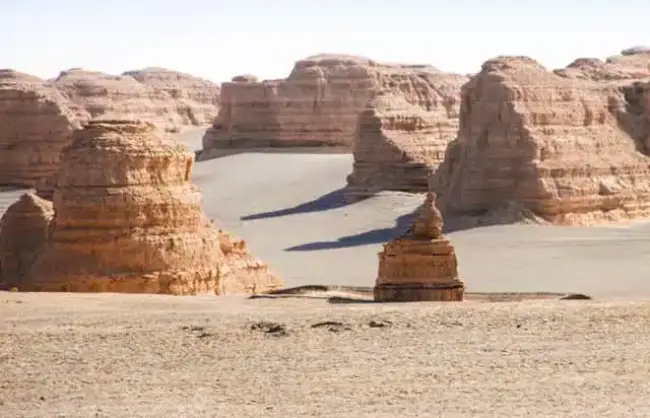 How did such a landform form?
In fact, the sands in Yardang Ghost City were originally lake sediments, which were relatively tight and hard, and were not easily damaged by external forces. However, the desert area is endowed with strong sunlight and large temperature differences; and the sand absorbs heat and dissipates quickly, which make the plate soil expand and shrink, gradually loosen, and eventually be carried far away by running wind and water. After the harder mud stone layer disappeared, the sandy land was exposed to the surface, which was easier to be eroded by strong wind; thus forming a fairly large scale and extremely regular gullies, mounds of varying heights and supernatural sculptures.
What to see in Dunhuang Ghost City?
There are two tour routes in Yardang National Geologic Park – the northern line and the southern line. Due to the low recognition and poor smartphone signal in this scenic spot, tourists are required to travel by sightseeing bus to tour the north.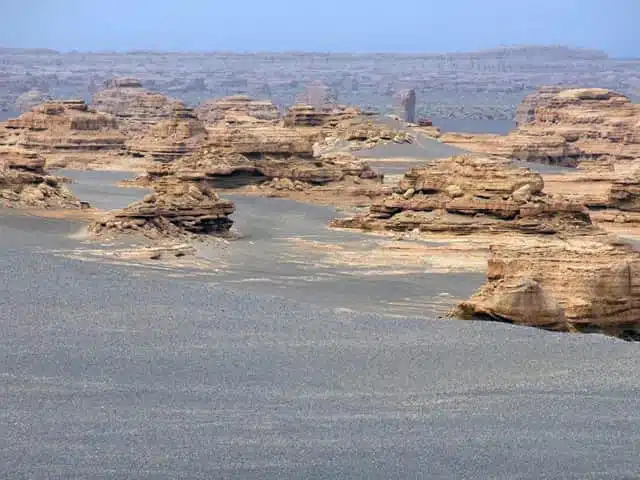 North route – Four famous Sites
The bus stops at 4 attractions and you will have 10-30 minutes at each spot to watch the great view and take wonderful photos.
The first stop will be at the Greeting Golden Lion. By the force of rainwater, strong wind, and collapse, the ground and rocks were eroded and gradually destroyed into small pieces. Finally, it formed the shape of a huge lion that seems to greet guests from afar.
Sphinx is the second site on the north tour. From a distance, you will find that this giant rock is really like a squatting lion with the face of a human being. The soft sand was washed away by heavy rain. The original stone was cut into a pillar and then was carved by the strong wind into a mighty lion.
The tour bus travels on, and then you come to the third spot – Peacock. The column is another incredible miracle, also formed by strong wind and rainstorms. The whole shape is like a peacock fanning out its tail to show her pride and beauty.
The Armada is the last and most striking attraction. Unlike the first three individual pillars, it is a group of rocks, looking like a powerful fleet of ships floating in the endless Gobi desert. Wandering among these fleets, you are sure to praise the mysterious creation of nature and be deeply impressed by its imposing manner.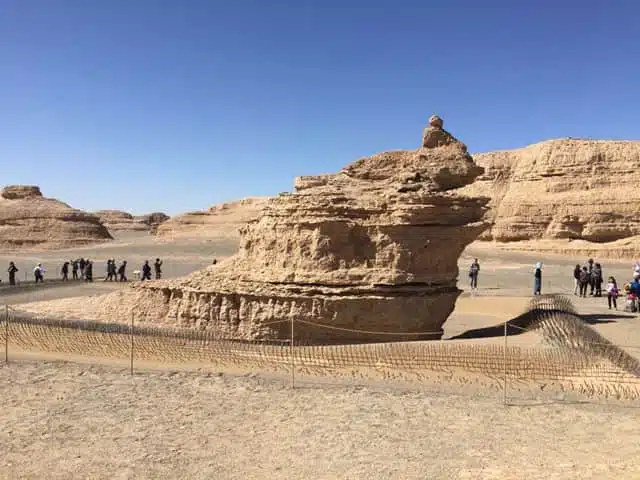 South route – Explore at your own pace
Unlike the northern tour, you can have enough time to visit and take photos on the southern line. Here you will see more natural stone pillars of different shapes and sizes, as well as the boundless desert in the distance. At the highest point in the south, you can see a panoramic view of the area within a radius of several miles.
Glorious sunset for photography
It will be a lifetime experience to enjoy the sunset view in Yardang National Geopark. 7 pm to 9 pm is the best time when you will see that the sunset glow is dyeing half of the sky red or orange and all of the clouds are shrouded in bright golden sunlight. In the afterglow of the setting sun, the endless desert stretches into the sky, which shows you a distinctive look. At that moment, you will be spellbound by the splendid natural scenery. Take photos to record the scene and bear it in your mind forever.
How to reach?
There are regular shuttle buses every day from Dunhuang downtown to Yardang National Geological Park. It takes about 3 hours and approximately costs 76 CNY (12 USD) per person. For convenience, you can also take a 2.5-hour drive from Dunhuang Airport or Dunhuang Railway Station to the destination, which costs around 250 CNY (40 USD).
Tips for Dunhuang Ghost City
Make sure you bring a hat, sunblock, a face mask, scarf, and plenty of waterto protect against hot, dry weather, dusty wind.
If you want to explore the southern line, it is recommended to rent a jeep with a driver, which is safer. Don't travel alone. The compass doesn't work on account of the magnetite, you're prone to get lost.