Fujian Tulou Travel Guide
Fujian Tulou, also known as Hakka Tulou, are large, round, or square earth buildings located in the Fujian province of China. These buildings were constructed by the Hakka people during the 12th century and have since become an iconic symbol of the region.
The Fujian Tulou are known for their unique architectural design, which blends both Chinese and Western styles, and for their historical and cultural significance. Often referred to as "communal living fortresses," these structures served as a form of communal housing for the Hakka people, who utilized them for both residential and defensive purposes. Today, the Fujian Tulou has become a popular tourist attraction, drawing visitors from all over the world to admire their beauty, learn about their history and experience the unique culture of the Hakka people.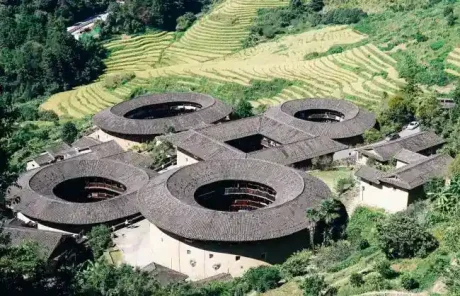 Chinese: 土楼 tǔ lóu
Distributed in: Yongding, Nanjing, Hua'an…
Why Visit Fujian Tulou?
Unique Architectural Design: Fujian Tulou are renowned for their distinctive architectural design, which blends both Chinese and Western styles, making them a must-visit attraction for architecture enthusiasts.
Historical and Cultural Significance: These earth buildings have played a significant role in the history and culture of the Hakka people. They were used as communal housing and as a form of defense against invaders.
Scenic Surroundings: Fujian Tulou are situated in some of the most picturesque locations in China, surrounded by beautiful mountains, rivers, and lush vegetation.
Authentic Cultural Experience: Visiting Fujian Tulou gives visitors the chance to experience the authentic culture of the Hakka people. They can witness traditional customs, sample local cuisine, and interact with the locals, providing an immersive cultural experience.
UNESCO World Heritage Site: Fujian Tulou has been designated as a UNESCO World Heritage Site, recognizing its outstanding universal value and cultural significance. Visiting this site is an opportunity to witness a world-renowned landmark and gain a deeper understanding of its cultural and historical significance.
What to See at Fujian Tulou
Top Things to Do at Fujian Tulou
Explore the Tulou Buildings
Explore the unique architecture, culture, and history of Tulou buildings by visiting their various shapes and styles, including round, square, oval, or polygonal. Admire the exquisite carvings and paintings on the walls and pillars, learn about the Hakka people's lifestyle and traditions, and experience the harmonious atmosphere of communal living.
Photograph Stunning Tulou Scenery
Photograph the stunning Tulou scenery from different angles and perspectives, capturing the contrast between the earthy yellow walls and the green mountains and fields, the symmetry and balance of the circular or rectangular structures, and the changing colors and lights of different seasons and times of day.
Hike on the Beautiful Mountains
Hike through the beautiful mountains around the Tulou clusters to enjoy panoramic views of the earthen buildings and the countryside. Appreciate the natural beauty of the rice fields, tea plantations, bamboo forests, and streams along the way, breathe in the fresh air, listen to the birdsong, and encounter some local villagers and witness their daily activities.
Experience Hakka culture
Experience Hakka culture and hospitality by tasting authentic Hakka cuisine, watching traditional performances such as puppet shows, lion dances, drumming, participating in festivals or ceremonies such as ancestor worship, weddings, and learning skills or crafts such as paper making, tea making, and more.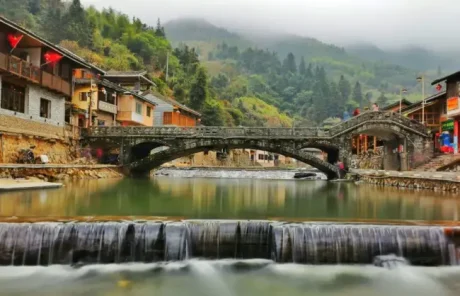 Fujian Tulou History
Fujian Tulou were first constructed in the 12th century by the Hakka people, who migrated to the southern part of China to escape political instability and famine in their homelands. These large, round or square earth buildings served as communal housing for extended families and also served as a form of defense against invaders. Over the centuries, their numbers increased, and today, there are over 20,000 Fujian Tulou throughout the Fujian province.
In 2008, Fujian Tulou was designated as a UNESCO World Heritage Site, recognizing its cultural significance and outstanding universal value. As a popular tourist destination, visiting Fujian Tulou allows visitors to admire the unique architecture, learn about its history, experience the culture of the Hakka people, and enjoy the picturesque scenery of the surrounding countryside.
Weather & Best Time to Visit Fujian Tulou
Fujian Tulou can be visited year-round, but the best time to visit is during the months of March to May and September to November. During these months, the weather is mild and comfortable, with fewer crowds and a lower chance of rain. The temperature during this time ranges from 10°C to 25°C, making it ideal for outdoor activities.
Summer in Fujian province can be hot and humid, with temperatures reaching up to 35°C. It is also the peak season for tourists, resulting in overcrowding and higher prices. Winter in Fujian province can be chilly, with temperatures dropping to 0°C, making it less popular for outdoor activities.
Visitors should also be aware of the typhoon season, which occurs from June to September. During this time, there is a higher chance of heavy rain, strong winds, and potential disruptions to travel plans. It is recommended to check the weather forecast regularly and plan accordingly.
Transportation of Fujian Tulou
How to Get to Fujian Tulou
By air: The closest airport to Fujian Tulou is Xiamen Gaoqi International Airport, from where they can take a train or bus to Nanjing County or Yongding District, where most of the tulou clusters are situated.
By train: Additionally, visitors can take bullet trains or normal trains from cities such as Xiamen, Fuzhou, and Quanzhou to reach Longyan Railway Station or Yongding Railway Station. From there, they can take a bus or taxi to the tulou area.
By bus: Direct buses are also available from cities such as Xiamen, Fuzhou, and Quanzhou to Nanjing County or Yongding District. These buses depart from the main long-distance bus stations in each city and take around 2-3 hours to reach the tulou area.
On foot or bicycle: The tulou clusters are spread out across the region and can be explored on foot or by bicycle. This is a great way to take in the beautiful countryside scenery and get a closer look at the tulou buildings.
By bus: Buses are available to transport visitors between tulou clusters and nearby towns. Bus schedules and routes can be found at the local bus stations or tourist information centers.
By taxi: Taxis are another option for transportation between tulou clusters. Visitors can hire a taxi for a day or half-day to explore the area at their own pace.