Daocheng Travel Guide
Daocheng, located in the southern part of Sichuan Province, China, is a county renowned for its breathtaking natural beauty and predominantly Tibetan population. This enchanting destination is celebrated for its picturesque landscapes, particularly the renowned Yading Nature Reserve, often referred to as the "last Shangri-La" and the "last pure land on our blue planet."
Daocheng's allure extends beyond its natural wonders, as it is also home to significant cultural sites like the historic Rewu Temple, which holds the distinction of being the oldest Sakya sect temple in China, and the Haizi Mountain Scenic Area, boasting the largest ancient ice cap in the Qinghai Tibetan Plateau. With its captivating blend of nature, culture, and adventure, Daocheng is a dream come true for nature enthusiasts, photographers, and adventurers alike.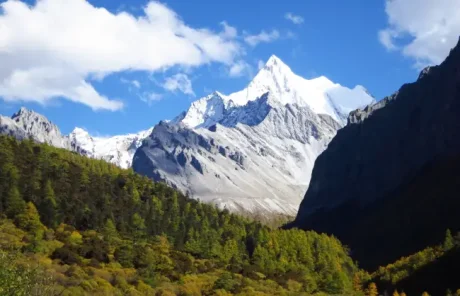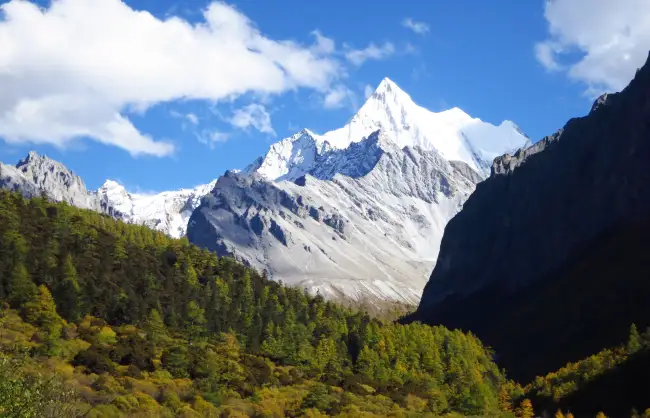 Chinese: 稻城 dào chéng
Location: Southwest Edge of Sichuan Province
Population (urban area): 33,000
Why Visit Daocheng
Breathtaking Natural Beauty: Immerse yourself in the stunning vistas of Daocheng, where snow-covered peaks, turquoise lakes, and vibrant wildflowers create a postcard-perfect setting.
Sacred Yading Nature Reserve: Explore the sacred Yading Nature Reserve, home to three sacred mountains and a pilgrimage site for Tibetan Buddhists.
Rich Tibetan Culture:Experience the warm hospitality and vibrant Tibetan traditions of Daocheng, with opportunities to witness colorful festivals, visit monasteries, and interact with the local community.
Outdoor Adventures: Embark on thrilling outdoor adventures such as trekking, hiking, horseback riding, and camping, amidst the backdrop of Daocheng's pristine landscapes.
Serene Atmosphere:Escape the hustle and bustle of city life and embrace the peaceful ambiance of Daocheng, offering a perfect retreat for relaxation and rejuvenation.
Add Your Heading Text Here
Top Things to Do in Daocheng
Explore Yading Nature Reserve
Experience the awe-inspiring beauty of Yading Nature Reserve, a remarkable park encompassing three sacred snow-capped mountains, glacial lakes, picturesque alpine meadows, and charming Tibetan villages.
Trek the Yading Middle Kora or the Yading Small Kora
Embark on thrilling treks along the Yading Middle Kora or the Yading Small Kora, tracing the footsteps of Joseph Rock, the esteemed American explorer credited with discovering Yading in 1928.
Enjoy photography of the amazing scenery
Immerse yourself in the art of photography as you capture the breathtaking scenery, particularly during the enchanting golden autumn season when the landscape transforms into a vibrant palette of yellow and red hues.
Hike and camp at Haizi Mountain Scenic Area
Satiate your adventurous spirit by hiking and camping in the captivating Haizi Mountain Scenic Area, boasting the largest ancient ice cap in the Qinghai Tibetan Plateau, adorned with countless lakes and ancient stones.
Visit Rewu Temple
Delve into the rich cultural heritage of Daocheng with a visit to the revered Rewu Temple, China's oldest Sakya sect temple, where you can marvel at the precious cultural relics, including mesmerizing gold thangka paintings and sacred Buddha statues.
Visit Tibetan Villages
Immerse yourself in the rich Tibetan culture by visiting traditional villages in the region. Interact with the friendly locals, witness their way of life, and gain insights into their ancient traditions and customs.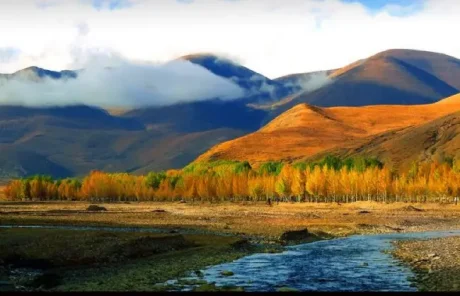 Weather in Daocheng & Best Time to Visit
Daocheng experiences a tundra climate characterized by exceptionally low temperatures, even during the warmest months. The average annual temperature hovers around 2.2°C (35.9°F), accompanied by an average annual rainfall of approximately 1159 mm (45.6 inches). The region of Daocheng exhibits four distinct seasons with ample sunshine. Here is a breakdown of the weather conditions in Daocheng:
The ideal time to visit Daocheng is from September to October when the autumn foliage reaches its glorious peak, and the weather remains mild and dry. In September, the average temperature hovers around 10°C (50°F), while in October, it decreases to approximately 6°C (42.8°F).
Winter spans from November to March in Daocheng and brings frigid temperatures and heavy snowfall. In November, the average temperature drops to around 1°C (33.8°F), and in March, it rises slightly to approximately 3°C (37.4°F). The mountains and roads often become blanketed with snow, making travel challenging or even impossible.
Spring, spanning from April to May, marks a transitional period of rejuvenation in Daocheng. In April, the average temperature reaches around 6°C (42.8°F), gradually increasing to about 9°C (48.2°F) in May. The melting snow gives way to lush green grasslands, symbolizing the arrival of spring.
Summer extends from June to August, representing a season of growth and vibrancy in Daocheng. June witnesses an average temperature of approximately 12°C (53.6°F), while August experiences a slight increase to around 13°C (55.4°F). The landscape comes alive with blooming flowers, and the crystal-clear lakes mirror the expanse of the blue sky.
Tips for Traveling in Daocheng
Acclimatize to High Altitude:Daocheng is located at a high altitude, so it is essential to take it slow upon arrival to acclimatize to the thin air. Stay hydrated and avoid excessive physical exertion.
Pack Accordingly:Dress in layers and pack warm clothing, as temperatures can drop significantly, especially in the early mornings and evenings. Don't forget to bring sunscreen, sunglasses, and a hat to protect yourself from the strong UV rays at high altitudes.
Respect Local Culture:Daocheng is deeply rooted in Tibetan culture and traditions. Show respect to the locals, their religious sites, and customs. Seek permission before taking photographs of people or sacred places.
Be Prepared for Limited Amenities: Daocheng is a remote destination, and certain amenities may be limited. Ensure you have enough cash, as ATMs might not be widely available. Carry essential items such as medications, snacks, and toiletries.
Stay Hydrated and Watch for Altitude Sickness:Drink plenty of water to stay hydrated and prevent altitude sickness. It is recommended to consult a healthcare professional before your trip and consider carrying altitude sickness medication.
Daocheng Transportation
How to Get to Daocheng
By Air:
Daocheng Yading Airport serves as the primary air gateway to Daocheng, offering direct flights to and from Chengdu (1 hour), Chongqing (1.5 hours), Xi'an (2 hours), Hangzhou (3 hours), Guangzhou (3.5 hours), and Luzhou (1 hour). The airport is located approximately 50 kilometers from Daocheng County and about 130 kilometers from Yading Nature Reserve. Upon arrival, you can easily reach your desired destination by opting for a shuttle bus or a taxi.
By Long-Distance Bus:
Daocheng is accessible by long-distance buses from various cities, including Chengdu, Kangding, Xinduqiao, Litang, Shangri-La, and more. While the bus journey may be lengthy and bumpy, it provides an opportunity to enjoy the picturesque scenery along the way. The bus station is conveniently situated in the center of Daocheng County, allowing you to conveniently catch a local bus or hire a taxi to reach Yading Nature Reserve.
By Private Car:
For those seeking flexibility and convenience, renting a car or hiring a driver is a viable option to travel to Daocheng from Chengdu or other locations. The driving distance from Chengdu to Daocheng County spans approximately 683 kilometers, requiring approximately 12 hours of non-stop driving. It's important to note that road conditions may vary, and you may encounter traffic congestion or landslides. However, traveling by car grants you the freedom to explore attractions at your own pace and convenience along the route.
Shuttle Bus:
Convenient shuttle buses operate between Daocheng County and Yading Nature Reserve, offering a journey of approximately 2.5 hours at a cost of around 40 yuan per person. Inside the reserve, additional shuttle buses and electric cars are available for hassle-free transportation. The shuttle bus ticket is typically included in the reserve's entrance fee, ensuring a seamless experience.
Taxi:
Opting for a taxi allows for a quicker journey from Daocheng County to Yading Nature Reserve, taking approximately 2 hours with an average cost of around 300 yuan per car. Taxis can also be hired for day trips to other attractions such as Rewu Temple and Haizi Mountain Scenic Area. The fare can be negotiated and varies based on distance and duration.
Private Car:
For utmost flexibility and convenience, renting a car or hiring a driver provides an excellent option to explore Daocheng. This allows you to personalize your itinerary and make stops at any desired locations along the way. It is important to consider road conditions and be mindful of altitude sickness while driving. If you prefer a hassle-free experience, you can book a private tour with us, where we will arrange a comfortable car and an experienced driver for your exploration.