Dujiangyan Travel Guide
Dujiangyan, located in the Sichuan Province of China, is both a city and a recognized UNESCO World Heritage Site. Renowned for its historical significance, Dujiangyan is most famous for its ancient irrigation system, which was constructed in approximately 256 BC under the leadership of Li Bing, a governor of the Qin State. This remarkable engineering feat continues to operate successfully to this day, providing vital water resources for agricultural purposes while effectively preventing flooding in the Chengdu Plain. In addition to its engineering marvel, Dujiangyan serves as a gateway to Mount Qingcheng, widely regarded as the birthplace of Taoism. Visitors to this sacred mountain are treated to breathtaking temples and awe-inspiring natural scenery.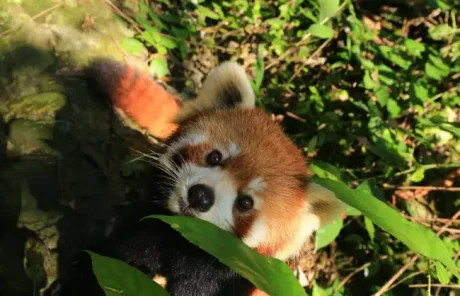 Chinese: 都江堰 dū jiāng yàn
Location: Northwest of Chengdu Plain in central Sichuan
Population (urban area): 710,056
Why Visit Dujiangyan
Historical and Cultural Significance:Dujiangyan offers the chance to admire the ancient irrigation system, a testament to the wisdom and creativity of the ancient Chinese people.
Taoist Spirituality:Explore Mount Qingcheng, one of the four sacred mountains of Taoism in China, to experience the rich Taoist culture and spirituality.
Adorable Pandas:Visit the Dujiangyan Panda Base to witness the lovable pandas in their natural habitats and learn about conservation efforts.
Unique Cuisine: Indulge in the local cuisine and snacks of Dujiangyan, which combine the flavors of Sichuan cuisine with distinctive local characteristics.
Natural Beauty: Immerse yourself in the breathtaking scenery of Dujiangyan, from lush mountains to serene rivers, providing a tranquil and picturesque environment.
Rich Cultural Heritage:Discover the historical landmarks, temples, and festivals of Dujiangyan that offer insights into the region's vibrant cultural heritage.
Outdoor Adventures:Engage in outdoor activities such as hiking, exploring nature trails, and enjoying water sports in Dujiangyan's scenic surroundings.
Top Attractions in Dujiangyan
Top Things to Do in Dujiangyan
To marvel at the historical and cultural significance of the Dujiangyan irrigation system, a remarkable testament to the ingenuity and brilliance of ancient Chinese civilization. Discover the captivating history and principles behind this system as it harmoniously interacts with the surrounding natural environment.
To immerse yourself in the profound Taoist culture and spirituality found at Mount Qingcheng, one of China's revered Taoist mountains. Embark on a hike or opt for a cable car ride to the summit, where panoramic vistas await, along with enchanting temples and pavilions nestled along the path.
Engage in a rewarding experience by volunteering at the Dujiangyan Panda Base, a dedicated facility for rescuing and researching sick and injured pandas, where you will have the opportunity to observe these gentle creatures in their natural habitats and actively participate in feeding and caring for them.
To tantalize your taste buds with the distinctive flavors of Dujiangyan's local cuisine and snacks, influenced by the renowned Sichuan culinary traditions yet bearing their own unique characteristics. Indulge in delectable dishes like fish-flavored eggplant, spicy tofu pudding, mouthwatering glutinous rice cake, and savory buckwheat noodles.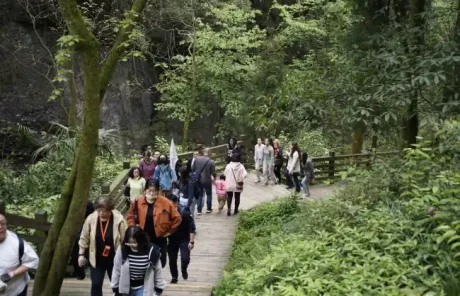 Best Time to Visit Dujiangyan
The climate in Dujiangyan exhibits seasonal variations, characterized by mild and humid conditions throughout the year, with an average annual temperature of 15.2°C and approximately 1200mm of rainfall. January stands as the coldest month with an average temperature of 5.5°C, while July takes the crown as the hottest month with an average temperature of 25.6°C.
Choosing the best time to visit Dujiangyan depends on individual preferences and planned activities. Generally, spring (March to May) and autumn (September to November) offer pleasant weather for enjoying the region's natural beauty and cultural attractions. Summer (June to August) provides an opportunity to escape the heat and experience the refreshing coolness of Mount Qingcheng, although it is also the rainy season, posing the risk of floods and landslides. Winter (December to February) marks the low season with potential discounts, but be prepared for cold and foggy conditions.
The History of Dujiangyan
Dujiangyan has a fascinating history that dates back over 2,000 years. It was built during the Qin Dynasty by Li Bing, a renowned hydraulic engineer. The purpose of constructing the Dujiangyan Irrigation System was to control flooding and provide water for irrigation in the Chengdu Plain. This innovative system continues to function effectively to this day, making it an engineering marvel.
How to Get to Dujiangyan
Getting to Dujiangyan offers various options depending on your starting point and budget.
By air
The most common and convenient method is by air, with Chengdu Shuangliu International Airport being the primary choice. Located approximately 57 km (35 miles) from Dujiangyan, the airport offers domestic and international flights, connecting to major cities like Beijing, Shanghai, Xi'an, Hong Kong, Bangkok, and Tokyo. From the airport, you can reach Dujiangyan by taxi, shuttle bus, or high-speed train.
By train
Another alternative is taking a train from Chengdu Railway Station or Chengdu East Railway Station. With frequent bullet trains, the journey to Dujiangyan Railway Station or Mount Qingcheng Railway Station takes around 30 minutes, followed by a bus or taxi ride to Dujiangyan City or the scenic spots.
By long-distance buses
Long-distance buses from Chengdu North City Bus Station, Airport Bus Station, or Xinnanmen Bus Station provide an hour-long journey to Dujiangyan, typically costing CNY 20-30. Upon arrival, buses or taxis can be utilized to reach your final destination.