Embark on a winter escapade through the diverse landscapes and cultural wonders of China with our guide to the "Top 10 Places & Tours for Winter Vacations." As the snow blankets the country, a myriad of enchanting destinations beckon, promising a tapestry of experiences from the iconic ice festivals in Harbin to the tranquil retreats of Zhangjiajie. Whether you're drawn to the historical charm of Xi'an, the snow-covered beauty of Huangshan, or the tropical delights of Hainan, our curated list unveils the most captivating winter getaways. Join us as we explore the unique offerings of each destination and present tailor-made tours that promise an unforgettable winter journey across this vast and diverse nation.
1. Harbin
There are numerous compelling reasons to visit Harbin in the winter: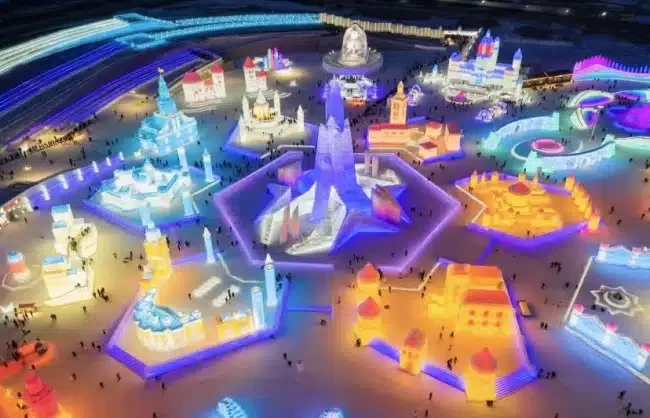 Ice and Snow Festival Spectacle: Witness the grandeur of the Harbin International Ice and Snow Festival, featuring dazzling sculptures at venues like the Ice and Snow World, Sun Island Scenic Area, and Zhaolin Park.
Cultural Heritage Delights: Immerse yourself in Harbin's winter culture shaped by its Russian and Jewish history. Admire European-style landmarks, savor fusion cuisine, and join locals in festive celebrations.
Natural Beauty and Wildlife Adventure: Discover Harbin's snowy landscapes and wildlife at the Siberian Tiger Park. Hit the slopes at Yabuli Ski Resort, and experience winter activities at the Russian-themed Volga Manor with ice skating and sleigh rides.
Recommended Tours:
2. Beijing
Beijing is a fascinating city that has a lot to offer in winter. Here are some reasons why you should visit Beijing in winter: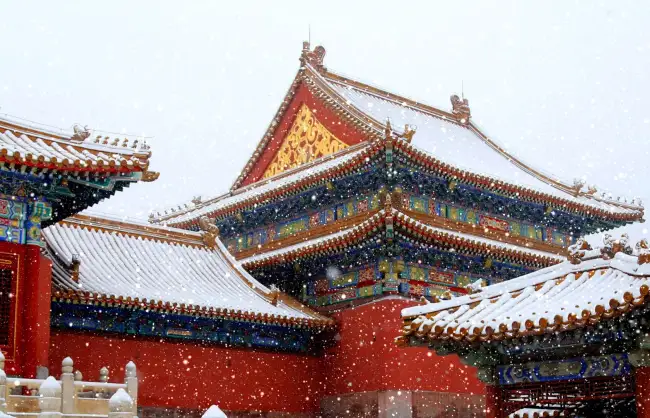 Less Crowds: Discover a less crowded side of Beijing in winter, allowing you to enjoy attractions comfortably with added benefits of lower prices on accommodation, transportation, and tickets.
Snowy Splendor: Marvel at the rare and stunning snow scenery that transforms Beijing into a fairy-tale landscape. Explore iconic sites like the Forbidden City, the Great Wall, and the Summer Palace blanketed in snow.
Winter Sports Thrills: Enjoy the excitement of skiing and skating at Beijing's numerous ski resorts and rinks, catering to various skill levels. Experience the thrill of skiing on international-standard trails or join locals in skating on frozen lakes and rivers.
Cultural Festivities: Immerse yourself in Beijing's local culture during winter, marked by traditional festivals like the Laba Festival, Chinese New Year, and the Lantern Festival. Join the festivities, savor delicious festival foods, and embrace local folk customs.
Recommended Tours:
Feel free to contact us to tailor-make your Beijing winter skiing trip.
3. Xi'an
Xi'an, with its extensive history, becomes an inviting winter destination offering compelling reasons to explore: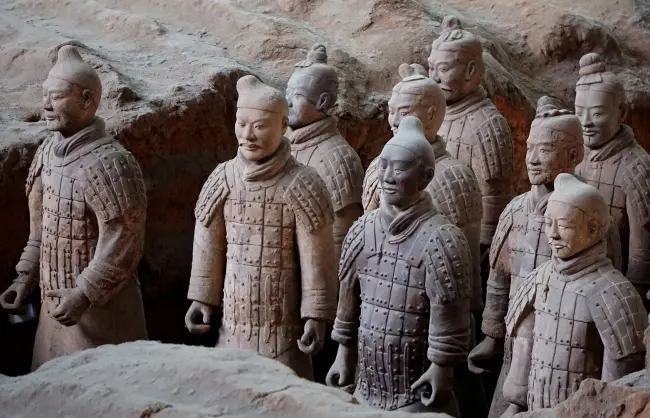 Xi'an beckons in winter for a glimpse of the awe-inspiring Terracotta Army, showcasing the craftsmanship and history of the Qin Dynasty.
Experience Xi'an's enchanting winter charm as iconic landmarks like the city wall, bell tower, drum tower, and wild goose pagodas transform under a layer of snow, offering a picturesque setting for exploration.
Indulge in winter relaxation at Xi'an's top hot springs like Huaqing Pool, Tangyu Hot Spring, and Cuihua Mountain Ski Resort, where you can soak in mineral-rich waters and enjoy scenic views.
Recommended Tours:
4. Chengdu
Discover the allure of Chengdu in winter with these enticing features:
Mt. Emei's Snowy Beauty: Marvel at the stunning winter view of Mt. Emei, one of China's Sacred Buddhist Mountains, showcasing snow-covered peaks, ancient temples, frozen waterfalls, and the rare Buddha's Halo.
Tranquil Jiuzhaigou Valley: Discover the serene winter landscape of Jiuzhaigou Valley, a UNESCO World Heritage Site, featuring colorful lakes reflecting various shades against the pristine snow. Enjoy the tranquility of the less crowded valley surrounded by forests, waterfalls, and wildlife.
Chengdu's Hot Pot Delight: Indulge in Chengdu's signature hot pot, a spicy and flavorful dish perfect for warming up in the cold weather. Dive into a boiling broth with various ingredients, from meat and vegetables to tofu and noodles, seasoned with chili, garlic, and more.
Active Pandas in Winter: Experience the lively antics of pandas at Chengdu's Giant Panda Breeding Research Base in winter. Watch these adorable creatures play in the snow and enjoy bamboo, while learning about conservation efforts and Chengdu's rich panda culture.
Recommended Tours:
5. Yunnan
The enticing reasons to visit Yunnan in winter: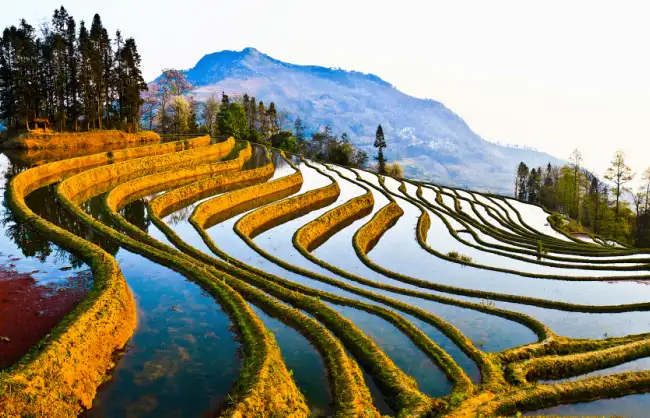 Mild Climate Delight: Yunnan's winter boasts a mild temperature range of 8 to 19℃ (47 to 67℉), allowing you to enjoy sunshine, blossoms, and hot springs in Kunming, tropical rainforests in Xishuangbanna, and Tengchong without the chill.
Enchanting Old Towns: Immerse yourself in Yunnan's history by exploring charming old towns like Lijiang, Dali, Shaxi, Jianshui, and Heshun. Wander cobblestone streets, admire traditional architecture, and partake in local customs and festivals.
Snowy Mountain Adventures: Experience Yunnan's majestic snow-capped mountains—Meili, Jade Dragon, Haba, and Cangshan. Hike, ski, or ride a cable car to their summits for breathtaking views of glaciers, lakes, forests, and temples.
Terraced Beauty: As winter arrives, the terraced fields in Yunnan are filled with water, creating reflective surfaces mirroring the blue sky and green mountains like natural mirrors. Among these, Yuanyang Rice Terraces stands out as one of the most captivating in winter.
Recommended Tours:
6. Guizhou
Explore the winter wonders of Guizhou, a captivating province in Southwest China, with these enticing attractions: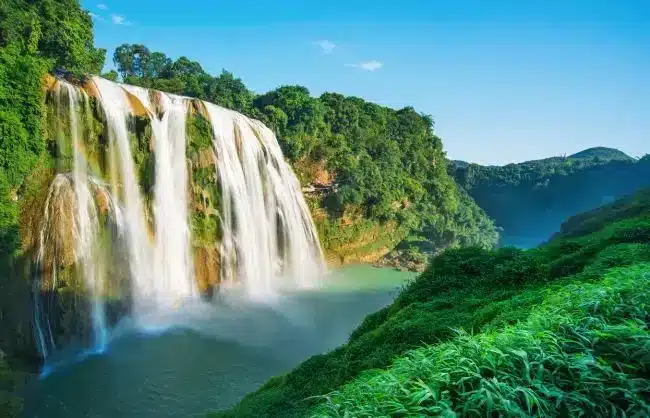 Miao New Year Festivities: Join the lively Miao New Year celebration, featuring the graceful Lusheng dance, fine wine, and rich local customs.
Huangguoshu Waterfall Marvel: Witness Asia's largest waterfall, Huangguoshu, in all its winter splendor within the classical Karst landscape.
Libo's Plum Blossom Beauty: Admire Libo's ethnic diversity and grand Plum Blossom Festival, where wild plum trees bloom spectacularly from late January to March.
Recommended Tours:
7. Huangshan (Yellow Mountain)
The winter charm of Huangshan or Yellow Mountain lies in: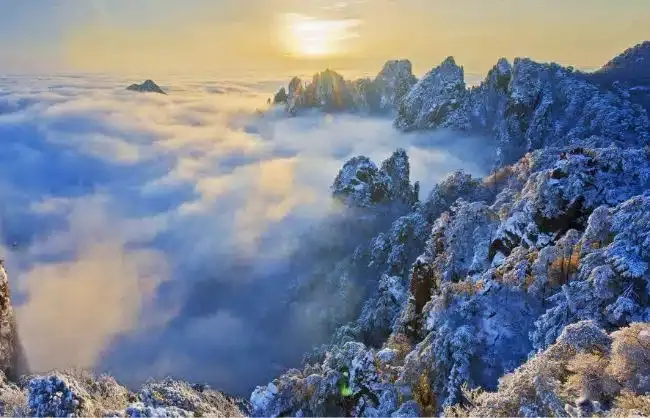 Snowy Splendor: Witness the enchanting snow-covered landscape, transforming Huangshan into a captivating fairyland with peaks, pines, rocks, and temples blanketed in white.
Magnificent Sea of Clouds: Marvel at the spectacular sea of clouds, a winter wonder in Huangshan, where rolling clouds among the peaks create diverse shapes and colors, especially during sunrise or sunset.
Tranquil Escape: Enjoy a quieter winter experience with fewer visitors and lower costs, allowing you the space and time to capture undisturbed photos while benefiting from discounts on tickets and accommodation.
Local Village Exploration: Immerse yourself in the rich local culture by visiting charming villages like Hongcun and Xidi, known for Hui-style architecture, where you can stroll along stone streets, admire elegant houses, and savor delicious local cuisine.
Recommended Tours:
8. Hainan
Reasons to visit Hainan during the winter season: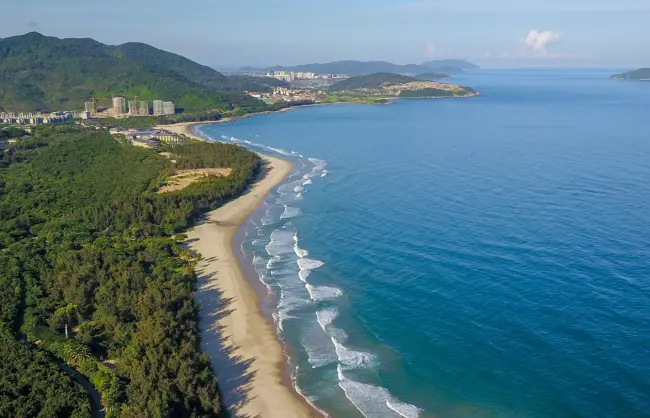 Tropical Bliss: Revel in Hainan's mild tropical climate, boasting warm and sunny weather with average winter temperatures of 16 – 26℃ (61 – 79℉), allowing you to enjoy sea activities in light clothing.
Coastal Paradise: Indulge in the coastal beauty of Hainan, dubbed the "Hawaii of China," with stunning beaches like Yalong Bay and Dadonghai, offering sunbathing, surfing, and clear blue waters.
Cultural Diversity: Immerse yourself in Hainan's diverse culture by exploring villages of ethnic minorities like Li, Miao, Hui, and Zhuang, sampling unique cuisine, and enjoying local arts such as Li brocade and coconut carving.
Natural Wonders: Experience Hainan's natural wonders with diverse landscapes, including mountains, forests, and volcanoes. Engage in outdoor activities in lush environments, visit scenic areas like Yanoda Rainforest and Haikou Volcanic Cluster, and encounter local wildlife.
Recommended Tours:
9. Zhangjiajie
Zhangjiajie is a beautiful destination in any season, but winter has its own charm and advantages:
Snowy Wonderland: Experience the rare beauty of snow-covered peaks, frozen waterfalls, and misty canyons in Zhangjiajie's mountains, creating a fairy-tale landscape from mid-January to late February.
Tranquil Retreat: Escape the crowds and enjoy a serene winter experience in Zhangjiajie, where the low tourism season offers more space, time for undisturbed photos, and lower prices on accommodation and transportation.
Cultural Festivities: Immerse yourself in Zhangjiajie's winter charm by participating in traditional festivals like the Spring Festival, Lantern Festival, Tujia New Year, and Firewood Festival, gaining insights into local customs and beliefs.
Recommended Tours:
10. Jilin
Jilin, a northeastern province in China, showcases numerous winter wonders for tourists: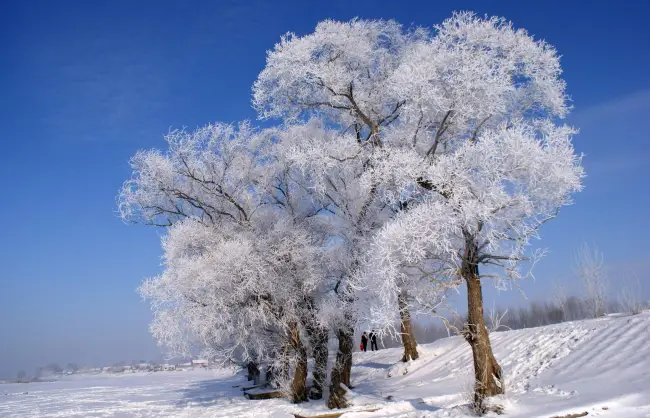 Snow Adventures: Hit the slopes at Jilin's premier ski resorts, including Wandashan Changbaishan and Jilin Bedahu, or opt for a luxurious ski holiday with Club Med Vacations, offering a range of snow activities.
Rime Scenery: Be captivated by Jilin's enchanting rime scenery along the Songhua River, where ice crystals transform trees, rocks, and buildings into a fairy-tale landscape from December to February. Don't miss the accompanying ice lantern festival and the vibrant ice and snow carnival.
Changbai Mountain Beauty: Explore the winter wonders of Changbai Mountain, a UNESCO Biosphere Reserve, witnessing frozen waterfalls, snow-covered forests, and the pristine Tianchi Lake. Immerse yourself in the cultural diversity of the region, learning about ethnic minorities like the Korean, Manchu, and Mongolian people, and experiencing their customs and festivals.
Recommended Tours:
Please feel free to contact us to tailor-make your perfect Jilin winter tour.
More Recommended China Winter Tours
Whether you're drawn to the enchanting snowscapes of Beijing, the winter festivals in Harbin, the cultural treasures of Xi'an, or the tropical Yunnan, beach delights in Sanya, we specialize in crafting personalized China winter tours that cater to your preferences. From skiing adventures to festive celebrations, our tailored itineraries ensure an unforgettable winter experience. Contact us, and let us create your ideal winter getaway in China.