Bai Luyuan Skiing Resort is the nearest one which is about 18 kilo meters away from the city center. With the trail of 300 meters in length and 60 meters in width, this ski field is the only one which runs day and night and it is an excellent exercise place for the primary and intermediate skiers. It has the largest artificial snow facilities among the cities in the western area of China and it also outfits the special skiing equipment for children of 2 to 12 years old. This ski filed operates from middle December to the end of February and its working duration is 8:30-23:00.
Booking Hot-line: 029-82615133/ 82615366
Add: 86 Shui An Rd, Ba Qiao district, Xian, China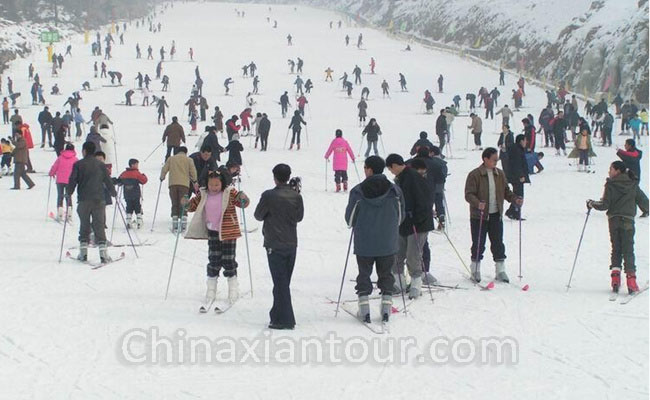 Ski Trails
The Bai Luyuan Skiing Resort occupies an area of 20000 square meters. Its main trail is 300 meters in length and 60 meters in width. And the slope angle of the trail is 7. Exercisers can ski the "S" route without holding snow battle.
Ski Rack Rate
Items
Rates
Notes
Skiing
Weekday
Weekend
National Holiday

1. The rates include a set of skis, ski trail transportation.

2. RMB400 for skis deposit.

3. Entrance fee: RMB30/pp (children under 1.5 meters or students with Student's Identity Card enjoy half price)

Day Ski: RMB80/Hr/pp
Day Ski: RMB180/2Hrs/pp
Day Ski: RMB220/2Hrs/pp
Day Ski: RMB150/Whole Day/pp
Day Ski: RMB220/3Hrs/pp
Day Ski: RMB280/3Hrs/pp
Night Ski: RMB100/PP
Night Ski: RMB100/PP
Night Ski: RMB150/PP
Ski Clothes Rental
RMB30/set (excludes deposit RMB300/set)
Snow Tube Rental
Single Ski Circle: RMB80/30minutes/one

Double Ski Circle: RMB120/30minutes/one

Triple Ski Circle: RMB160/30minutes/one

(Deposit for Ski Circle: RMB500/one)

Closet Rental
RMB100/one

Opening hours:

Day Ski: 08:30-17:00; Night Ski: 16:30-23:00

National Holiday: Spring Festival
Ski School
There are several rich-experienced ski instructors who are always ready to help you in case of need and the skis learning fees are as follow:
Skis Learning Fees:
| Time duration | 1 person | 2 people | 3-5 people |
| --- | --- | --- | --- |
| 1 hour  | RMB160/pp | RMB200/pp | RMB240/pp |
| 2 Hours | RMB280/pp | RMB320/pp | RMB360/pp |
Ski Resort Other Activities:
It is only one ski filed in Xian which has outfits the special skiing equipment for children of 2 to 12 years old.
Non-Skiers:
For little kids or adult non-skiers, just buy the entrance ticket and see or take part in the snow activities in the skiing resort.
Notes:
1. Before skiing, it is better for you to spend 10 minutes to take some warm-up exercises.
2. Please don't exceed the skiing time duration. If you exceed 1 minute, one hour's fee will be charged.
3. The ski filed begin to count the time after the skiing ticket is print for you but they will leave 10 minutes for you to change clothes.
Transfer fee
We will be very glad to arrange the car with driver for you to transfer you to Bai Luyuan Skiing Resort as the public transportation from Xian downtown area to the ski field is not so convenient. The transfer fees are as follows:
Tour Price Per Person
Book the tour with $50 deposit. ($=USD)
| Num of Person | 1 | 2 | 3 | 4 | 5 |
| --- | --- | --- | --- | --- | --- |
| Tour Price | $120 | $67 | $45 | $34 | $27 |
| Num of Person | 6 | 7 | 8 | 9 | 10+ |
| Tour Price | $24 | $22 | $22 | $21 | Contact Us |
Booking Method
Please send your travel request via e-mail

[email protected]

to us. You are also welcome to call us at

0086-15129005119

from Mon to Sun 24 hours.
Our real trip advisors will have your booking confirmed no more than 1 working day. We even take last minute booking if time is pressing. When your booking is confirmed, you will get a confirmation email from us, which includes the confirmed detailed itinerary with prices.
A small amount of deposit will be charged in advance via paypal for tour booking (Deposit for tours excluding train/flight/hotel: USD50-USD100; Deposit for tours including train/flight: your travel consultant will advise according to group size and itinerary). The balance can be paid to our tour guide when you are on the tour, or the credit card balance payment via Paypal latest 3 days ahead of the tour date. Both RMB and hard currency are acceptable.
Our Tour guide
Over 15 years, we had built up a professional guide team. They are 100% guaranteed licensed guide. Apart from been knowledgeable, they are also friendly, fun, attentive, and flexible. Nothing is too difficult or troublesome for them, as they will always try their best to make a pleasant journey for you! You may get new friend after travelling in China!
Wendy
Shasha
Noble
Our Driver and Vehicle
Always makes you feel safe and comfortable is the main goal of our service. The vehicles we use are all air-conditioned and kept in good safety and sanitary condition. The drivers we use are all licensed driver with many years driving experience. More attentive, we offer you a free baby seatservice if you travel with your baby.
Our vehicle
Inside Looking of Our Vehicle
Our Driver and Car
Meals
Food is a part of the important culture for Chinese people. China fits for all budgets. Hotels booked by us will include breakfast. Lunch is chosen at restaurant which is popular among locals, and with good environment. (All restaurants have Western styled Washroom available if this is what makes you feel headache about China) Dinner is mostly left for yourself, so you enjoy more freedom on your local food adventure or some familiar hometown food.
If you are a Vegetarian, or Muslim , or allergy on any kind of food, you are suggested to inform this to your travel consultant, they will help arrange proper restaurant or food to meet your needs.
Buffet Meal
Lunch
Local Snack
Free Inquiry: