In the cold winter days, taking a hot spring bath is such an enjoyable and relax thing. Besides, there are also many advantages for taking the hot spring bath.
First, the water of the hot spring has much chemical elements that are beneficial to human skin and it can keep body thin and beauty. Second, it helps for curing muscle pain.Last, taking the hot spring bath could eliminate fatigue, relieve nervous tension and ease the stress of working. Especially after one day's tire, it is so wonderful to relax your body in the comfortable environment.
For taking the hot spring bath, there are some tips to remember:
*Don't spend too much time at the hot spring pool, 30 minutes will be all right.
*Drink enough water before you take it to avoid dehydration.
*After finishing the bath, it is better to take a warm shower and dry up your body and hair.
Hereunder we would like to introduce some famous hot springs in and around Xian to you.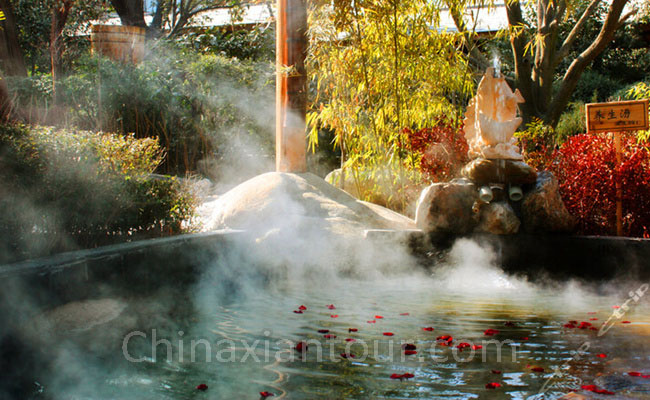 1. Aiqinhai Hot Spring (Sea of Aegeon Hot Spring)
The Aiqinhai Hot Spring (Sea of Aegeon Hot Spring) located in Lintong area and it is just about 2 kilo meters away from the Huaqing Hot Spring scenic spots. The famous Terra-cotta Warriors and Horses Museum is also very close to it. Generally speaking, the average consumption here is more than RMB200.
Here have 26 hot spring pools with different styles and functions. For example, the function hot spring pools have the lavender essential oil pool, the tea pool, Aloe vera pool and so on and the health care pools have the foot massage pool, the waterfall pool, pomegranate ripe wine, etc. available. The outdoor hot spring experience will make you fully feel the joy of returning to the nature.
2. Mt. Huashan Royal Hot Spring
This hot spring situated at the foot of the Mt. Huashan and it is a fabulous place for taking hot spring bath, relaxing, going on vacation and amusing. Here is a paradise for young people who want to get the feel of romantic. The temperature of the water outlet port reaches 105℃, also, the water contains rich minerals, such as iodine, sodium, fluorine, lithium, which have high health care value. The consumption per person is around RMB200.
3. Xianyang Ocean Hot Spring
Xianyang is well known for its foot massage. The Chinese always pay much attention to the health care from the ancient time. And the aim of Xianyang is to be the first imperial city of China and a famous cultural city of health maintenance. Xianyang Ocean Hot Spring is a big indoor vacation resort which has various nations' pools, such as Roman bath, Turkish bath and Indian Buddha bath. People can experience different styles of hot spring bath from other countries without going abroad.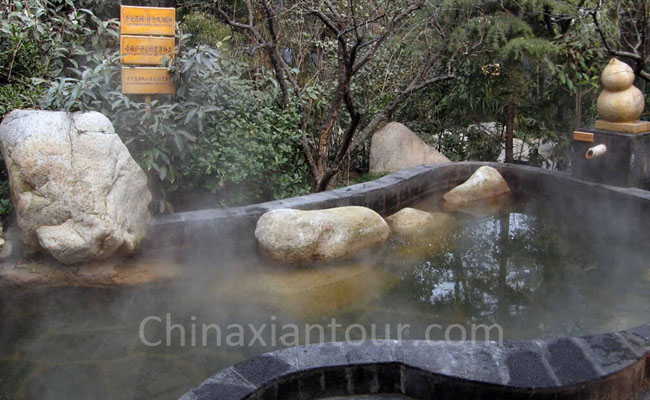 Booking Method
Please send your travel request via e-mail

[email protected]

to us. You are also welcome to call us at

0086-15129005119

from Mon to Sun 24 hours.
Our real trip advisors will have your booking confirmed no more than 1 working day. We even take last minute booking if time is pressing. When your booking is confirmed, you will get a confirmation email from us, which includes the confirmed detailed itinerary with prices.
A small amount of deposit will be charged in advance via paypal for tour booking (Deposit for tours excluding train/flight/hotel: USD50-USD100; Deposit for tours including train/flight: your travel consultant will advise according to group size and itinerary). The balance can be paid to our tour guide when you are on the tour, or the credit card balance payment via Paypal latest 3 days ahead of the tour date. Both RMB and hard currency are acceptable.
Our Tour guide
Over 15 years, we had built up a professional guide team. They are 100% guaranteed licensed guide. Apart from been knowledgeable, they are also friendly, fun, attentive, and flexible. Nothing is too difficult or troublesome for them, as they will always try their best to make a pleasant journey for you! You may get new friend after travelling in China!
Wendy
Shasha
Noble
Our Driver and Vehicle
Always makes you feel safe and comfortable is the main goal of our service. The vehicles we use are all air-conditioned and kept in good safety and sanitary condition. The drivers we use are all licensed driver with many years driving experience. More attentive, we offer you a free baby seatservice if you travel with your baby.
Our vehicle
Inside Looking of Our Vehicle
Our Driver and Car
Meals
Food is a part of the important culture for Chinese people. China fits for all budgets. Hotels booked by us will include breakfast. Lunch is chosen at restaurant which is popular among locals, and with good environment. (All restaurants have Western styled Washroom available if this is what makes you feel headache about China) Dinner is mostly left for yourself, so you enjoy more freedom on your local food adventure or some familiar hometown food.
If you are a Vegetarian, or Muslim , or allergy on any kind of food, you are suggested to inform this to your travel consultant, they will help arrange proper restaurant or food to meet your needs.
Buffet Meal
Lunch
Local Snack
Free Inquiry: