Upon your arrival, our driver will hold your name and greet you at airport or train station if you come by train. The rest of day is free on your own disposal.
Accommodation: Hotel in Xian
Day 2
Xian Terracotta Warriors & City Wall Group Tour (B+L)
Traveling by air-conditioned coach, you will be collected from your downtown city center hotel for the drive east. Before getting to the Warriors, you will first visit a special factory where you can see how the warriors made and you can you buy your own imitation if you are interested. Then during the driving to Terracotta Warriors and Horses Museum, you will bypass the Mausoleum of Emperor Qin Shihuang, the first emperor of the Qin dynasty. When he ascended to the throne at the tender age of 13, he ordered 720,000 conscript laborers to build him a royal tomb. It took about 38 years to finish, and was so magnificent that it set a precedent for future feudal rulers. Little compares to his army of Terracotta Warriors and Horses. Wander the gallery to marvel at some 8,000 life-size sculptures of men and horses of the Emperor's funerary art. Amazingly, each one has unique features.
Next, immerse yourself in Chinese history at the Ancient City Wall which usually leads to people first-impression to Xian: old with long history. Not surprisingly, it's because you have to go through the gate of City Wall when you get to the city center and the bricks-made wall with 600-year-history no doubt to be remarkable in a stranger's mind. It was built for city protection in Ming Dynasty as military defense.
Finally, you will be transferred back to your downtown hotel.
Accommodation: Hotel in Xian
Day 3
Xian-Chengdu by bullet train (B+L)
Get picked up by our driver and guide in the morning after your hotel breakfast. Please prepare your luggage well and take it with you when you board the car because you will directly go ahead to Xian North Train Station for bullet train to Chengdu after the tour.
Today's first stop is Big Wild Goose Pagoda which is one of most famous Buddhist pagodas in China. You will follow the guide to enter the Da Ci'en Temple where the Pagoda stands. Listening to the interpretation of your expert guide, you can immerse yourself in this bright pearl on the Silk Road with excellent architectural beauty, precious Buddhist relics, rich religious culture, and stories of the famous ancient monk – Xuan Zang. After lunch, you will get to visit the Next, go to the Small Wild Goose Pagoda which is the twin of the Big Wild Goose Pagoda. Both the two pagodas are important witnesses for the history of Great Tang Dynasty. Same as the Big Wild Goose Pagoda, Small Wild Goose Pagoda was also built to store the Buddhist scriptures brought from Ancient India by the master monk Xuanzang in the Tang Dynasty. Different from the Big Wild Goose Pagoda, Small Wild Goose Pagoda attracts visitors with its special charms that it keeps quiet and peaceful in the bustling downtown area, has precious value on architecture and Chinese garden aesthetics. The last stop today is the famous Muslim Quarter. It's a paradise for the food-goer as you can find all he authentic local and even Chinese northwest area's food here. Strolling on the stone paved street, your eyes will be well feasted, and mouth watered with all kinds of snacks alongside.
After the tour, you will be transferred to Xian North Train Station for your 3-hour train journey to Chengdu (Train G1835/17:00-20:47 or similar one). Our Chengdu driver will wait you at Chengdu station when your arrival.
Accommodation: Hotel in Chengdu
Day 4
Chengdu Panda Tour (B+L)
Get ready to start the tour in the morning and follow your local expert guide to visit the Panda Base firstly, the No. 1 highlight of Chengdu. Panda is the national treasure of China as we know and also adorable so much on planet so that many people feel happy even just seeing them eating and playing. Here is the chance for you to see the real pandas before your eyes. Chengdu Panda Base is the largest panda base in the world where you could see more than 50 pandas. You will spend about 2 hours here to enjoy the happy time with cute pandas. Next, go to Wuhou Temple, the only one temple in China which is in memory of both emperor (Liubei) and his courtiers (Zhuge Liang with other heroes in the Kingdom of Shu). It is also the most influential heritage museum of The Three Kingdoms. Jinli Street is right next to the Wuhou Temple, you can enjoy the handicraft of kneading clay and sugar painting, visit shops with characteristics of the Three Kingdoms, shadow puppets, the chopsticks shop, etc.
The last stop today is Wide and Narrow Alley. It is typical Qing Dynasty West Sichuan architecture style. You will wander at the allies here and listen to the informative explanation about the ever history and story of this places.
Finally, end the tour day with hotel drop-off.
Accommodation: Hotel in Chengdu
Day 5
Chengdu Leshan Giant Buddha Tour ((B+L)
Today let's go to visit the largest cliff inscription of China: Leshan Buddha.
Our guide and driver will pick you up from your hotel after breakfast and then transfer you to Leshan city for the Leshan Giant Buddha. You will step on the stairs to get a closer visit to the huge sculpture. The Buddha was started to be carved in A.D. 713, Tang dynasty and completed A.D. 803, spending 90 years in total. The reason to excavate was that the local people suffered from the flood each year because it's special location that three rivers meet here. There was a Monk named Haitong made up mind to help the local people and started this huge work. Although it was disturbed times for many reasons, it was completed after 90 years with efforts of generations. You will surprise at how the ancient people make such huge a Buddha in old time when you see its real size.
Finally, come back to your hotel.
Accommodation: Hotel in Chengdu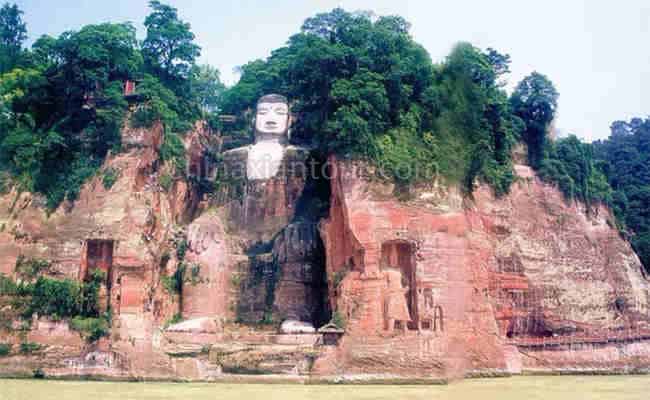 It's time to say good bye. Our driver will transfer you to airport or train station for home departure journey.