Attractions: Jinli Old Street (Dinner)
Our guide and driver will be waiting for you at the exit of Chengdu airport / train station by holding a welcome sign with your name. Then you will be transferred to the hotel for check-in. After a short rest, you will be escorted to visit Jinli Old Street. That street used to be one of the oldest and busiest commercial streets of Shu Kingdom. On that street, tourists will see some typical elements of Chengdu lifestyle, e.g., tea houses, taverns, bars, local snacks, handcrafts, local specialties, etc.
In the evening you will try some tasty Sichuan Food at a local restaurant. Sichuan Food is one of the Eight Main Cuisines in China. Your taste buds will be satisfied by the local Sichuan food. Afterwards, you will be transferred back to your hotel.
Accommodation: Chengdu Hotel (Centrally located)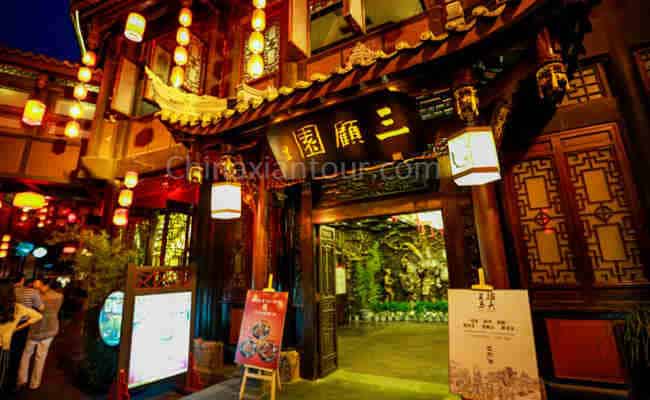 Day 2
Chengdu – Xian by Bullet Train
Attractions: Chengdu Panda Breeding Center, Wuhou Temple (Breakfast + Lunch)
In the morning our guide and driver will greet you at your hotel lobby and escort you to the No. 1 highlight of Chengdu: Chengdu Panda Base. Panda, known as the national treasure of China, may be the most adorable animal on the planet so that many people feel happy even just watching them eating and playing. Here is a chance for you to see the real pandas before your eyes. Chengdu Panda Base is the largest panda base in the world where you could see more than 50 pandas. You will spend about 2 hours here to enjoy the happy time with cute pandas. Afterward we will pay a visit to Wuhou Temple – the only one temple in China which is in memory of both emperor (Liubei) and his courtiers (Zhuge Liang with other heroes in the Kingdom of Shu). It is also the most influential heritage museum of The Three Kingdoms.
After the tour,  you will be transferred to Chengdu East Train Station for high speed train G2856/17:52-21:48 (or a train with similar schedule) to Xian. Upon your arrival, the Xian local driver will greet at the exit by holding a name board and transfer you to your hotel for check-in.
Accommodation: Xian Hotel (Centrally located)
Attractions: Terracotta Warriors and Horses, City Wall (Breakfast + Lunch)
Our guide will pick you up from your hotel in the morning. First you will visit the Terra-cotta Warriors and Horses which is known as "the Eighth Wonders of the World" with a surprisingly high level in sculpture. It is located 30 km east of the Xi'an City and the original site was found by four local farmers while drilling a well in 1974. The museum includes Pit 1(the largest pit), Pit 2, Pit 3, and the exhibition hall of the chariots and horses. You will stay in the museum for 2-3 hours. Listening to the explanation from the expert tour guide, you will learn the hidden story of those live-sized sculptures and history of their owner: First Emperor of Qin who is also the first emperor of China.
And then go to visit Xian Ancient City Wall which is the most completely preserved and the largest city wall in China. It was built for the military defense in the Ming Dynasty, 1370 A.D. Since it is cycling the Xian city, visitors can ride a bike around the city wall which is optional (cost on your own, CNY45p.p). Finally you will be transferred back to your hotel.
Accommodation: Xian Hotel (Centrally located)
Attractions: Shaanxi History Museum, Big Wild Goose Pagoda, Muslim Quarter (Breakfast + Lunch)
In the morning please meet your guide and driver in your hotel. Then you will visit the Big Wild Goose Pagoda which was originally built to hold Buddhist sutra and figurines of the Buddha that Xuanzang brought back from India in Tang Dyansty, 652 A.D. Now there is a big square divided into North Square and South Square, surrounding the Big Wild Goose Pagoda. The design of the buidlings and statues is in Tang style, showing people the ever glory of that great time. It's busier in the evening when many activities with Tang elements held by local amateur. Afterward continue on to visit Shaanxi History Museum which is one of the biggest and most famous museums in China. The museum houses the cultural heritage unearthed in Shaanxi Province. Although it's a provincial Museum, the collection of relics here is at national level from both quantity and quality as Xian had been Capitals for more than 13 dynasties in ancient China. You will learn the long history and splendid civilization of China deeply from those priceless exhibits with explanation from your guide.
Then you will come to visit the Bell & Drum Tower Square which locates in the very center of the city and is considered as the symbol of this old capital. At last take a walk at Muslim Quarter to meet lots of local food and snacks. Return to your  hotel afterwards.
Accommodation: Xian Hotel (Centrally located)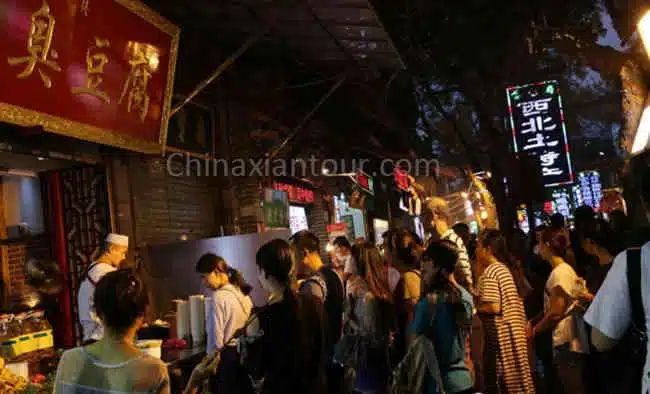 At appointed time, our driver will meet you at your hotel lobby and transfer you to train station / airport for departure.