At about 18:00, meet your guide and driver at your downtown hotel and head to the theater. In the following 2 hours, you will enjoy 3 kinds of local traditional shows: Qin Opera, Shadow Play, and Huayin Laoqiang.
Qin Opera, one of the oldest operas of Han People, dates back to the Western Zhou Dynasty. It gradually developed and matured in the Qin Dynasty. Originating from Fengxiang area of Baoji to the northwest of Xian City, Qin Opera was listed as the national non-material cultural heritage in 2006.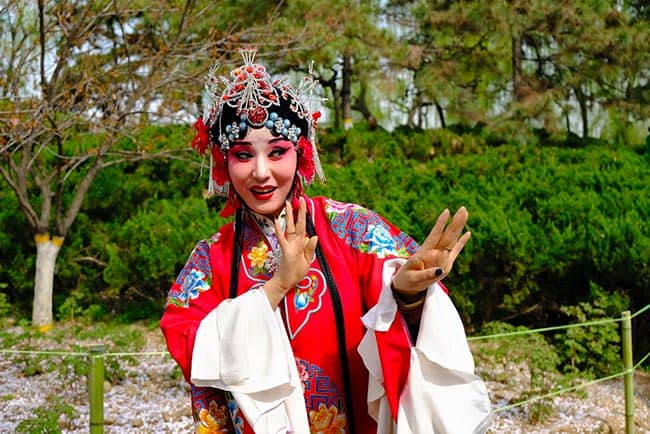 Qin Opera
Shadow Play used to be popular in many areas of China. Figures used are cut from animal skin or pressboard. With the white curtain lit by light, performing artists sit behind the curtain to handle the leather figures to let them dance to the local opera or melody, or dance to the story.

Shadow Play
Huayin Laoqing is honored as the oldest rock-and-roll in China. In 2006, it was listed as the national non-material cultural heritage. To quite a few musicians, it is inspiration for music creation. At the end of the tour, the guide and driver will escort you back to hotel.
Huayin Laoqiang
Tour Price Per Person
Book the tour with $50 deposit. ($=USD)
Travelers
1 People
2 People
3 People
4 People
5 People
Tour Price
$
$
$
$
$
Travelers
6 People
7 People
8 People
9 People
10 People
Tour Price
$
$
$
$
$
Book the Tour Free Inquiry
Price includes
Entrance tickets
Private transfer in air-conditioned car
Excellent English-speaking tour guide and skillful driver
Price excludes
Personal expense
Gratuities (recommended)
Booking Method
Please send your travel request to us at

[email protected]

. You are also welcomed to call us free at +86 15129005119 for 24 hours a day, 7 days a week.
Our expert consultant will have your booking confirmed in 12 hours. We accept the last-minute booking for most of time even if time is pressing. After your booking is confirmed, we will send you a confirmation email which includes the agreed detailed itinerary with prices.
A small amount of deposit will be charged in advance via PayPal for tour booking (Deposit for tours excluding train/flight/hotel: USD50-USD200; deposit for tours including train/flight: your travel consultant will advise according to group size and itinerary). Balance is acceptable via PayPal at least 3 days ahead of the tour or with cash paid to the tour guide on the tour. Both RMB and hard currency are acceptable.
Our Tour Guide
Over 15 years, we had built up a professional guide team. They are 100% guaranteed licensed guide. Apart from been knowledgeable, they are also friendly, fun, attentive, and flexible. Nothing is too difficult or troublesome for them, as they will always try their best to make a pleasant journey for you! You may get new friend after travelling in China!
The core of our service is excellent travel guides. Over 20 years, we have built up a considerable professional guide team that is knowledgeable, attentive and flexible. The most experienced and reliable guides will be arranged for your unique China tour. Our passionate guide team is full of contagious enthusiasm and keen interest to share culture and history in a pleasant manner. We are always glad at your service to lead you to explore a real China and experience authentic local life in China.
Always makes you feel safe and comfortable is the main goal of our service. The vehicles we use are all air-conditioned and kept in good safety and sanitary condition. The drivers we use are all licensed driver with many years driving experience. More attentive, we offer you a free baby seatservice if you travel with your baby. 
Our Driver and Vehicle
The first mission of our service is to ensure you feel safe and comfortable during your travel. The vehicles we use are air-conditioned, clean and well-maintained. Our drivers are all licensed drivers with many years of driving experience. Moreover, we offer free baby seats for families with little kids.
Meals
Food is an important part of Chinese culture. China fits for all budgets. Hotels booked by us include breakfasts. Lunches are arranged at restaurants which are popular among the real locals with good environment (You might be a little worried about using washrooms in China, please rest assured that all restaurants have western style washroom). Dinners are mostly left for yourself to allow you more freedom on your own discovery to local food or having some familiar hometown food.
If you are vegetarian, Muslim, or allergic to any kind of food, please feel free to tell your travel consultant in advance. We will help arrange proper restaurant or food to meet your needs.
Free Inquiry: