AM: After hotel breakfast, please meet your guide at 10:00 at your hotel lobby. Your exploration today starts from Terracotta Warriors. Famed as the eighth miracle of the world, the marvelous excavations in 3 different underground vaults show a surprisingly high-level craftsmanship about 2000 years ago. More than 6,600 warriors with different expressions from each other testified the greatest intelligence of the first emperor Qin and his people. Nowadays, the opened 3-D circular-screen movie let you deeply know the historical background of Qin Dynasty while learning the mysterious and splendid culture.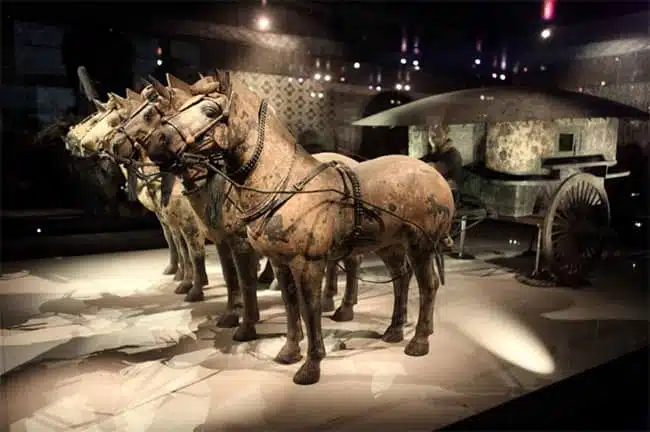 Noon: Lunch in a local restaurant.
PM: After lunch, you will pay a visit to the Big Wild Goose Pagoda, a well-preserved ancient building and a holy place for Buddhists. It was built to hold sutras and figurines of the Buddha that were brought to China from India by the Buddhist translator and traveler Xuanzang. Also, you can wander around the North Square of Big Wild Goose Pagoda and enjoy the daily life of local people.
Evening: In the evening, you will enjoy a Chinese Dumpling Banquet, which serves with nearly 20 varieties of dumplings which stuffed with delicious vegetables, meats, and seafood. Please leave a note to request if you are a vegetarian while booking. Next, you will experience the local colorful and splendid Tang Dynasty Dance Show, a performance of music and dance that imitate the Tang Dynasty over one thousand years ago.
After the show, the driver and tour guide will transfer you back to your Xian hotel.
Accommodation: Luxury/ Comfortable/ Economic hotel booked by us