2016 Chinese New Year Lantern Exhibition in Xian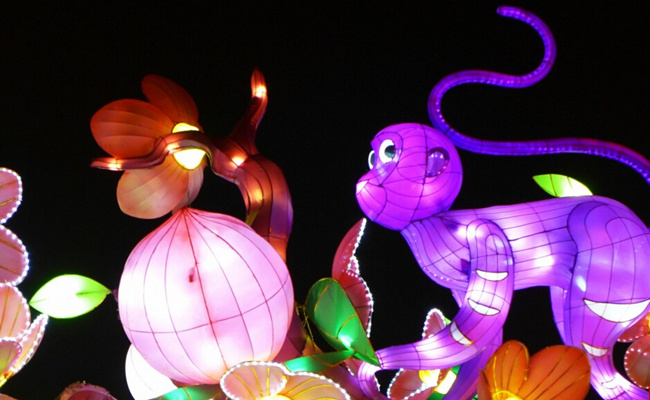 In Xian city, Spring Festival Lantern Exhibition is one of the highlights among the celebrating activities. The lantern exhibition we say here is to show public the visual effect created by sound, electricity, and light. Under the colorful silk are the lanterns in various shapes. Paying a visit to Lantern Exhibition in Xian you will find the great changes happened to traditional lantern. Here we would recommend two lantern exhibitions.
The first one is the City Wall Lantern Exhibition from Feb 8th to March 13th daily from 18:00 to 21:00. The lantern exhibition locates at the part between South Gate and Heping Gate. And the price is at RMB60/PAX Jan 12th-Feb 19th & Feb 24th-March 13th, RMB100/PAX Feb 8th-13th & Feb 20th –23rd. Children below 1.2 meters is free and others will be charged full price.
Lantern exhibition on city wall has a history of over 30 years. Each Chinese New Year, the ancient city wall will be bright and more attractive due to the festival decoration and the lantern exhibition. The lantern exhibition is the most participated folk festival activities. During 2016 Spring Festival, City Wall Scenic Area will cooperate with the folk artist from South Korea to carry out more eye-catch show. Citizens and tourists will see the floating lantern in the Moat, and colorful lanterns at outer side of the City Wall and more beautiful lanterns on City Wall Top. If you have interest, folk artists on wall top will teach you to make a spring festival on your own.
Xian Lantern Exhibition 02The second one is the Tang Paradise Lantern Exhibition from Feb 1st to March 10th. The price is at RMB 50/PAX after 18:00 daily Feb 1st-18th & Feb 23rd-March 10th, RMB90/PAX Feb 1st-29th at any time. Visitors will see many figures created according to the novel Journey to the West. And the lantern exhibition here is regarded as the largest-scaled amphibious lantern exhibition in northwestern China and the performance themed at Silk Road will be staged. The ethnic performance like Shehuo, leather shadow opera, Qin opera, lion dance, etc will wait for you as well. After seeing lanterns and performances visitors could also try some authentic local foods.
If you happen to visit Xian during Chinese New Year, visit to lantern exhibition is highly recommended. It will ensure you a more impressive Xian tour.