Bolanggu Valley in Jingbian County
Bolanggu Valley locates in Jingbian County in Northern Shaanxi Province. Driving along Baomao Express Way, then drive off express way at Jingbian Exit and drive southeast ward. On the north you will see the ruins of Chinese Great Wall. Continue driving for about 20km, your will arrive at Yanjiazhai Village. Where you will meet Bolanggu Valley, a place which is regarded as paradise for photo shooting. Enter the Bolanggu Valley, your sight will be surprised by the wave-like red rock hills which was created by nature. It will shock both your eyes and your heart.
It is said Bolanggu Valley in Northern Shaanxi is the same attractive as Wave Valley of America. The Wave Valley in Arizona features the red-and-white waves, while the Bolanggu Valley in Jingbian County features the pure red wave.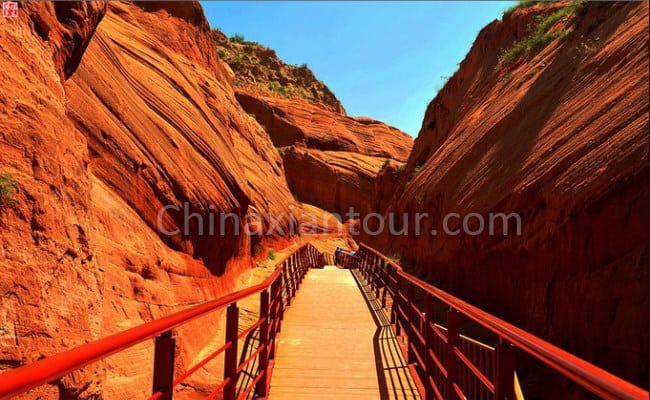 It is really a miracle that in the Loess Plateau there still is a place like this. The red rocks produces various shapes with force of thousands of years' wind and rain. Looking from different angles, in different times, the waves may present different colors and shapes – they may like water current, clouds, tops, etc.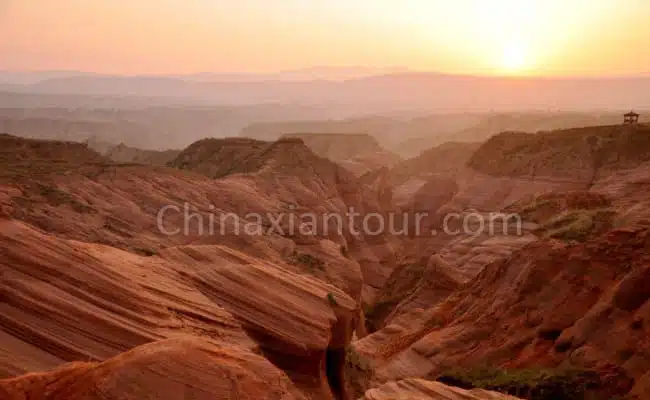 Actually Bolanggu Valley is not only beautiful, but also perilous in some parts. In some extremely narrow joint it is really challenge to one's courage.
If you like adventure and exploring secret of nature, going to trek Bolanggu Valley in Jingbian County!
How to go there?
Rent a car, drive northward from Xian for about 6 hours to arrive. Toll is about CNY260 for the car.