Bronze Chariot Museum Construction Started
At present Bronze Chariot are displayed in the Bronze Chariot Exhibition Hall in the Terracotta Warriors and Horses Museum. And the exhibits here are the two bronze chariot sets unearthed in the Qing Shihuang Mausoleum Area. In the recent years, with the process of the mausoleum area excavation, several other bronze chariots were discovered. To display the findings better, the authority decided to build a museum especially for the chariots discovered in the mausoleum area.
On Dec 28, 2017 the new museum construction starting ceremony was held. And the construction of the museum started from that day.
The Bronze Chariot sets are the part of sacrificial objects of Mausoleum of Emperor Qin Shihuang. Since the 1980s the two bronze chariot set were unearthed in the west part of the mausoleum area present the detailed structure of the chariots in ancient China. To better preserve the bronze chariots and better introduce the chariots, the Bronze Chariot Museum would be constructed and open to public soon.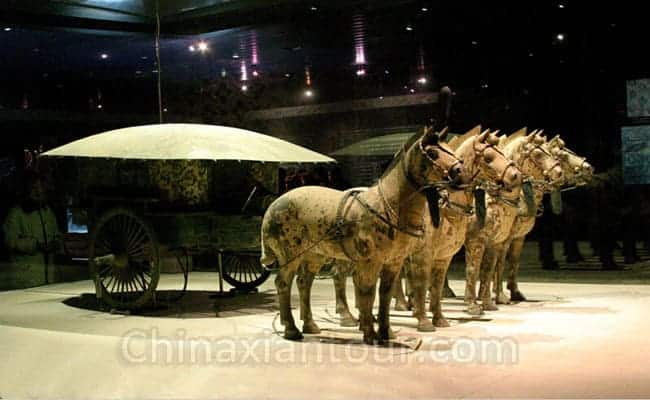 The new museum locates west to the K0006 exhibition hall and is in a natural valley. The museum would have an architectural area of 8000m2 and two layers: one underground layer and one up ground layer. The construction would be expected to finish in Oct 2019.
We believe the new museum would be opened to public soon after the construction completed. That would add more attraction to the tourist.
At present Terracotta Warriors and Horses is more famous than all the other things related to Qinshihuang Mausoleum, including the mausoleum itself. Actually Terracotta Warriors to Qinshihuang Mausoleum is just like the tip of the iceberg because it is only 1 of the 400 different kinds of sacrificial pits of the Mausoleum. To most common tourists, the visit to just Terracotta Warriors pits is enough because they are indeed the most heart-shocking part of the excavated sacrificial objects. While to people how want a real in-depth exploration of the Qinshihuang Mausoleum and its sacrificial objects, 2 days is barely enough.