Feel Last Day of Chinese Spring Festival in Xian
Chinese Spring Festival refers to the first day of first lunar month, which is only one day. But to celebrate the most important Chinese festival, Chinese people would have a 7 days national holiday. The factories in southern China like Guangdong, Jiangsu, Zhejiang, where most workers from foreign provinces, would provides their stuff 15-20 days paid holiday.
During Spring Festival, most business activities in China would suspend. People use these days to reunite with their family, to visit relatives and friends, and to travel. In Chinese people's mind, the Spring Festival ends on the 15th day of first lunar month, we call it Shiwu, Yuanxiao Jie, or Lantern Festival.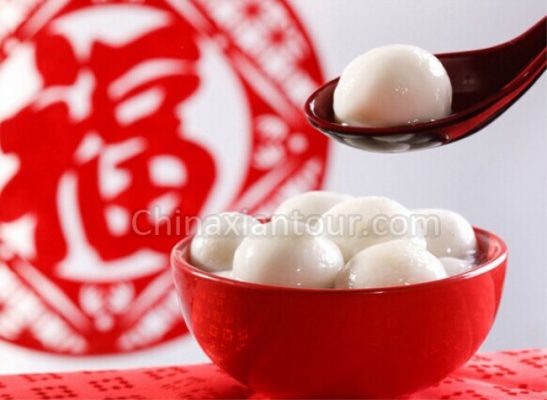 On Shiwu, there are many special activities to give the festival a meaningful end. First, people would have Yuanxiao or Tangyuan (they are both rice powder balls with fruit/ nut/ pork as filling. Yuanxiao has thicker rice powder wrap than Tangyuan. People in North China usually eat Yuanxiao and people in South China prefer Tangyuan) as dinner.
Second, spend night time to appreciate lantern exhibition. Most cities in China would treat natives and visitors with lantern exhibition during the whole Spring Festival. But Shiwu is the most busy day for lantern exhibition places. Visit a Lantern exhibition is really an excellent way to experience authentic Chinese Spring Festival. If you are in Xian, City Wall and Tang Paradise are the two best places to go.
Third, take a trip to country to watch Shehuo – the shocking Shaanxi style cosplay. And Shehuo is regarded as folk carnival. SHE refers land god, and HWO refers to fire god.  In ancient time, Shehuo was a worship activity for good harvest, nowadays it becomes an amusement way. It is usually performed by a group of peasants from the same village. Performers put on traditional Chinese opera make-up and costumes, then parade on road. And reactive with audience. Which is full of fun.
After Shiwu, Spring Festival is completely end. People would return to work. They will start to fight for their new year resolution.
Year of Boar comes! Whish you all a better you in the new year. ChinaXianTour.com wish you all the best in Year of Boar!