Most Welcomed Summer Snacks in Xian
When arrange ones Xian tour we usually leave dinner to our tourists own so they could try some special local food with advice and explanation of our guide. And having dinner on their own becomes special and unforgettable experience during one tour. Summer is coming and China Xian Tour recommends the following local snacks to you.
Cold Steamed Glutinous Rice Cake
It is made of glutinous rice flour and has a thick layer of sesame in two layers of rice. Juiced by honey or may flower sirup, it tastes cool, sweet and chewy.
Agar-agar jelly
agar-agar jelly looks glittering and translucent carving. It is usually seasoned with vinegar, sesame oil, chives, and sesame paste. Having a bit of it you will find it may wake up your taste buds.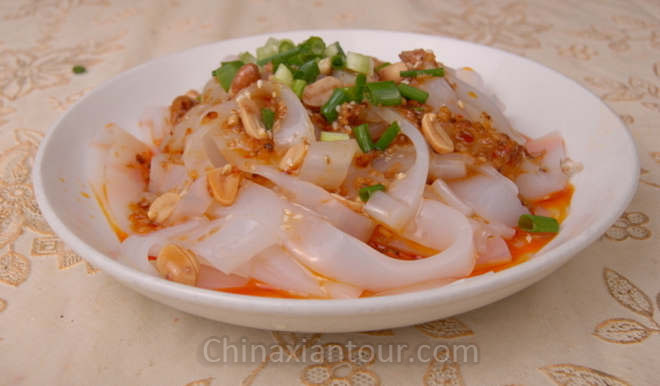 Fish-shaped Wheat Flower Jelly
When summer is coming, The Fish-shaped Wheat Flower Jelly will appear in street and lanes of Xian. The most loved juice that served with Fish-shaped Wheat Flower Jelly is seriflux. Take some smooth and tender wheat flower jelly and its seriflux into your mouth, the jelly will slip into your stomach like active fishes.
Cold Buck Wheat Flour Noodle
In Chinese food culture, Wheat Flour Noodle  is a kind of healthy food which is classified into coarse food grain. In summer days Xian people prefer cold wheat flour noodles. Spicy and a little sour, and then seasoned with some mustard, it will definitely drive summer day's dryness-heat off.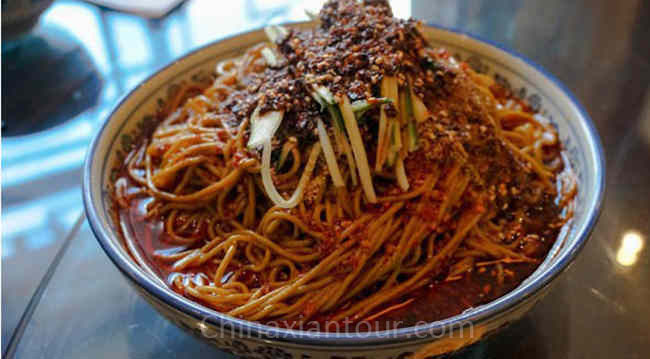 Cold Noodles
Cold Noodles is welcomed by Xian people all the year. Each summer Cold Noodles will beat all other foods and becomes the top welcomed food among local people. From roadside market to local restaurant, cold noodles can be find every where.
Plum Syrup
The most popular and healthy drink in summer days. And the plum syrup cooled in freezer is the champion cold drink. Having a cup of plum syrup when you enjoy hotpot or barbecue you will find it is more tasty.
If you are not confident to explore these local food on your own. Doing a Xian food tour with travel company will be the best choice for food lovers.