Newly Born Panda Babies Meet Public
It's annual panda baby show time again! On Sept 29th, the newly born panda babies were taken to meet public for the first time.
Panda babies in arms of feeders. Netizens joked these panda babies are the best Mid-Autumn Festival welfare for visitors.
In 2016 there were 23 baby panda born in the center. In 2017 the number dropped to 10.
Though the numbers dropped, their attraction to people has never becomes less. Their casual behaviors will make visitors drunk.
Just as in the former years' show, some naughty babies are out of control. The 2 elder baby pandas "Zhishi" and "Zhima" attempted to leave the stage, that made the scene jumbled and funny.
Female pandas return to estrus in March – May, and gestation period usually last 83-200 days. So most baby pandas are born when it turns to August. "Zhishi" and "Zhima" are twins born in April 2017. The early birth date made them the elder brothers of the other baby pandas and the most naughty ones.
When all the other baby pandas are still infants, "Zhishi" and "Zhima" regards the little ones as their toy.
Feeders put them in order and go. The little creatures take the chance to observe this strange world freely.
It seems the two elder brothers are looking for a place which match their position among the newly born babies well.
The elder brother missed his footing and fell over. Haha~~~
Make way, my friends. You're in my way! I am going to take a walk on the ground.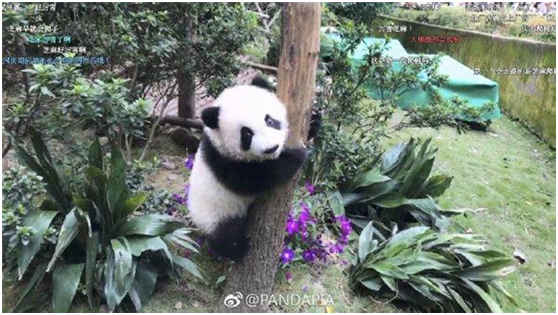 I am six months old. And I can climb the tree. Pretty strong, yeah?
Are you touched by these lovely little babies? Welcome to Chengdu Panda Center to have a close look of them.It will definitely be the highlight of your Chengdu tour and China tour.
(Pictures from PANDAPIA)