Driving on Shaanxi Yanhuang Sightseeing Highway
Shaanxi Yanhuang Sightseeing Highway, will open in August, with a total length of 828.5km, starts from Fugu County in north and ends at foot of Mt. Huashan in south. The highway pass through the following counties:
Yulin: Fugu, Shenmu, Jiaxian, Wubu, Suide, Qingjian;
Yan'an: Yanchuan, Yanchang, Yichuan;
Hancheng City;
Weinan City: Heyang, Dali, Huayin.
First Bend of Yellow River in Shaanxi, Baiyun Mountain, Qiankun Gulf, Hukou Waterfall, Sima Qian Memorial Hall, Hechuan Yellow River Wetland, Mt. Huashan… These well known places of interest will be strung up like pearls by Shaanxi Yanhuang Sightseeing Highway (Shaanxi Yellow River Sightseeing Highway). It will be the most scenic highway in Shaanxi Province. After your Xian tour, which is done by most normal tourists, hiring a car with driver to drive from Mt. Huashan to Fugu County your sight will be fully satisfied. Bellow are some of the places you will meet on the highway.
First Bend of Yellow River
First Bend of Yellow River in Shaanxi Province is in Fugu County. Standing in the top of loess hill to take far look you will find Yellow River makes an angle of 90 degrees. In the remarkable bend Yellow River becomes a torrent. It looks like a dragon waving tail. Local people call it Golden Dragon Gulf.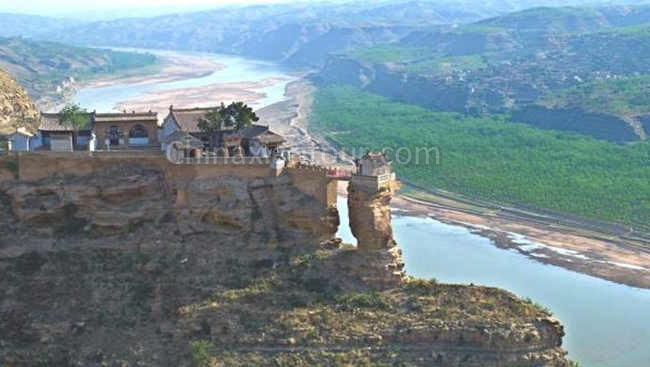 Baiyun Mountain
Baiyun Mountain locates on band of Yellow River which is 5km south to Jiaxian County, Yulin City. The mountain is famous for its unique s cenery and Taoist culture. Here the river reflects the mountain, white clouds floating in the sky, pine and cypress soar into heaven, and temples stand in great numbers.
Besides, Baiyun Taoist Temple on Baiyun Mountain is the largest Ming Dynasty architecture complex. Looking from afar they are grand and taking a close look each building is a gem.
Qiankun Gulf
Qinkun means "Heaven and Earth" in Chinese. The 1.6 million years old Yellow River make a shape of S when passing by Helhuili Village, Houshanli Village, Dacheng Village, Xiaocheng Village, and Fuyihe Village. The Hehuai Village and Fuyihe Village locating on opposite banks of Yellow River together with the river consists of a huge Eight Diagrams Figure. Looking the huge gulf from the Qiankun Pavilion nearby the scenery of Qiankun Gulf will be all in your view.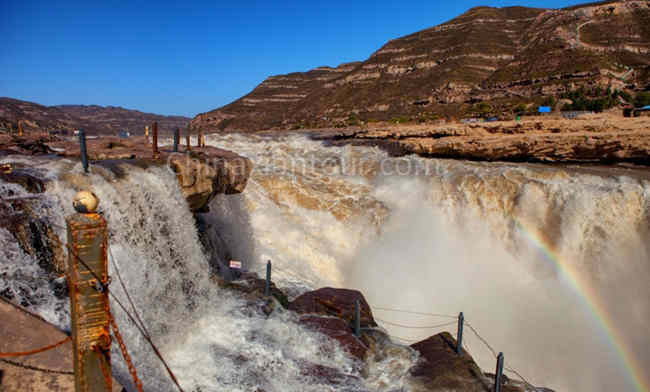 Hukou Waterfall 
Yellow River is the Mother River of Chinese nation and cradle of Chinese civilization. And Hukou Waterfall can be thought as the most remarkable pearl along Yellow River. In each season Hukou Waterfall has its unique scenery. So Hukou Waterfall Tour is one of the most done Xian side trips for both Chinese and international tourists.
Sima Qian Memorial Hall
Sima Qian Memorial Hall locates on the cliff 10km south to Hancheng City. SimaQian was the official historian in the West Han Dynasty (202BC-8AD) during Emperor Wudi's Era.  Shiji (The Record of History) was the existed most influential achievement of him.
Standing at the memorial hall, one can have a bird-eye view of Yellow River to the east, Liangshan Mountain on the west, Ancient Wei Kingdom Great Wall to the south and Zhishui River to the north. In Chinese geomancy, the memorial hall's location is of natural advantages.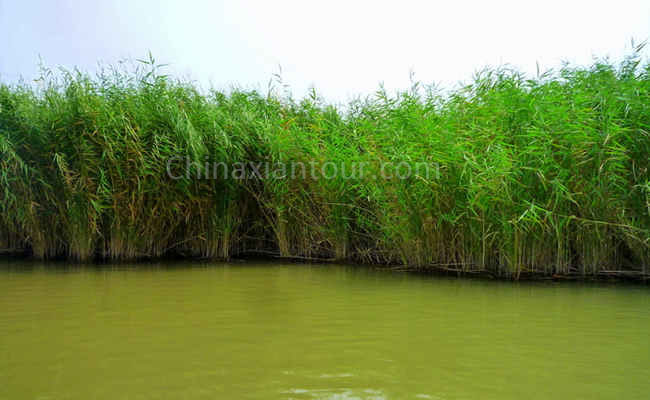 Hechuan Yellow River Wetland
Hechuan Scenic Area locates 23km east to Heyang County of Weinan City. The scenic area has the largest reed marshes area and wetland protecting area along Yellow River. And several kinds of rare birds live there.
The 7 springs in the scenic area are the most amazing thing in the scenic area. They are the most loved by visitors in summer days. "thousands of Mu's reed marshes, hundreds kinds of rare birds, boundless lotus, and the Yellow River " is the vivid distribution of the scenic area. Enjoy happy time in Hechuan Scenic Area, bathe in springs here, stay overnight in local farmer's family, and hug the Mother River is loved by Chinese and some international tourists.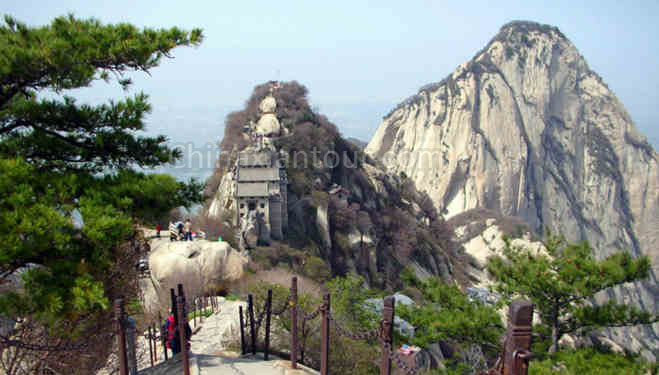 Mt. Huashan 
Mt. Huashan is one of the top 5 famous mountain in China. It is a branch of Qinlig Mountain range and face Yellow River to the north. This granite mountain is dreamful destination to each Chinese people. Even to some international tourists, the Mt. Huashan tour is of the same importance as the Terracotta Warriors tour.