Special Exhibition In Shaanxi History Museum
On Jan 14th Shaanxi History Museum treated visitors with special exhibition. According to the museum, the special exhibition will last till the may 8th, 2018. So if you are going to visit the museum in the following months, you may see some objects that seldom on display before. The special exhibition focuses on the culture of the Zhou, the Qin, the Han, and the Tang dynasties. And the exhibition falls into four sections: phoenix hovering in Qishan, Empire in East, Grandness of the Han Dynasty, Phenomenon of the Tang Dynasty.
It is acknowledged by experts that the ancient civilization of Shaanxi Province can be dated back to 1.15 million years ago when the Lantian apemen appeared. And the ancient civilization lasted till the end of the Tang Dynasty in early 10th century. The Zhou, the Qin, the Han, and the Tang dynasties are the four of the dynasties set their capitals in Shaanxi. And they are also four of the most influential dynasties in Chinese history. Shaanxi History Museum has quiet some cultural relics from the four dynasties. And in that exhibition the museum selected some most exquisite ones for visitors' appreciating.
And to meet the needs of different visitors, in 2018 Shaanxi History Museum will held tens of special exhibitions with different themes. Some of the special exhibitions are most expected are:
Exhibition on Silk Road Cultural Relics
Exhibition on Crime Relics
Exhibition on Chinese Pottery Art
Exhibition on National Treasure Unearthed in Shaanxi
Exhibition on Pictures of World Heritage
Exhibition on Chinese Ancient Silver and Gold Wares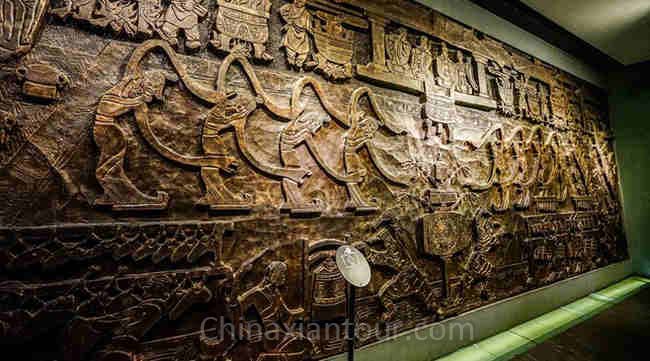 Tips to Visit Shaanxi History Museum
Entrance fee: Wait in line and present your passport you could get a ticket for free. Buy a ticket with CNY30 per person to save time in line.
Opening time: 08:30-18:30
Entrance ticket issuing time: 09:10-13:30, 14:30-15:00
How to get there: Take the bus No.5, No.24, No.27 and get off the bus at Cuihualu Stop.
Museum guide service fee: CNY100 per group for Chinese speaking guide, CNY150 per group for English speaking guide
Electron guide: CNY50 per electron guide