Spicy Dips, Popular Food at Summer Nights in Xian
Once summer is coming, various night food market in open air will welcome their golden time. The period from sunset till midnight is the best time to enjoy outdoor nightlife.
If you walking in some streets off the main avenue or some narrow alleys, you will see many outdoor BBQs. While in recent years, Xian food family welcomed one more member – Spicy Dips. Local people call it Chuanchuan. Having various kinds of vegetables, bean products, see food and meet stringed with fine sticks and then putting the head with food stuff into a basin of boiling spicy soup, people will start enjoy their night life by sitting around a mobile stove. The spicy dips is usually accompanied with beers or some soft drinks. Casting aside the pesky work in day times, the time of spicy dips belong to only friends and family members.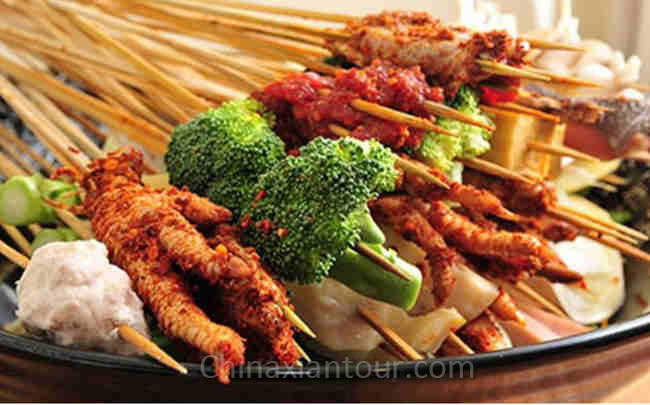 Actually the spicy dips is from Sichuan province whose capital city is Chengdu. Though spicy dips is not a native local snacks in Xian, it is deeply loved by local people. Because it cost less and satisfies taste buds more. And, more important, the relaxing, free and cool atmosphere is beyond many indoor restaurant. So without any doubt, spicy dips wins the fame of most popular food at summer nights.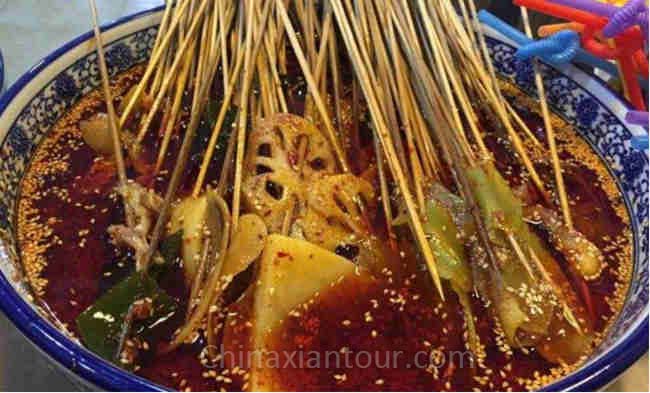 If you are spicy food lovers, spicy dips is really worthy of trying. The flavor and atmosphere will be definitely memorable. If you are scared of spicy food, Xian also has many other snacks worthy of trying. An evening food walking tour will make your Xian tour more perfect.