Test Operation of Xian-Chengdu Fast Train Carried Out
Xian-Chengdu Fast Train is the first high-speed railway that stretches through Qinling and Bashan Mountain Ranges. The designed speed of the railway is 250km per hour. On May 8th, test operation of the fast train carried out.
Xian-Chengdu High-Speed Railway has 14 stops in total. In Shaanxi Province there are 9 stations: Xian Bei Station, Efanggong Station, Huxian Dong Station, Xinchangjie Station, Foping Station, Yangxian Xi Station, Chenggu Bei Station, Hanzhong Station, Ningqiang Nan Station. In Sichuan Provicne there are 5 stations: Guangyuan Station, Jianzhongzi Station, Jianmenguan Station, Jiangyou Bei Station, Jiangyou Station. By taking this fast train, tourists will cover 15.9km tunnel in total.
The open of Xian-Chengdu Fast train will benefit international and domestic travelers a lot. Because a trip from Xian to Chengdu will be shortened to 3 hours and the transfer cost will be remarkable lower than private car or flight.
The best news for international tourist may be that they could do a Xian-Chengdu Day Tour by Fast Train to see lovely pandas after their Terracotta Warriors Tour. In fact the high-speed railway brings tourists more benefits. Along the railway there are many places worthy of visiting.
Foingping is the hometown of panda. Before the opening of Xian-Chengdu fast railway, Foping is the most recommended place to do a one day panda tour from Xian. Different from the panda research center in Chengdu, Foping panda center aimed at protecting pandas living in natural environment. Only a few pandas are kept in chambers. Some Chinese travelers may trek in the center for several days in hope to see pandas living in nature. Beside the pandas, naughty golden monkeys in Foing is loved buy children. Tourists could feed monkeys here.
Yangxian is the best place to see Crested Ibis, Chinese love birds, and some other wild birds. Some of our clients went to Yangxian and stay there for 2 days to see birds and ancient town and experience slow-pace life there.
Ningqiang is a small county in mountain area. And in the county there is a ancient town named Qingmuchan. It is a welcomed resort among people in nearby cities and provinces. The old buildings built in the early 1900s by Wei Family and the related historical info introduce us to a fierce and powerful person – Mr. We Futang.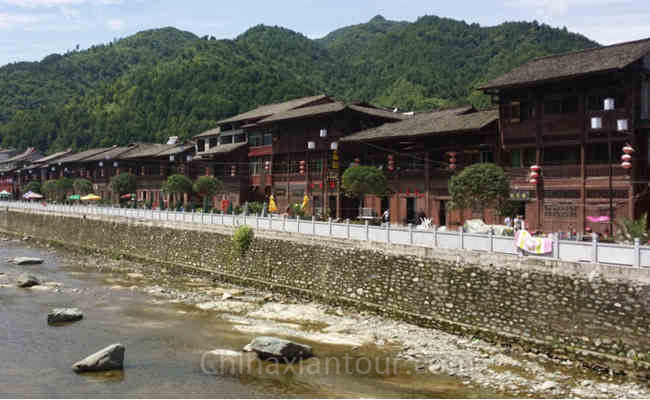 Guangyuan is a city in Northern Sichuan Province. The Zhaohua Ancient Town here is also a popular tourist destination among people nearby the city. The ancient town remains original local government official buildings, educational bureaus and some folk dwellings.  Though there is not many standard star hotels along the railway, tourists will find more interesting things in the pretty local hotels and home stays. If you have time and interest, spend 3-5 days to visit these highlight attractions along Xian-Chengdu High-speed Railway will be a wonderful experience.