Top Things to Do in Xian
The starting point of the Silk Road, Xi'an, aka Chang'an in ancient times, is one of the most significant birthplaces of Chinese civilization. Once the capital of 13 dynasties successively, Xi'an has accumulated a wealth of heritage value for thousands of years, which promotes numerous visitors to plan a Xi'an tour. You may wonder where is the most interesting place? What attractions are mostly worth going to?
Actually, you are provided with plenty of incredible things to do in Xi'an, such as making a mini warrior by yourself, exploring the unique culture by wearing a Tang suit, tasting local food in the Muslim Quarter. In addition, you have the opportunity to visit a local family and learn how to make dumplings; have a night tour of the Big Wild Goose Pagoda, and watch a wonderful float parade performance. Also, challenging the most precipitous mountain in the world, Mount Hua, and cycling on the best-preserved ancient city wall in China, Xi'an City Wall is one of the best things to do in Xi'an.
1. Visit to the Terracotta Army and DIY Your Own Mini Warrior
With the reputation of "The Eighth Wonder of the World", the Terracotta Warriors and Horses from the Qin Dynasty (221-207 BC) are undoubtedly listed as the top things to do in Xi'an. It's a super large burial mausoleum including 3 imposing pits that collect over 8,000 life-size terracotta figurines with different facial features, and multitudinous well-arrayed chariots and horses.
How about making your own mini warrior after the exploration of Qinshihuang's Army? It's a cool experience to head to a workshop nearby the Terracotta Army Museum to learn the crafting skills of Terracotta Warriors, make a unique miniature warrior by yourself, and even experience the restoration of cultural relics.
2. Uncover the Long History of Xi'an at Shannxi History Museum
Dubbed as "the Pearl of Ancient Dynasties & the Treasure House of China", Shaanxi History Museum is the first large-scale modern national museum in China, with a collection of more than 1.7 million precious cultural relics. There are 3 permanent exhibition halls in this museum bursting with historical information about Xi'an from the Prehistoric Times (115,000 years ago) to 1840 AD.
The Exhibition Hall for Mural Paintings of the Tang Dynasty is the most spectacular gallery of the museum, where you can see nearly hundreds of exquisite murals from the Tang Dynasty (618-907). On both sides of the exhibition hall on the first floor, there are souvenirs with historical themes, like notebooks, badges, etc. You could choose one or several favorite ones as the "spoils" of your visit.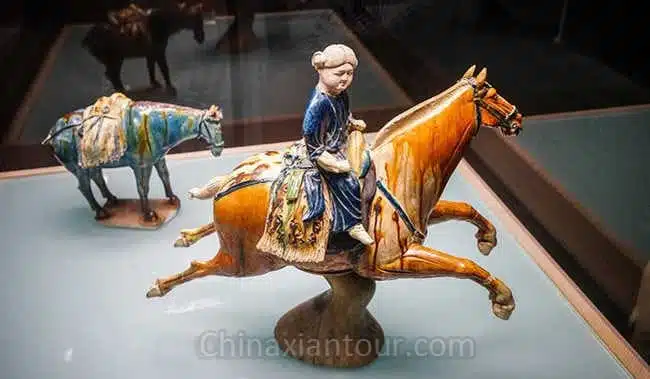 3. Cycle on China's Best Preserved Ancient City Wall
Xi'an City Wall, used as a military defense in old-time, is the largest and best-preserved ancient city wall in China, with a total circumference of nearly 14 kilometers (8.7 miles). Along with the major wall are watchtowers, arrow towers, and turrets.
Riding a bicycle or just taking a walk on the City Wall is definitely one of the most relaxing things to do in Xi'an. You can not only catch a bird's-eye view of the local ancient architectural complex but also enjoy the different scenery of the outer city and the inner city. Moreover, you can fly kites on the wall; if you are lucky enough, you may encounter an excellent Guard Parade performance.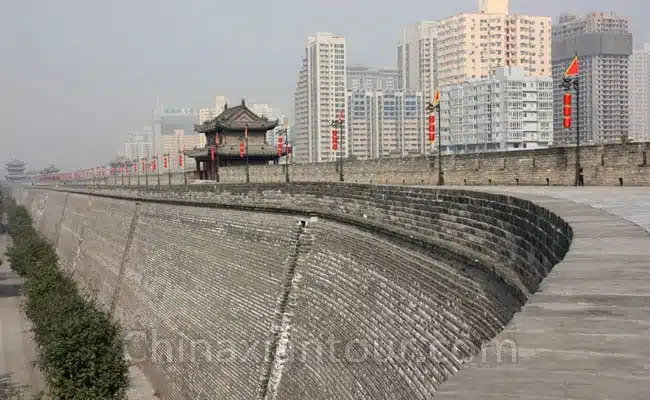 4. Taste Local Specialties in Muslim Quarter or Yongxingfang
As a paradise for food enthusiasts, Muslim Quarter is always crowded with people both day and night. It's a 500-meter-long (547 yards) block featured by many kinds of local distinctive snacks sold in Ming and Qing style buildings lined on both sides.
Visit Muslim Quarter at night, and you will see a variety of restaurants and shops with bright lights, which is rather striking, making it easier for you to find the snacks you would like, such as Honey Cold Zongzi (Glutinous Rice Dumpling), Pepper Soup with Beef Balls, Marinated Meat in Baked Bun, Mutton and Bread Pieces in Soup, and Biangbiang Noodles.
Find more kinds of foods in Yongxingfang, where you can taste hundreds of traditional refreshments from all over Shaanxi Province, and you can also appreciate great performances of handicraft and folk customs.
5. Challenge the Most Dangerous Mountain under Heaven
As one of the Five Famous Mountains in China, Huashan Mountain is famed for its breathtaking natural vista of precipitous cliffs, narrow and steep paths, and towering peaks. So, climbing the highest point of Mount Huashan must be one of the most fulfilling things to do in Xi'an.
You are highly recommended to hike Mt. Huashan at night so you can climb to the peak before dawn and watch the gorgeous sunrise. If you are one of an adventurous disposition, you could conquer some of the toughest trails during the daytime, including Plank Walk, the most dangerous and thrilling pass on the mountain only with a width of 0.3 meters; and Yaozi Turnover which is almost vertical, equipped with loose iron chains for you to hold.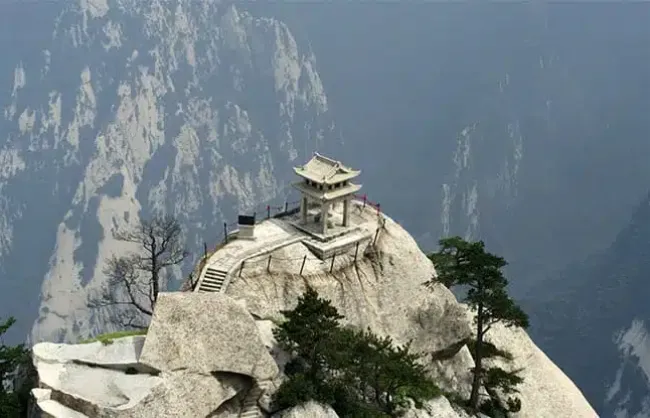 6. Have a Night Tour of Big Wild Goose Pagoda
Big Wild Goose Pagoda, a masterpiece of Buddhist architecture in the Tang Dynasty (618-907) of China, was built to hold sutras and figures of the Buddha brought to China from India by Buddhist translators and the wandering monk Xuanzang.
One of the most interesting things to do in Xi'an is to watch the brilliant float parade performance in the Great Tang All Day Mall at the foot of Big Wild Goose Pagoda in the evening. Besides, at North Square, you can enjoy the largest music fountain in Asia with colorful lights and exciting music, which will reward you with a memorable experience.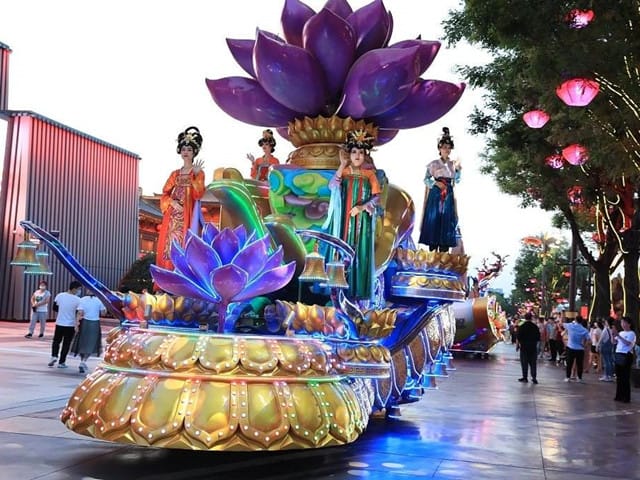 7. Wear a Tang Suit to Experience the Unique Culture
Tang suit or "Tangzhuang" refers to the authentic Tang Dynasty clothes evolving from Chinese traditional "Hanfu" (Han people's clothing). Without buttons, this kind of costume overlapping the right border to the left is usually tied with a sash.
Xi'an serves as one of the best places in China offering diversified Tang suits in all styles and colors for both female and male tourists. Pick out your favorite one and learn how to dress it like a real Tang people from the local experts, which is not a simple dressing change but a significant cultural experience. Not only wearing the Tang suit, you can also get Tang-style make-up and hairstyle for strolling at the Tang Paradise and taking photos freely.
8. Explore the Mysteries in Earth Caves
Earth Caves, generally carved out of a hillside, are composed of two parts, a semi-circle in the upper part and a rectangle in the lower part. Surprisingly, the caves are cool in summer and warm in winter, which is why a lot of tourists visit the Earth Caves for summer vacation.
Some of the Cave Dwellings in Xi'an are located in villages not far from the old highways between Baqiao District and Lintong District on your trip to Terracotta Army. Plan a mysterious trip to these caves with an English-speaking guide and get a detailed introduction to its historical background and highlights. Here, you could have a deep experience of the local rural lifestyle and living conditions of most farmers in Northwest China.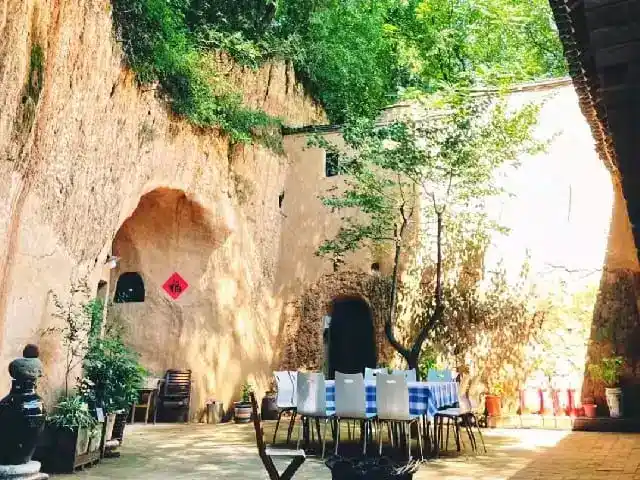 9. Practise Tai Chi in the Early Morning at Small Wild Goose Pagoda
A part of the Buddhist architectural heritage of the Tang Dynasty, the Small Wild Goose Pagoda is a great destination to settle your nerves thanks to its peaceful and tranquil environment.
Get up early and catch up with such an interesting scene that groups of middle-aged and elderly people are practicing Tai Chi, a good regimen method. Join them to cultivate your shape, strength, breath, and spirit while enjoying the charms of Chinese traditional culture. The Morning Bell Chime is considered to be one of the Top Eight Scenes of Xi'an. Ringing the bell to pray for blessings in the Small Wild Goose Pagoda is one of the most meaningful things to do in Xi'an.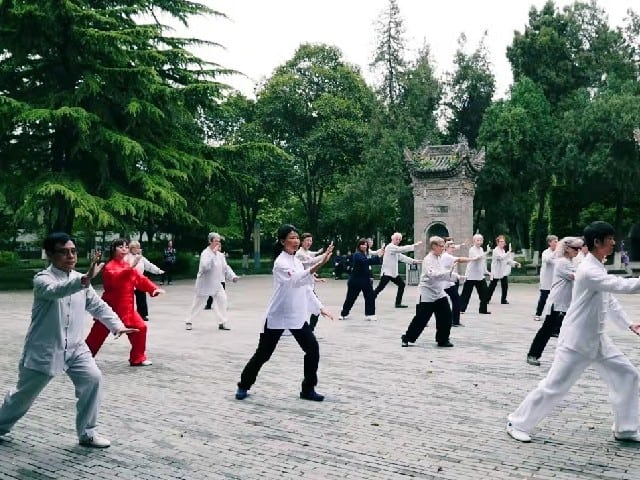 10. Learn to Make Dumplings and Enjoy the Tang Dynasty Palace Show
Dumplings are one of the most popular staple foods of Xi'an people, and the spectacle Tang Dynasty show is an ideal way to explore the Tang Dynasty culture and the former glory of Xi'an. So savoring the tasty dumplings and admiring the Tang Dynasty Palace Show is always on many tourists' Xi'an top-do-list, and we suggest covering these two in one night tour in Xi'an.
The Tang Dynasty Palace and the Shaanxi Song & Dance Theater are two recommended sites to feast your eyes and stomach in one go.
For those who want to learn how to make dumplings, we can arrange a family visit with a private home cooking class. A local teacher will teach you how to make dumplings of different fillings.