Shaanxi History Museum
Shaanxi History Museum on East Xiaozhai Road was constructed with the structure of traditional Chinese palaces, the style of architectures in the tang dynasty. 375,000 pieces of relics are exhibited in the museum, of which 800 pieces are of national first level. Basic exhibition hall arranges the exhibited relics in the historic order that shows the splendid period of history from Lantian primitive men of 1 million years ago to the Opium war in the year of 1840.
The Museum's regular exhibition mainly represents social facts of Shaanxi in history. Representative pieces from all periods have been selected to show the development of civilization in this region. The exhibition space of this display is 4,600 square meters. It includes three exhibition rooms, divided into seven parts (Pre-history, Zhou, Qin, Han, Wei-Jin-North and South dynasties, Sui-Tang, and Song-Yuan-Ming-Qing). The superlative 2,000 selected objects include: painted Neolithic ceramics reflecting early people's living conditions and their pursuit of vibrant art forms, bronzes reflecting the rise of Zhou people, bronze weapons including swords, and statuary of horses and soldiers, reflecting the way in which Qin unified all under heaven, Tang-dynasty gold and silver objects and Tang sancai ceramics (colored ceramics), reflecting the most flourishing period of feudal glory. All of this is accompanied by models of archaeological sites, and drawings, and photographs.
Shaanxi History Museum
Shaanxi History Museum contains 115,000 objects in its collections. The more representative of these include bronzes, Tang-dynasty tomb wall paintings, terracotta statuary, ceramics (pottery and porcelain), construction materials through the dynasties, Han and Tang bronze mirrors, and coins and currency, calligraphy, rubbings, scrolls, woven articles, bone articles, wooden and lacquer and iron and stone objects, seals, as well as some contemporary cultural relics and ethnic objects.
These works systematically exhibit the ancient history of Shaanxi from 150,000 years ago to the year 1840. Since several historical periods all based their capitals on Shaanxi territory, such as Zhou, Qin, Western Han, Sui and Tang Dynasty. The exhibits emphasize these periods and these places. This not only expresses the extent of culture in ancient Shaanxi, but also displays the highest level of cultural development of China's social economy.
The temporary exhibits hall, located on the east side of the museum, has had a variety of exhibitions including Tang-tomb wall paintings, that is to say 39 of the actual paintings. Shaanxi's wall murals of this kind rank first in the entire country. They are fluid in concept and line, they have marvelous details, and they both depict Tang customs and are superb works of art.
The special exhibition hall is located on the west side of the museum. Its first two exhibitions were a Shaanxi bronzes exhibit (260 were on display) and a Shaanxi-through-the-dynasties terracotta masterpieces exhibit (341 objects were exhibited).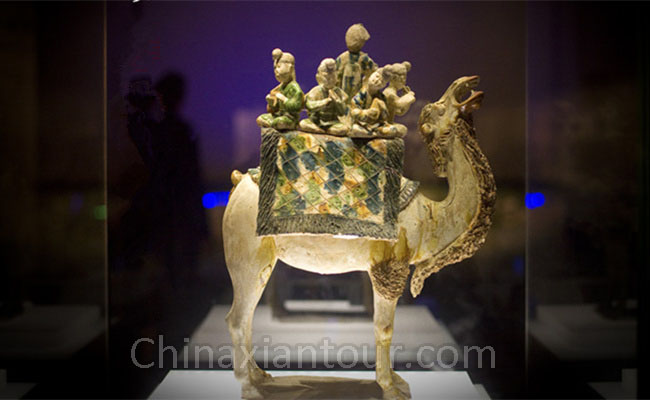 Cultural Relics in Shaanxi History Museum
Entrance fee: Line up to get tickets with passports for free.
Opening hours:
Close on Mondays
November 15th -March 15th: 09:00-17:30
March 16th-November 14th: 09:00-18:00
Public transportation: Bus No. 5, No. 19, No.24, No.30, etc.
Tips for Shaanxi History Museum visiting:
Waiting in line to get tickets with passport may pend about 1 hour waiting. Tourists who doesn't want to wast time could buy the ticket at RMN20 per ticket.
Audio guide machine is available. The cost is RMB30 per machine and deposit is RMB100 per machine.
Cost for Exhibition Hall for Treasures of Great Tang Dynasty is at CNY20 per person
Cost for Exhibition Hall of Tang Dynasty Mural Paintings is at CNY300 per person
Tours including Shaanxi History Museum:
3 Days Beijing Xian Tour by Tran + Flight
Read more related tours by clicking here.