Ancient Wall of South Gate
Reviews on Ancient Wall of South Gate
Visitor 1: "A Bicycle ride along the wall is a must do"
Our guide with China Odyssey Tours arranged for the bicycle rental near the west gate. What a neat way for the family to ride along the wall. We were able to stop and look at the displays. We also stopped to look at a fruit and veg market next to the wall and got some great video footage.
This wall is very well preserved and even for a large person such as myself, was a nice casual ride along the wall. We found that 45 minutes was enough to do about half of the city wall and take in attractions.
Visitor 2: "nice ride along the ancient wall"
we rented a bicycle for 90mins. Not able to finish the entire wall. Only finished half of it. was good that we can have a good view of the city. Also there are different performances within. We watched the ancient soldier march. but their costumes are somehow too undetailed (wear shorts). I dunno if that is really the costume of the Sui dynasty.
Visitor 3: "Try a bike ride!"
The Ancient City Wall is wonderful – you can appreciate ancient Xian by either hiring a bike and riding round, or take the modern method of cart. If you are a foreigner, you will be as much of a tourist attraction to the locals, but the locals are friendly and very helpful. A great way to see the history of Xian!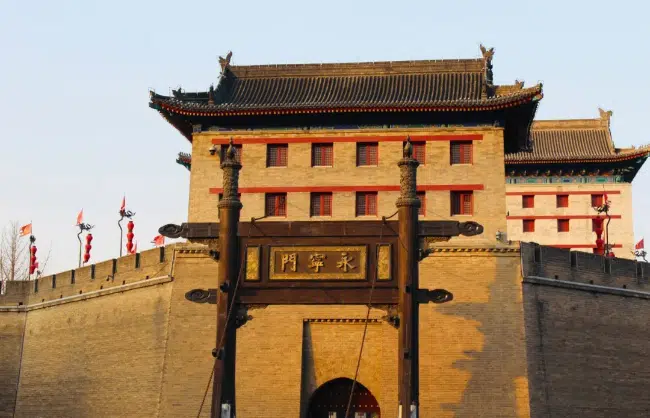 Visitor 4: "Impressive city wall"
Although we started at the west gate of the city wall, the south gate was our next stop, whilst cycling round the wall. Personally the gates were fairly similar to me and I could distinguish much between north south East or west. They were all impressive . To ensure you see all the gates I can highly recommend cycling round as it's so vast. Circa 14km in total. The bike rentals are at each main gate, so it doesn't matter where you start. It's 40 yuan for 100 mins, plus a deposit of 400yuan. We only had 300 left on us, but they were fine and took this instead.
The bikes aren't great and the city wall is extremely bumpy, however we had a great time cycling around. We stopped plenty of times for pictures and for drinks and we easily made it round it 100 mins.
Without doubt it was our favourite thing to do in the centre of Xian.
Visitor 5: "lots of fun"
our tour was supposed to go to the west gate but as they were doing some owrk there we went to the south instead. the timing happened to be fortuitous as they 'warriors' came out for a few minutes not long after we arrived.
xi'an has taken great pride in its historical attractions and this is really reflected in their upkeep.
Visitor 6: "Bike ride it age 10+ only"
Great wall, would be great to be able to hire a bike or tandem for our 5 and 6 year olds. The policy is age 10-60 only, even for a tandem, which is ridiculous for such a safe environment, which is flat with obviously no traffic being 10 metres or so above the ground, but that's the normal cotton wool wrapping the Chinese have perfected for kids!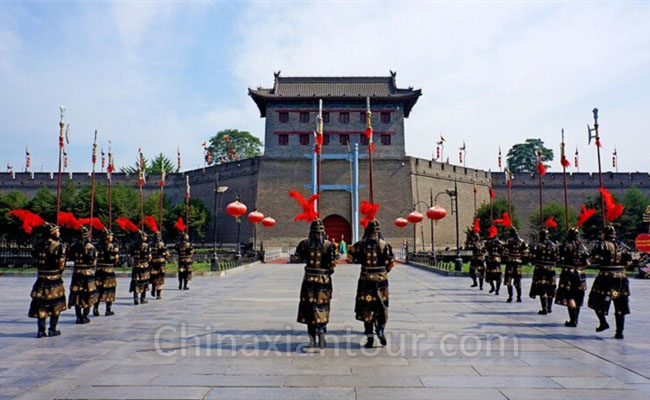 Ancient Wall of South Gate
Visitor 7: "Well worth it!"
After a long day visiting the Terracotta Warriors I had an hour of free time before heading to a local Opera performance. I was keen to check out the Wall that surrounded the city and to my delight there were rental bikes fore hire to bike the entire wall. It gave you a unique perspective of the old Chinese architecture vs the new. I would advise giving yourself more than an hour as I was very rushed and exhausted by the end but very rewarding and well worth it.
Visitor 8: "9 mile bumpy ride is worth it"
My family of 5 includes three young adult sons. We enjoyed the views and the ride, despite the bumpiness. The ride is flat and easy, but padded shorts would be most welcomed. Walking 9 miles isn't reasonable so the ride is a nice alternative. We went in the early evening, and the red paper lanterns were lit by the end of our ride. Easy listening music plays on speakers so you sort of ride to a soundtrack. I remember hearing Kenny G at one point. You decide if that's a plus or a minus. The bikes were all in good condition. They want a cash deposit (it was 800 RMB for our family) in addition to the rental fee so bring your wallet. Next to the terra cotta warriors, this was our favorite thing in Xi'an.
Visitor 9: "Worth a visit"
Walking around the wall gives an amazing view of the city. It was early evening when we went round and there were some really interesting Ti chi sessions and exercise groups going on as well as a performance of a play going on in the park below. There are some interesting models in the guard towers but difficult to see because they are not lit up.
Visitor 10: "If you ride it, be careful!"
This is a great experience but if you opt to ride the walls (13.7 kms) be aware that there is significant earthquake damage in parts and stones missing all over the place so it's a really bumpy ride. You need to stop and look at the views as you dare not take your eyes off the surface ahead. Bikes are sturdy (necessarily!) and in good condition and quite cheap for such a unique experience. We took an hour and 20 minutes to cover the four walls and that was travelling fairly quickly with a few photo stops along the way. Would recommend others allow more time. Some nice bars below when you get off the bike! Great experience.