Banpo Neolithic Village
Reviews on Banpo Neolithic Village
Visitor 1: "Highly Underated attraction"
Admittedly I am a history nut, but the excavation of the Banpo Neolithic village in Xi'an was an extremely enjoyable stop for me. It is almost entirely inside and air conditioned, which made a pleasant break on a warm day. But it is also an example of a remarkably well preserved (and well exhibited) neolithic settlement. It was all the more enjoyable for being a slightly unexpected pleasure.
Visitor 2: "Now that's history"
Banpo Neolithic Village was very impressive, and well presented. It was just amazing, going back to 4500 – 3750 BC. Their social organisation and skills with pottery was awesome.
Visitor 3: "Banpo Neolithic Village – a site that amazes"
Banpo is a huge Neolithic Village that existed beneath modern-day Xi'an. Part of what is called the "Yangshao Culture," the museum is built over the open excavation of the site. You can see post-holes, the shape of the houses, a moat, kilns, hearths, and a few pottery vessels in situ, with recovered skeletons, & secondary burial pots off in a side room. There is a museum with life-sized representations of the Banpo people, examples of weaving, pottery, household items, and more.
As anthropologists, we found this exhibit extremely interesting. We spent, perhaps 3 hours here. It's an easy taxi ride from the center of Xi'an and well-worth the visit.
Banpo Neolithic Village
Visitor 4: "Very Interesting"
It's a bit more "raw" than the terracotta warriors in terms of a tourist development, and we visited with a guide (see Alex tours) which helped provide anything that was missing in terms of English commentary. That said, it would have been perfectly enjoyable had we visited alone. What I personally love seeing is how similar it is to similarly-aged settlements in the UK, despite the 8000 miles difference! I would definitely recommend putting this on any itinerary visiting Xi'an.
Visitor 5: "Make It Your First Stop"
on the way to Terra-Cotta warriors… It is in the same direction as the warriors museum, and is quite an interesting augmentation to your visit to Xi'an. We enjoyed the pavilion that encloses the archaeological dig.
Visitor 6: "Don't Miss This"
A 6000 year old excavation including remnants of huts, layout of the "village," and skeletal remains (Fossilized?) with burial items. This is low key and not as grand as seeing the Terra Cotta Warriors or, say, the Great Wall in Beijing, but this village is one of my strongest memories of my first trip to China.
Visitor 7: "Don't Miss This Gem"
For me this was really an amazing place that should be on everyone's itinerary! This is a museum constructed over the archeological excavation of a neolithic village. You can see the actual site of the village, the way the houses were constructed, the way people were buried. There is also a great museum about neolithic China. This was very well done and we enjoyed it immensely!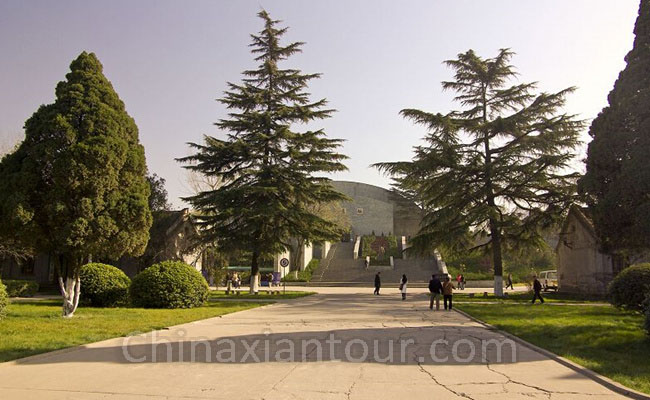 Banpo Neolithic Village
Visitor 8: "Banpo Museum-Very Enlightening and Educational Visit"
Banpo Village existed some 6,000 years ago near Xi'an in the Shaanxi Province of China. I'm glad to have included this site in our itinerary after visiting Terracotta Warriors in the morning.
The video showing how the huts were constructed thousands of years ago is really amazing. I'm also able to look up my ancestor in the Surname Culture Museum.
Visitor 9: "Pretty Cool"
First off, why is this under "nightlife?"
The museum is a rather interesting look at ancient Chinese culture, that dates back to 6000 years ago (according to the tour guide). The museum consists of several areas displaying the remains of the house foundation, pottery, and skeletal remains. When you're leaving the museum, on your left, is a new room where u can find all the Chinese family names and your ancestor's plaque. That was pretty cool too. Visitor 10: "Highly Recommend This Historical Site" We found this one of the highlights of our tour to Xi'an. It was so interesting how communities would live and exist together; the history was mind-boggling. So glad we added this to our list of places to go in Xi'an. And our kids found it really interesting too which is always a good thing.