Bronze Chariot and Horse of Qinling
Reviews on Bronze Chariot and Horse of Qinling
Visitor 1: "Long queue, hard to get a photo"
You have to jostle for a position to make viewing these worthwhile. Once you are up close they are hard to photograph because of their glass enclosures. I expected them to be full sized, but they are in fact half sized. Not as inspiring as the Terracotta warriors next door. The rest of the building is taken up with photos of visiting dignitaries, the Olympic Games memorabilia, and a few other minor displays. Bottom line is, if there is not much a queue, it's worth seeing, but if you have to wait more than 10 minutes give it a miss.
Visitor 2: "Not to be missed!"
These restored bronze chariots, horses and horsemen are not to be missed! Although part of the Qin Terracotta Warriors site, one could possibly miss this display due to visiting the army sheds. The work that has been done to restore the two chariots, horses and horsemen is incredible! One feels as though one has stepped back in time over 2000 years – they are that fresh! The detail, the layout, the display, the quality – all simply superb and must-sees!
Visitor 3: "Amazing relics"
Chinese forefathers were already very advance in technology, but lost until uncovered in the well preserved tombs. Artisans created life-like statues, which are meticulous in details. It help us to gain insight to ancient culture. Don't miss it.
Visitor 4: "Impressive"
Part of the museum at The Terracotta Warriors in Xi'an this 2,000+ year old bronze scale model of horses and chariot is impressive. Particularly when you see photos of what their condition was when they were uncovered…basically squashed flat!
Visitor 5: "Busy"
Well worth waiting to get a glimpse – very busy but the amazing to see. They are behind a glass enclosure, so getting a good photo is challenging as so many people trying to get close.
Visitor 6: "Horses still alive"
First Qin Emperor must have been a man of superb vision – all that he created lasts for thousands years and so do also these horses. It was just so hard to take a photo here as you have people pushing each other as close to the glass as possible. Just like everywhere in China…
Visitor 7: "the emperor's BMW as our tour guide described it! "
very impressive, very detailed and a superb historical find – clearly there were no limits to what past emperors would do to ward off enemies and demonstrate their strength (even in death!)
Visitor 8: "Another Must See"
Adjacent to the Terra Cotta Warriors, this museum also is a must see. We were in awe of the accomplishments of these artisans. China walled itself off for so long, these treasures were unknown to most of the world. Seeing these sites gives you a new perspective on Chinese culture and the arts.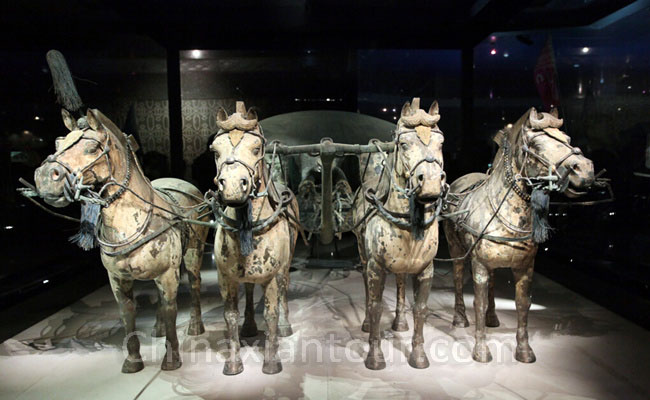 Bronze Chariot and Horse of Qinling
Visitor 9: "Clay Soldiers of Xian"
Had 3 day break from work. Decided to book an entire package through a travel agent. I initially thought a bit expenside at Euro 800 each, but now that i'm back, it was well worth it. Firstly, I would not have been able to see and do all the trips/attaractions they had organized.
Secondly the organizational requirements when you are not a local, would be daunting. There is probably enough to see around Xian for at least a week, at the end of that you will be exhausted. More realistic would be 7 or 8 days. We only went to the sites close to the city, had a live show, with dinner, and then went to the clay soldier site. ALL Excellent.
On the way to the soldiers, you are taken to a silk rug factory. Lots more to see than silk carpets, Interseting, but 200% more expensive than buying the same in Europe. (must think tourists are crazy)