Taiping National Forest Park
Taiping National Forest Park is an ecological scenic area grounded on natural landscape and dominated by forest scenery. It is located in the Taiping Valley of Huxian county, which pretains to the north part of the Qinling Mountains, with 44 kilometers away from Xian. Taiping Valley was named after the Taiping Palace built here by the royal Sui dynasty, and it was also the place where the king of Tang spent as the summer retort. As for the climate feature, the average annual temperature here is 7-10℃, and it keeps cool even at the hottest time in midsummer.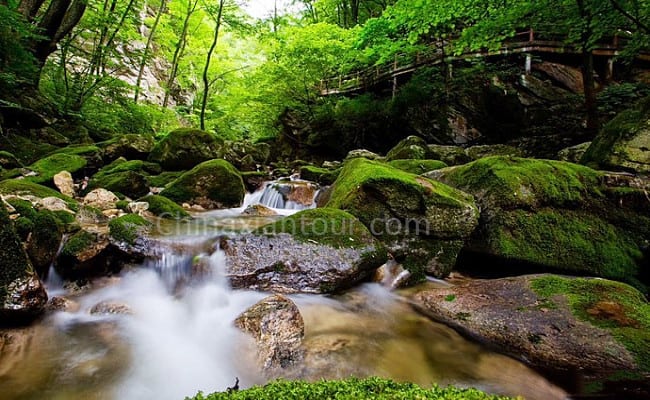 The park is the "ecological boutique tourism area" authorized by Xian tourism bureau. There are five scenic spots in the park, meaning Stone Gate, Moon Palace Pond, Stone Boat, Huangyang Dam and Birch Forest Bay.
In addition, the park is also rich in biological resources, with more than 30 kinds of rare protected animals in national level, including primitive larches and beautiful red birch forests. The scenic spot is praised as "the world of waterfalls and flowers" by tourists for its unique water landscape and natural Bauhinia flower sea of ten thousands acre. There are 12 waterfalls of all sizes, which are distributed in a concentrated scope of 2.5 kilometers, with the maximum drop reaching 160 meters. Bauhinia flower sea is known for the bright color and delicate fragrance, which is one of the highlights of the park.
Opening time:
Peak season( March 1 – October 31): 08:00-17:30/ close at 17:00;
Off season( November 1 – February 29 of the next year): 08:00-16:30/ close at 16:00.
Bus route:
1. Take line 1 of Huanshan Tour at the North Square of Dayan Pagoda and get off at the Taiping Forest Park scenic spot. The bus comes every 30 minutes before 9:00 am and every hour after 9:00 am.
2. Take a non-stop bus to Taiping National Forest Park at Xian South Passenger Terminal. The departure time is 8:00 – 9:00, and return time is 16:00 – 17:00.