Shaanxi Grand Opera House Xi'an
Reviews on Shaanxi Grand Opera House Xian
Visitor 1: "Really enjoyed"
We went to this as part of our china tour, to be honest we were not expecting to enjoy the evening. We enjoyed the meal, some of the dumplings we really tasty. The show was after the meal and was actually good with some dancers then musicians. There were drinks and ice creams available to purchase.
Visitor 2: "do not miss this show"
what a wonderful performance and tunes by authentic opera singers accompanied by authentic orchestra and maestro you feel like you've been dragged to the time where it all happened a great illustration of the emperor's era. it was the highlight of our trip to XIAN, do not miss it and don't forget to buy the CD.
Visitor 3: "Very Impressive Show"
This was one of the highlights of my visit to Xian. The show was very elaborate and fun to watch. The dumpling banquet offered many different kinds of dumplings when were fun to see as well as eat. I would highly recommend this to anyone visiting.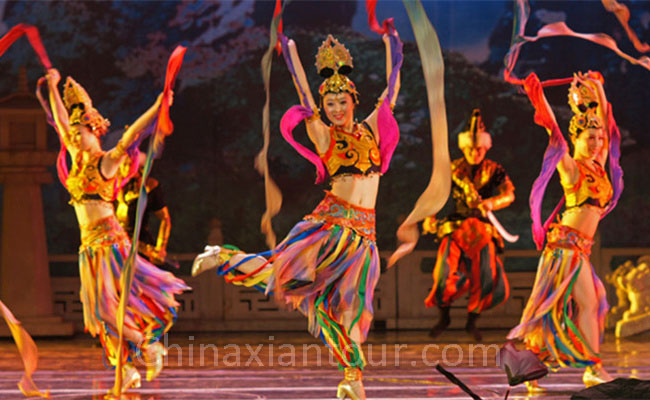 Tang Dynasty Show
Visitor 4: "Tang Dynasty Show"
Wow. A meal of dumplings, which kept on coming, and drinks followed by an amazing show of traditional music and dance. It was incredibly good. Highly recommended.
Visitor 5:  "Dumpling Banquet and show"
Sixteen different stuffed dumplings was the focus of the banquet…last course had them shaped like the animals whose meat was inside (fish, duck, pig, chicken)…cute, but so so to eat. Highlight was the Tang Dynasty Music and Dance Show afterwards. Colorful costumes, sets, lighting and Chinese music put together a delightful hour+ performance.
Visitor 6: "What a highlight on the Tang Dynasty this is"
We didn't know what to expect, but after being part of this truly professional and amazing opera, with so much colour, glamour and gracious dancing. With male dancers as lions and great vigour, we sat watching intensely so as not to miss anything.
The stories are charming and written in a beautiful souvenir booklet with menu which we brought home which we don't usually do.
I have some truly gorgeous photos which have been admired by all. The musical instruments are ancient from the tang era and there is an orchestra up in the high in stalls playing with a choir? Singing like angels. Loved the instruments. Go, don't miss this attraction which should be much higher in the ratings.
Visitor 7: "Even our young children enjoyed the show"
We enjoyed the dinner and show here. The dinner was decent, but our favorite part was the show. Even our youngest (3 years old) paid great attention to the show after a long day of traveling / touring! It includes about 10 short performances each with a variety of singing, dancing, and or musical instruments.
Even though we had 8 people in our group, we did not order a dinner for everyone since the younger kids just shared. That was a good decision since they didn't each need their own full meal. Tickets are a bit pricey for the dinner / show combo at about 340 RMB for the set or just 240 RMB for the show, but figuring it was a "once in a life time" chance, we splurged, and looking back don't regret having made the decision.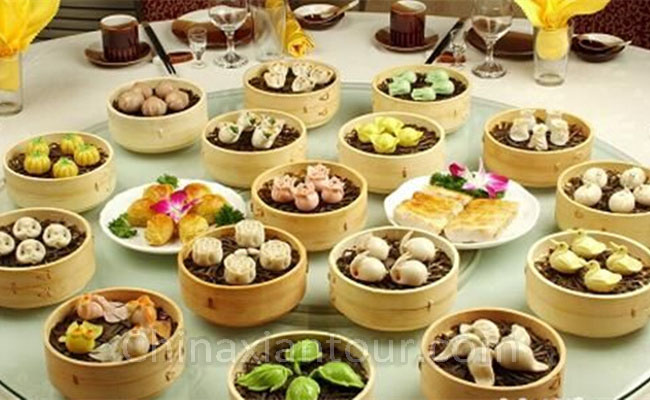 Dumpling Banquet

Visitor 8: "2 in 1 (Dumplings & Opera)"
Created for tourists – but I did not mind !!!! First you enjoy an incredible dumplings dinner (specialty of Xi'an) for about 1.5 hour, later to be followed by a quality performance of dance and music from the Tang Dynasty Palace. Very nice place, usually full of tourist groups (some of them dressed in t-shirts, some wearing an evening attire). The evening is relaxing, very good food and really quality show. Try it; you will not regret it !.
Visitor 9: "Great show, customs, set, and musicians"
The name of this dinner show is the Tang Dynasty Palace Music and Dances performed at the Shaanxi Grand Opera House Xi'an. It is located a few blocks south of the Southern Gate of the city wall. This should not be confused with another popular dinner show in Xi'an show called the Tang Dynasty Dinner Show.
My wife and I very much enjoyed the show. We only got show tickets so I can't comment on the dinner food. The theatre was set up with tables set up everywhere (there weren't any theatre-style seats). Most of the crowd were Chinese so I felt comfortable that the show wasn't a tacky foreigner's tourist trap.
The show itself was a little over an hour that had 10 parts. Each part featured dancers, musicians, or at times, both. The sets and costumes were brightly colored and very beautiful. The songs and dances seemed to be authentic traditional Chinese and were entertaining. All patrons received a free show program that explained (in Chinese and English) each of the 10 performances. Also, pictures and videos are allowed.
As a musician myself, I particularly enjoyed the highly skilled panpipe soloist, the absolutely amazing "trumpet" soloist (he also had some sort of whistle/mouthpiece), and the percussion group.
Keep in mind that this is NOT an acrobatic show, it's a performance to showcase the music and dance of the Tang Dynasty. I don't know if it was authentic to the Tang Dynasty, but it was a very visually and musically appealing show – the kind you hear about and want to see when in China. I highly recommend it!