Tang Dynasty Dinner Show
Reviews on Tang Dynasty Dinner Show
Visitor 1: "Tang Dynasty Show & Meal"
The show was excellent ,We were right at the front although a couple of rows back might have been better, the meal was also very Good, The singing & dancing were Brilliant, well worth seeing.Nice theater for the show.
Visitor 2: "I'm not an Opera person, but this was pretty good!!"
I have never been a big fan of Opera style performances, but I have to admit that being accompanied with my wife and two teenagers, we all agreed that this was well worth the visit. The food was nice, not outstanding, and we found that there was enough good quality food for the evening. Due to the layout to watch the performance after the meal, the tables are in a set position which makes it hard for the waiters. Yet the service was good also. The performance itself was fast and entertaining. A bit of everything to please everyone. Would I do it again? Yeah, I reckon I would. So yes, worth a visit.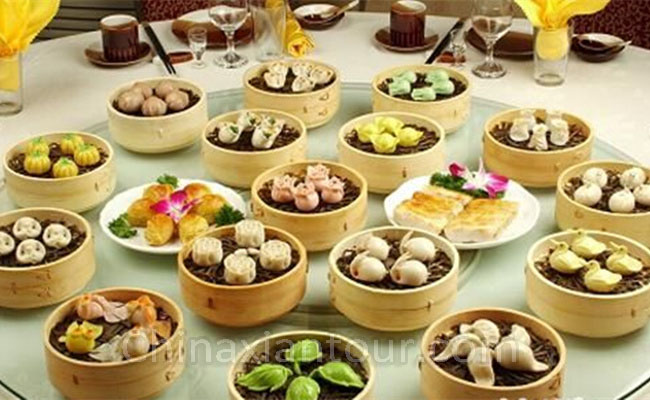 Dumpling Banquet
Visitor 3: "One the best parts of my travels in China"
I have lived in China (Hangzhou) in 2003, but I traveled through from Shanghai to Dun Huang to Urumqi to Kashgar and then to karakul and stopped by xi'an on my way home. To be honest – I like quiet places, my holidays are room for thought as much as anything else, but xi'an was amazing. The tour guide who showed us through the Terracotta Army took me aside and showed me this theatre of which I had no idea. I have been a fan of Andreas Vollenweider for a number of years, and now I know where he got lot of his inspiration from. The music and theatre is amazing.
When you consider they do this day to day, this is pretty special.
I'll grant – the food is pretty ordinary, not questions there, but you are not there for that, and the fact that people are allowed to smoke in ther, at least they were when I went (2010) it does detract a but. But the skills of the artists is extraordinary. No question, and thanks.
Visitor 4: "Dumplings and dancing"
Unlike some of the other reviews, we thought the additional price for the dumpling dinner was well worth the extra – you were dining in the knowledge that you were already where you needed to be, and it just added to the fun of the evening. Are they Xian's greatest dumplings? No idea – but we enjoyed them.
There's absolutely no debate about the show, though. It's a stunning visual feast with delightful music and, at an hour long, it's just the perfect length.
Dumplings and dancing – an excellent combination.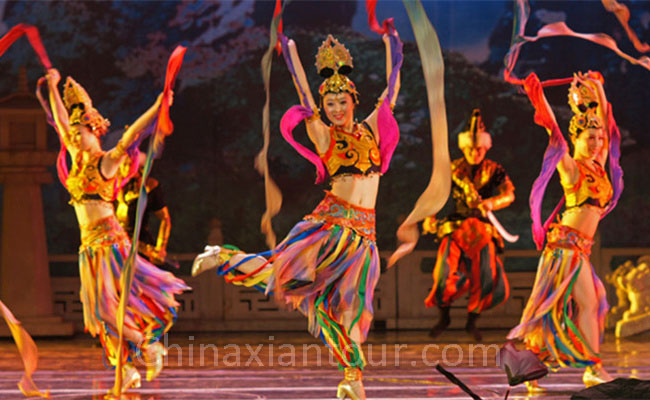 Tang Dynasty Show
Visitor 5: "See the show…skip the food"
If this dinner/show is not part of your tour package, see the show and skip the dinner. We were disappointed that the food was not better for the price we paid. It was a dumpling dinner and you can get better dumplings other places. The show was nice.,,,beautiful costumes and traditional Chinese music.
Visitor 6: "Fabulous cultural presentation of music and dance"
We thoroughly enjoyed the show and the food. The show was just what we wanted to see portraying the authentic cultural dancing and music. We were just two of us dining and our food was served in various courses with one course of dumplings that were great. We ordered a bottle of Chilean wine for a very reasonable additional cost. Our tour hosts have provided us with excellent restaurant choices.
Visitor 7: "just ok…"
The dancing was interesting but the food was just ok and I don't think worth what they were charging. I was hoping for something more interesting. Not the worst night out, but not necessarily a must!