Wander in Distinctive Bar Street and Take A Sip
Xian is not only an ancient capital, but also a dynamic modern city. Local young people incline to revel in the leisure and comfort of several bar streets, as one of the must-do things after busy day life.
Defu Lane:
With a total length of less than one kilometer, Defu Lane is an ancient street that already existed in Sui and Tang dynasties. Its name is full of Chinese flavor, but the architecture is in European style. Both sides of the lane are bristling with cafes, bars and teahouses, with Petty Bourgeoisie feelings. Defu Lane reflects a way of entertainment for young people, and their attitudes towards life.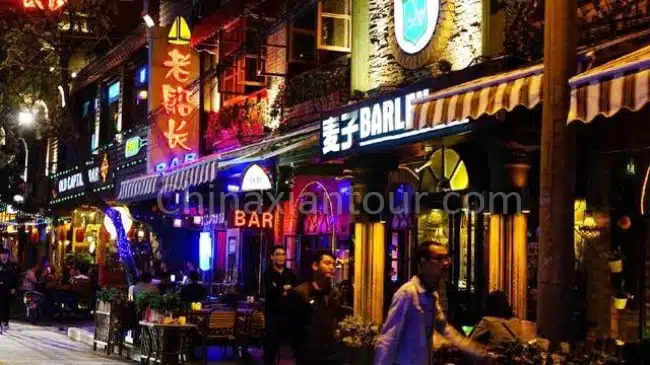 Waiyuan Bar Street
It means the street at the back of the old campus of Xian International Studies University. Each bar is not big, but very delicate. The business atmosphere is not too strong because it is around the school, consequently, the price is relatively cheap. Most of the customers are students from other country, so people can often hear different foreign languages, which renders an exotic and more lively temperament.
Datang Tongyi Fang
The street is 327 meters long and 60 meters wide, which is built in a Tang dynasty style cultural courtyard. With exquisite design, strong sense of layering, it not only highlights the overall characteristics of the building, but also shows the individuality. There are courtyard bar, cafe and tea house, meanwhile it integrates leisure, entertainment, culture as a whole of Xian's new fashion. Ancient Tang style elements are perfectly embodied here.