Foping Panda Valley
Pandas , as the cutest national treasures, impressing all people with their irresistible beauty and loveliness. Where is the nearest place from pandas to Xiaan people? Fo Ping. Unfortunately, it did not become a signature of Shan'xi's tourism. There are to place we can see pandas, one is Panda Base of Chengdu, another one is Fo Ping of Shan'xi province, which is a lost hometown of pandas. Pandas in Si Chuan look like bears while the pandas in Qinling of Shan'xi look like cats which are more beautiful and are honored as "beauty in national treasures".
The introduction to the Foping Nature Reserve Administration
It is located at Fo Ping town, the southside of Qinling. Lu Ban Village, is the highest mountain with 2904 meters in altitude. There is almost 1900-meter's difference in altitude in the administration and also 1580 higher plants and 265 higher animals there. Foping Nature Reserve Administration is majorly to protect pandas and other wild animals as well as their living forest. Northwest is higher than southeast in the reserve administration. It joined in " The World Network of Human and Biosphere Protected Zone" and also won the certification of "Green Globe21". It was approved of being the typical biodiversity base by China Biodiversity Protection Fund. It is also one of the three protection zone which are directly governed by the central government in about two thousand natural protection zones.
The name of the attraction: Foping Panda Canyon
The entrance fee:60 yuan
Features of the attraction: pandas+ wild golden-haired monkeys+ Golden Pheasant
Foping Panda Canyon
Foping , the northernmost habitat of pandas on the earth, is honored as "a place where has best hope for pandas to survive and multiply ".
The distribution density of Foping pandas in the wild is the biggest in the whole country. In the central area of the reserve administration, there is a panda in each 2.5 square kilometers on average (0.4/sq.km). Of course, these wild pandas is not so easy to see. Foping pandas are certified as Ailuropoda melanoleuca qinlingensis. Compared with Sichuan pandas, Qinlin pandas, with their round head, looking more like cats, are more beautiful.
Traffic tips:
-Start from Han Zhong: from 7:10am-16:40fm, there is a bus from Hanzhong bus station to Foping every 50 minutes. The journey is about 4 hours and the fee for it is 30.5 yuan. -Start from Xi'an: from Shui Si bus station to Foping, 4-hour journey, 63yuan/per one.
Self-driving:
1. Xi'an—Xi Han highway—Foping exit—the scenic spot
2. Xi'an—Xi Han highway—Lao Yu Kou—Guanzhong loop line—Mazhao—Black river forest park—Ban fang zi— the scenic spot
There are some pictures of pandas in Sichuan Pandas base
What happened to the baby pandas in the middle?
The black part of their coat seem to fade ……
We are big girls! We can take milk by ourselves!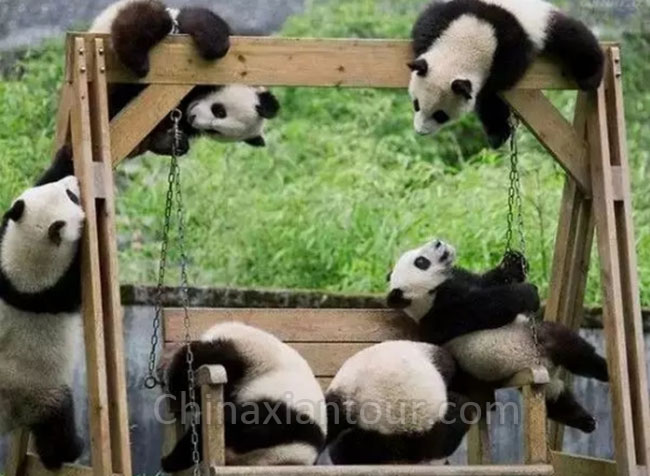 It is really interesting! I just climbed on the top, am I cool? Join us!
Tom! A gentle man will not fight with girls, right? Apologize to Lily, right now!!!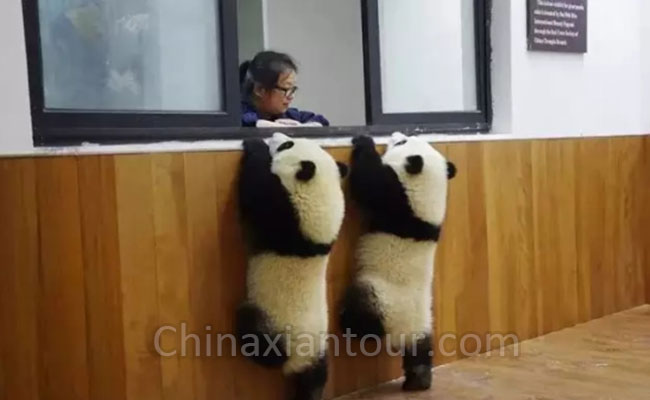 -Excuse me? Two ice cream, please?  -I would like to strawberry……  -I would like to vanilla…… -Thank you!