Huxian County
Huxian County nearby Xian is well known as the hometown of peasant painting and the country culture. In the past years with effort of local government and villagers, Huxian County is increasingly matured as a country culture resort. Many tourist groups interested in folk culture choose to visit Huxian County for half to one day. In Huxian County tourists could appreciate peasant paintings exhibition, learning paper cutting, visit local primary school, watching dragon-lion dance, have lunch in local family, etc.
Huxian peasant painting is an important folk painting in Gunazhong Plain. The first peasant paintings was born in 1950s and from 1970s on, peasant painters in Huxian County committed to improve their painting skills so the peasant paintings becomes increasingly delicate. And since 1970s, Huxian County peasant painting is gradually known across China. Now Huxian is one of the most influential hometowns of peasant painting in China and also the model of the national country cultural construction program. Subjects of Peasant paintings in Huxian are mainly person figures, domestic animals and plants. The peasant painters could always create paintings to show their dreamful hometown in old days which full of pastoral scene. The paintings are painted with traditional ink and writing brush but full of imagination. The striking color contrast, brilliant colors, and exaggerated visual impact always impress visitors very much. The farmer artists may also create a painting on spot.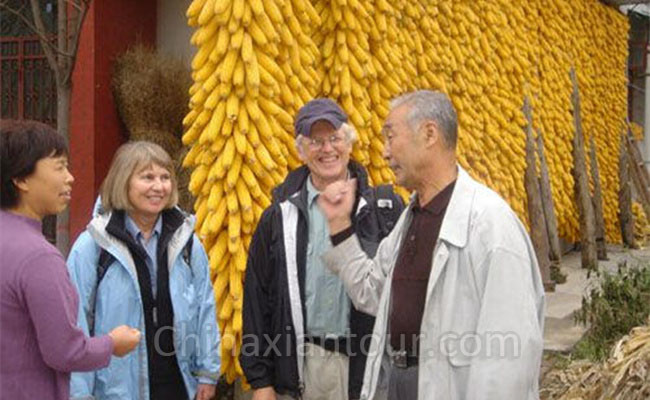 Visit a Peasant Family in Huxian County
Paper cutting is a traditional art of Chinese people. In past when Spring Festival comes, people decorated houses with colorful paper cuttings and when one gets married, a red paper cutting of double happiness 囍 is the must-have till today. If have interest, local ladies will give a paper cutting lesson and tourists could create their own double happiness. In local peasant family yard, a short dragon-lion dance is full of local taste and tourists could try the dance in person.
If visit the county in school semester periods, a visit to local primary school tourists will see the current situation of local school and communicate with pupils. Surrounding the school is the pieces of farmland which is grown with wheat from Mid October to Early June, and from late June to Early October the field may be either bared or grown with corn. In different seasons tourists will see different scenery. Not far from the school are villages. The rows of farmer houses look not neat from afar. And in the houses lived those peasant artists. In busy farming period they work in the field to grow corns for material life and in free farming season they hold painting brush instead of farm tools in hand to create spirit treasure.
After the visiting time in gallery in the morning, upon request the family will treat visitors with authentic farmhouse dishes at noon. The dishes may are much less delicious than the ones in restaurant and hotel, but tourists will have the most authentic country tour experience. If one wants to learn more about current country life, a visit to local primary school will enable you to talk with local pupils face to face and learn about the current education situation in countryside. Although the language barrier will obstruct the communication, the breakdown simple English vocabulary will express their friendliness to all visitors. In opposite of the primary school gate is the large pieces of farmland in which wheat are grown. Taking a walk along the edge of farmland to breathe the freshest air and see Chinese traditional farming method will be unforgettable experience in ones country tour.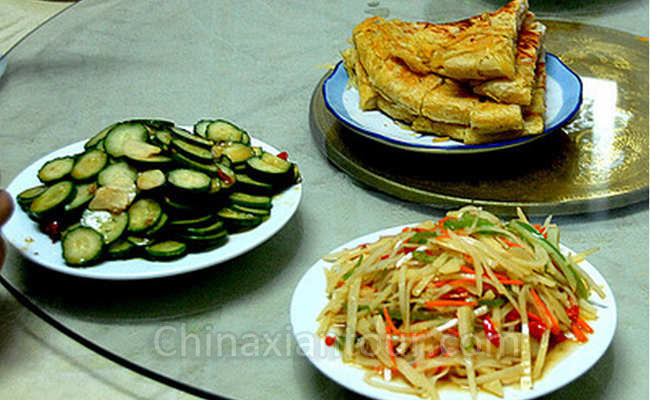 Local Peasant Family Food
Entrance fee: free
Opening hours: All Day
Public transportation: rent a car or by taxi
Tours including Huxian County:
One Day Country Tour to Huxian County
Find more related tours by clicking here.