The East Lake at Fengxiang
The East Lake at Fengxiang, located in the east of the Fengxiang County, Baoji City, is called the "Pool for Phoenix to Sip Water" in ancient times. It is said that at the beginning of the reign of King Zhou Wen there were phoenix flying over the Yong and nestled to sip water here, hence the name of the lake. In the sixth year(1061) under the reign of Jiayou, Emperor Renzong of the Northern Song Dynasty Su Shi, the famous man of letters advocated to dredge and expand the lake when he was at his post as an official in charge of literary works of the Fengxiang Prefecture. Conducting water into the lake from the Phoenix Spring to its west he planted lotuses in the lake and willows along the shore and built pavilions and bridges for tourists with its name changed into the East Lake to match the sister lake for the West Lake in Hangzhou.
The East Lake at Fengxiang, covering an area of 16 hectares, is divided into the outer and inner two parts. While the lake abounds with green lotus Leaves to shun the red flowers the shore is lined with dangling weeping willows. Aside from the aforesaid, the lakeside is dotted with strange rockeries, green bamboo-thickets and waterside arbors and pavilions. All of them are marvelously laid out with winding paths to lead to secluded areas, featuring the archaic elegance of the art in Chinese architecture of China's ancient timer. With the "Gentlemen Pavilion" standing at the core of the lake center scenic area the lake surface presents a connected trinity and with other towers intermingled among them to set off the shore and the beach, it is now reputed as a brilliant pearl on the loess plateau.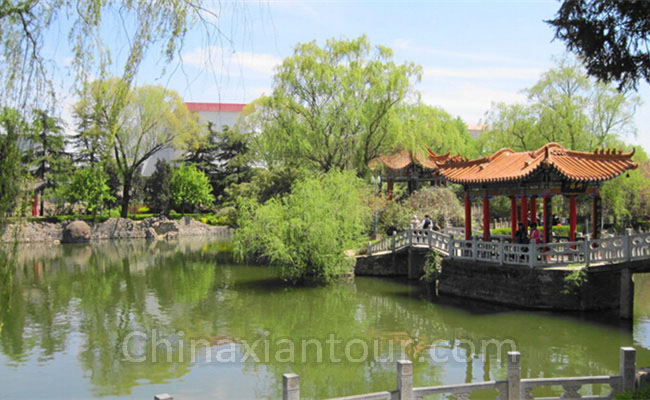 The East Lake at Fengxiang