The Main Features of Hukou Waterfall
Hukou Waterfall is the national 4A scenic area. As an attraction lies on the border of Shanxi and Shaanxi Province, Hukou Waterfall is 350km to Xi'an and 387km to Taiyuan.
"Hukou" in Chinese means spout of the water kettle. The waterfall here was named so because in the waterfall area the original 300m wide Yellow River is narrowed to 20-30m side. The water velocity in the waterfall area is 1000m3/s and the cliff that bears the waterfall is 20+ meters high. Yellow River is the 2nd largest waterfall in China and the largest yellow waterfall in the world.
The Hukou Waterfall features many fascinating waterscapes for instance: smoke-like mist rising from 1he bottom of the water while the boat is going along the dry land and you'll see rain-drops in a fine day and rainbows without haze or mist. When the torrential waterfall rushes down it strikes up mists to rise into the sky, which looks very much like thick smoke rising up from underwater and you can see the strange scape even at a distance of some five kilometers away.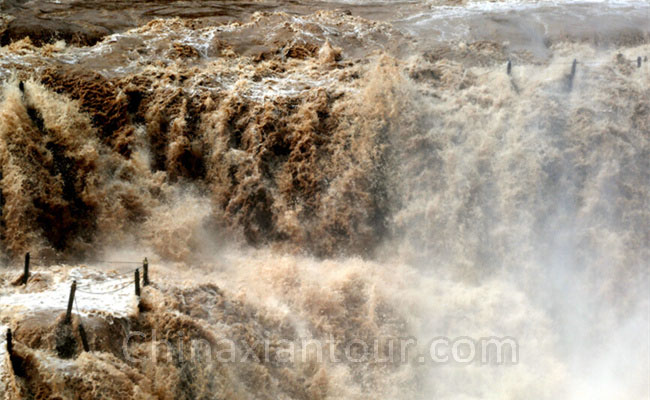 Hukou Waterfall
When the mist rises into the sky it refracts the sunshine in different ways, forming various shapes of rainbow in the air, sometimes shaping like an arc plunging from the sky directly down into the water, it seems to be long dragon playing above the water; and sometimes like a colored ribbon lying over waves whereas at some other times there appear from among the thick mists piles of silk brocades. The sudden change of the waterscape presents no fixed form, making you feel strange and puzzled, being charmed away. The suspended waterfall cascading and splashing produces loud roars as thought they were peals of thunder in the sky, which can be heard even at a distance pf several kilometers away.
The Hukou Waterfall presents different scenes along with the changing of seasons of the time. In spring when the ice begins to thaw, the icicles falling down cracking as though they were the breaking up of the mountain and the earth or the rumbling of guns and peals of thunder. In the rainy season of summer the torrents of water rush on with yellow waves rising into the air, the waterfall extending as wide as some 100 meters with mists seen over an area of a dozen of kilometers around. The winter brings the ice and snow to the area and the waterfall are decorated with myriads of icicles. Clad in silvery white the area becomes even more charming and fascinating.
Opening time: 06:30-19:00
Advised visiting time: 2 hours
Entrance fee: CNY100 per person
Tours including Hukou Waterfall:
One Day Hukou Waterfall Tour from Xian