Yuanjia Village
Yuanjia Village is located in the hinterland of Guanzhong plain in Shaanxi province, more specifically, Liquan County around 60 kilometers from Xian. Yuanjia Village can be mainly divided into two parts emphasized on different function. One is Guanzhong customs, and the other is Happy Farmhouse. Due to the primitive scenery and folk culture here, Yuanjia Village becomes one of ten most beautiful villages in China. It is also a national AAAA level scenic spots. Take a one day trip to Yuanjia Village for local food and folk culture is loved by quite a few food and culture lovers.
Driving one hour from Xian, we can arrive at Yuanjia Village, a place to feel the history of Guanzhong area and the idyllic life of local people that is akin to the 1950s and 1960s.
Yuanjia Village used to be a backward place. However, the village cadres and all the villagers are working hard together to build their home into a village that mainly develops the ecotourism industry. They set up a Guanzhong style street where tourists can experience the special local customs and try snacks, which shows the evolution of rural life in Guanzhong since Ming and Qing dynasties.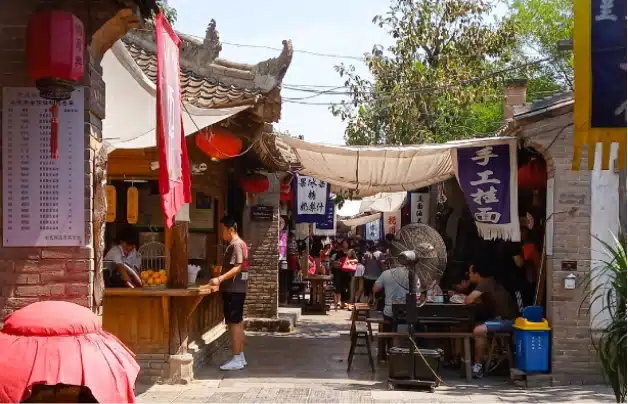 stroll on the ancient-style alley that full of various foods made in traditional way. You can also see and experience milling flour, weaving cloth, making vinegar and grinding soybean to make Tofu (Bean Curd) with some kinds of traditional appliances. Stepping on the antique flagstones makes you involuntarily admire the Qing architecture with great Guanzhong flavor. Take a walk to the modern-style alley, where you can find two orderly rows of buildings. Blended with ancient and modern styles, the buildings look ancient in appearance but modern inside with complete equipment.
Surrounded by rich historical and cultural resources, Yuanjia Village is also a good place for people who takes interest in Chinese history. Zhaoling Tomb of Emperor Taizong of Tang dynasty, 10 kilometers away from Yuan Village, is the first batch of nationally cultural relic protection unit, and the largest imperial cemetery in the world.