Spinach Noodles
Spinach noodle, a traditional food prevailing over Shaanxi, with its easy-cooking methods but rich nutrition, wins great favor in this region. This special noodle has a long history. It had originated from a noodle-cooking way in Tang Dynasty—"Huai Ye Leng Tao", a cooking method specially reserved for royalty and nobility that mixes both leaves of pagoda trees and wheat flour together into dough. Later, this cooking method was applied and developed into a new type by the folk women— Spinach noodle. They substitute spinach for leaves of pagoda trees which limited strictly by seasons and created spinach noodles.
Actually the exact cooking method is not complicated. There just is one more step for it compared with common noodles cooking.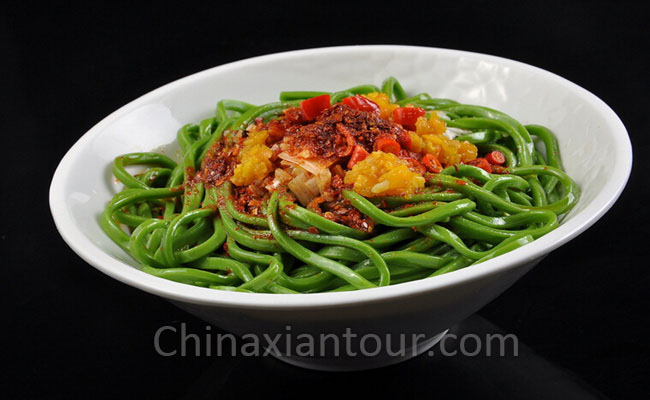 Spinch Noodles
The first step, throw away the bad parts and roots of spinach away and clean it up. The second step, blanch the clean vegetables in the boiling water added a little salt and oil. The additives are there for a better looking of spinach—greener and more beautiful.
The third step, cut the spinach into small pieces and put it into juicing machine. Of course, this step is not necessary. The small pieces of spinach can also be mixed with flour directly. The forth step, mix the wheat flour and spinach juice together and make them dough and knead it until it becomes smooth and non-sticky.
The fifth step, roll out the dough and then cut it into noodles.
The sixth step, heat the noodles and make some sauce or dishes to your taste. Put condiment into noodles and the sauce or dishes on the noodles.
As we know that spinach is famous for its nutrition value. Because of the rich vitamin it is named "King of vegetable" and it tends to be recommended to the peoples who are suffering from diabetes, hypertension and constipation. Therefore, the spinach noodle wins its fame not only for good look but also valuable nutrition.