The Great Tang Noodles
The noodle flavored with a layer of minced meat is a kind of traditional snack food prevailing in Xian and its rural areas. Long and finely made in shape with fragrant and delicious minced meat the noodle seasoned with chilli oil and vinegar-pepper broth is good for both the aged and the young.
The noodle seasoned with a layer of minced meat is said to have been developed on the basis of the "Long Life" or "Longevity" noodle, which prevailed in the ancient Tang Dynasty in tile Northern Song Dynasty there ever appeared in tile market special restaurant selling such noodles and the Ming Dynasty found Gao Lian jot down the relevant ways of making the noodle in his writings entitled "Zun Sheng Ba Jian" in Chinese. Therefore, if the aged have it that means the "long life" for them and if the young take it on birthday it implies the best wishes for them to live a long and prosperous life.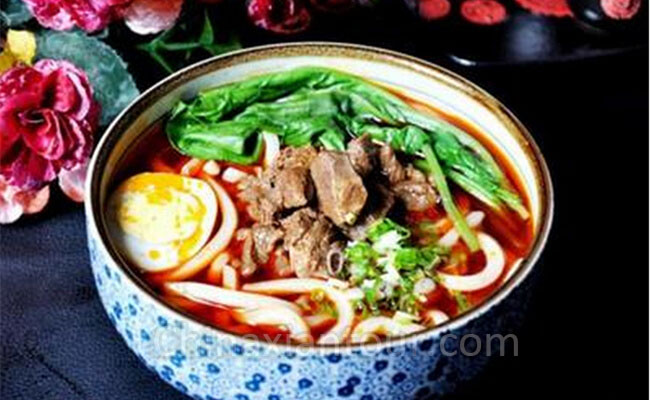 Great Tang Noodle
The special feature in making the minced meat noodle is that: Its broth is thick, and the noodle especially long and finely made.
The thick broth refers to that the minced meat is well cooked, in which the meat with skin is cut finely into tiny dices. Get a frying pall ready lot stirring fry the minced meat together with heady ginger and able amount of clear water into it, and when the meat is almost well done cook it by adding into it a pinch of salt, day lilies, black fungus, bean-curd and other vegetables fresh in season till it becomes thick.
The long noodle means that noodle is made especially long. The first thing is to mix water into the flour, make it into dough, and let it ferment for a while. Next knead the dough again and again until it is stiff enough to make noodles. Then cook the noodle in boiling water and drain well. At last, pour the prepared broth over the noodles. Special attention must be paid to ensure the noodle is as long as possible and not unbroken.