Different Ways to Explore Mt. Huashan
To begin with, the driving time from Xian downtown to Huashan usually lasts about two hours. To explore Huashan, there are general 4 routes regarding to Mt. Huashan trip for you to choose. By the way, it is necessary to be noted that the shuttle bus and cable car to north peak respectively cost 20 and 80 RMB for single way. In contrast, it's 40 for shuttle bus and 140 for cable car to the west peak, both for single way as well. In addition, the driving time of shuttle bus to north peak takes 20 mins, and 40 mins to west peak.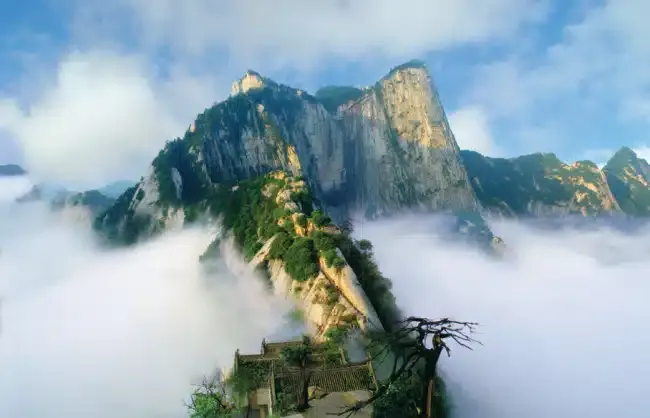 The following is the detailed information of different routes.
The 1st one is ascending the mountain by shuttle bus & cable car from north peak, the lowest peak with an altitude of 1614 meters. And eventually hike back to north peak for the same line to descend. It requires traveler strong in physical condition if you would like to finish all peaks. Along the hiking way, you will pass by some mini spots like Memorial Pavilion, Black Dragon Ridge, Five Clouds Peak, Golden Lock Pass(2~3 hours to Golden Lock Pass). Then if you continue hiking to east, you will see Landing Phoenix Pavilion, Yaozi Fanshen, Yanggong Tower and so on(40 mins to east peak). Arriving at east peak(2096 meters), you can continue going upward to south peak(40 mins) which is the highest about 2154 meters. Then go downward to west peak(40 mins), along which there are Heaven Watching Pool, Stone Hill, Zhenyue Palace and Lianhua Terrace. If you don't want to hike that much you can directly walk to middle peak (2037 meters), to which takes 30 mins from east peak, and then come to west peak (30 mins). Finally, you need to hike back from Golden Lock Pass to the north peak for returning(more than 3 hours). This route is popular for those who loves hiking as it has the longest hiking way and takes the longest time. Meanwhile, the overall cost is also the lowest about 380 RMB(including admission ticket).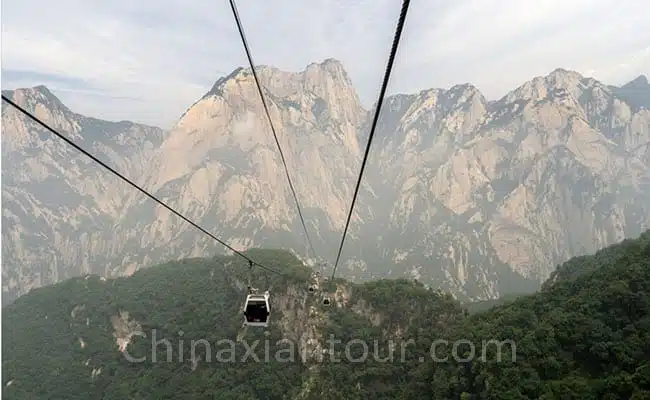 The 2nd route is going up from west peak and down from north peak. If taking this route, you will avoid walking the same short section(from Golden Locak Pass to north peak) compared to the 1st route, and also view the most beautiful scenery of Mt. Huashan in the west peak. Moreover, the cable car to west peak is much more thrilling, which is recommended except for those who have severe acrophobia. For older people this route is not the perfect one, since descending north peak takes more downward steps, which will hurt knees. The mini sites along the way to south peak (40 mins) will include Lianhua Terrace, Zhenyue Palace, Stone Hill, Heaven Watching Pool. Then you go downward to middle peak(30 mins), passing Heavenly South Gate, Golden Lock Pass(20 mins from middle peak), Five Clouds Peak, Heavenward Ladder, Juxian Platform, etc, and arrive at north peak(2~3 hours from Golden Lock Pass). The cost for this way is 460 RMB in total(including admission ticket).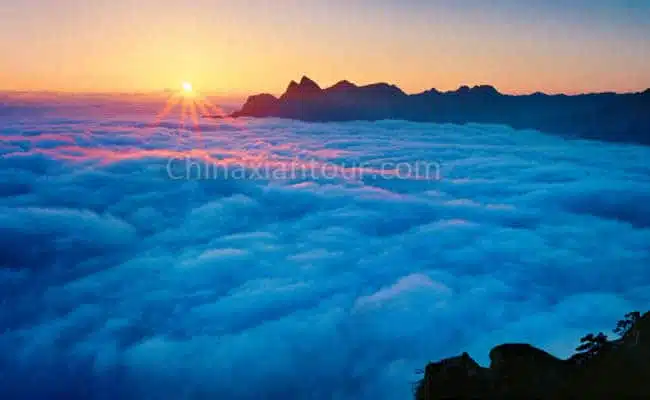 The 3rd route is cable car up to north peak and descend from west peak. By this way you will take a bit more upward steps from north peak, but you can also experience high-altitude cable car of west peak. The mini sites awaiting you will be not much different from those along the 2nd route. It takes 2~3 hours to Golden Lock Pass from north peak, and then 40 mins to east peak, 40 mins to west peak or 20 mins to middle peak from the Pass. If you want to go sightseeing at the south peak, you can either hike upward from east one(40 mins) or middle one(30 mins), and finally go back to west peak(40 mins). By the way, the cost is 460 RMB(including admission ticket).
The 4th route is round way to west peak by cable car. This is a choice suitable for those who are in weaker physical condition, like elders and children. It also takes the lest time to finish hiking unless you choose to go for all five peaks. Generally, you start exploration from west peak, then you can optionally hike upward to south peak(about 40 mins), downward to middle peak(30 mins) and eventually get back to west peak(30 mins). Or you can go downward to Golden Lock Pass(40 mins), upward to east peak(40 mins), pass middle peak(30 mins), then get back to west peak(30 mins). Above all, this way makes it inaccessible to several mini sites at the lower height, yet is lest time-consuming route to explore Huashan. The overall cost amounts to 540 RMB(including admission ticket).
Many people are so excited to do a Xian tour to Mt. Huashan when seeing some pictures of the Huashan or reading some relative blogs, however, they might not know how to visit it properly based on their own conditions. Please read the content here carefully to get the idea about the real ways to visit Huashan.