Lanzhou Travel Guide
Lanzhou, situated in the heart of Gansu Province in China, is a fascinating city known for its rich history, stunning natural scenery, and unique culture.
As the capital city of Gansu Province, Lanzhou is a hub for transportation, commerce, and industry.
This vibrant city boasts a mix of modern and traditional architecture, with historic landmarks such as the Yellow River Mother Sculpture and the White Pagoda Park blending seamlessly with modern skyscrapers and shopping centers.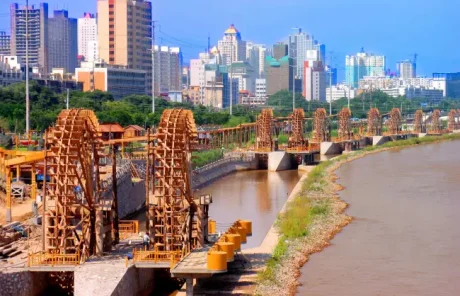 Chinese: 兰州 lán zhōu The Capital City of Gansu
Location: Central Gansu
Population (urban area): 4,359,000
Why Visit Lanzhou?
Lanzhou is rich in history and culture, offering visitors a chance to explore the region's fascinating past.
The stunning natural scenery of Lanzhou, including the Yellow River and surrounding mountains, is a must-see for nature lovers.
Lanzhou is known for its unique cuisine, such as Lanzhou beef noodles and Liangpi, offering visitors a chance to taste local delicacies.
The vibrant nightlife scene in Lanzhou, with its bars, clubs, and night markets, is perfect for those looking for some after-dark entertainment.
Zhengning Road Night Market
Top Things to Do in Lanzhou
Take a boat ride on the Yellow River: A boat ride on the Yellow River is a great way to experience the region's natural beauty and learn about the river's importance to the region.
Hike to the top of the White Pagoda: The hike to the top of the White Pagoda is well worth the effort, offering stunning views of Lanzhou and the surrounding mountains.
Cycle along the Yellow River: Rent a bike and cycle along the banks of the Yellow River, enjoying the scenic views and fresh air.
Try local street food at the Lanzhou Night Market: This bustling market is a foodie's paradise, with vendors selling everything from grilled lamb skewers to cold skin noodles.
Explore the Bingling Temple: This magnificent Buddhist temple complex is carved into the cliffs along the Yellow River and features stunning grottoes and sculptures.
Lanzhou Weather
Lanzhou has a semi-arid climate with four distinct seasons. The summers are hot and dry, with temperatures averaging around 25°C to 30°C. The winters are cold and dry, with temperatures averaging around -5°C to 5°C. Spring and autumn are the best times to visit Lanzhou, with mild temperatures and comfortable weather for outdoor activities.
Lanzhou Transportation
Lanzhou is a transportation hub in northwest China, with various options for getting to and around the city.
Getting to Lanzhou
By Air: Lanzhou Zhongchuan International Airport serves both domestic and international flights, with direct flights to major cities in China and other Asian countries.
By Train: Lanzhou Railway Station is one of the largest railway stations in China, with high-speed trains and regular trains connecting Lanzhou to major cities in China.
By Bus: Lanzhou has long-distance bus stations that offer bus services to nearby cities and provinces.
Getting around Lanzhou
By Taxi: Taxis are a convenient and inexpensive way to get around the city, with metered fares and plenty of taxis available.
By Subway: Lanzhou has a modern subway system with several lines connecting different parts of the city. The subway is clean, safe, and affordable.
By Bus: Lanzhou has an extensive bus network with many routes and stops throughout the city. Buses are a cheap way to get around, but they can be crowded during peak hours.
By Bike: Lanzhou has a public bike-sharing system, with bike stations located throughout the city. Biking is a great way to explore the city and get some exercise.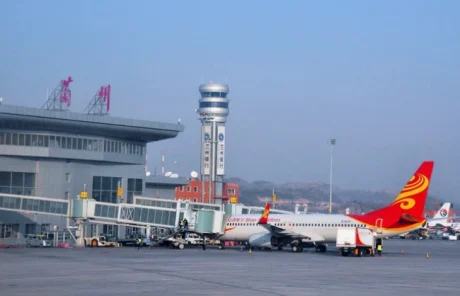 Tips for Traveling in Lanzhou
Be prepared for the weather: Lanzhou has a semi-arid climate with hot summers and cold winters. Make sure to bring appropriate clothing and sunscreen, especially during the summer months.
Try the local cuisine: Lanzhou is known for its delicious beef noodles and other local specialties. Don't miss the chance to try some of the local food at the night markets and restaurants.
Respect local customs and traditions: Lanzhou has a rich history and culture, and it's important to be respectful of local customs and traditions. For example, when visiting temples or other religious sites, dress modestly and remove your shoes.
Stay hydrated: Lanzhou can be dry, especially during the winter months. Make sure to drink plenty of water and bring a reusable water bottle with you.