b.Two days tour
Visitors can have a deeper tour of the core scenic. For example, visiting Golden Whip Stream, Huangshizhai, Ten-mile gallery and other scenic spots are a good choice to appreciate the great workmanship of nature.
c. Three days tour
If you have three days in Zhangjiajie, you can not only have a deep tour in the core scenic spots of Wulingyuan Scenic area, but also visit other tourist attractions such as Fenghuang Ancient Town or Zhangjiajie Grand Canyon, both of them can be reached by convenient transportation.
d. Four days and more days tour
If you have enough time in Zhangjiajie, we also offer the service of making a personal tour in Zhangjiajie according to your own preferences and interests.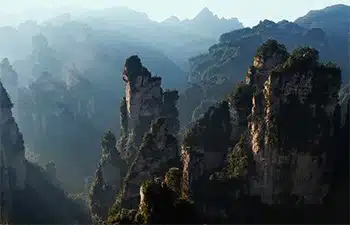 B. What are you interested in or what is your tour type ?
a. Family Trip
If you plan a family trip for Zhangjiajie, we highly recommended that you can go to some attractions equipped with convenient public transportation and advanced tourist facilities, which are available for all ages tourists to visit, such as the Zhangjiajie National Forest Park, Yuanjiajie Scenic Area, Tianmen Mountain or Fenghuang Ancient Town.
b. Gourmet Food Trip
The food in Zhangjiajie is one kind of typical Hunan Cuisine, which is famous for its sour and spicy flavor. If you have a trip in Zhangjiajie, the popular specialties Sanxia Guo and Smoked Blood tofu cannot be missed. They are very common dishes in Zhangjiajie, so you can eat it in any restaurant. And the kiwi-fruit juice is also popular in Zhangjiajie, so you can have a try after a meal. There are also some traditional ethnic food for visitors to taste, and if you want to eat the more authentic local food, Miao Village around Fenghuang Ancient Town is the best choice for you.
c. Historical Trip
Visitors who are interested in ancient architectures and cultures cannot miss visiting Fenghuang Ancient Town built in 1704, the 43rd year of the reign of emperor Kangxi of the Qing dynasty, which is one of the ten cultural heritages in Hunan province. And the Miao Village is also a tourist attraction for you, where visitors can experience authentic life custom and know traditional culture of Miao people. In addition, visitors here can not only enjoy the unique ethnic songs and dances of the Miao people and taste traditional food, but also buy some handmade silver products or embroidery and other souvenirs with ethnic characteristics.
d. Adventure Trip
For person who is adventurous, there is no denying that the Yangjiajie Scenic Area is the best tourist destination for you. It is mainly well-known for the primitive and beautiful scenery and steep mountains. The scenic area is not fully open and developed yet, so some sections of the road have no cement pavement or stone steps, but there is sand-gravel road that can pass through. It takes about 5 hours to visit the scenic spot on foot, which definitely is an activity physical fitness demand. And the Oolong Village is used to be the place where bandits lived. So the road is not easy for most visitors. In addition, taking a walk on glass bridge of Zhangjiajie Grand Canyon or glass skywalk of Tianmen Mountain is also a challenging activity that needs enough brave to have a try.
e. Photographer Trip
The natural landscape of Zhangjiajie is magnificent and breath-taking, so visitors can take beautiful pictures in almost every scenic spots. But where you must visit and take a photo is the "Hallelujah Mountain" of Yunajiajie Scenic area which is the prototype of Avatar. Yellow Dragon Cave is also a must-visit place, where there is a typical karst landform with the amazing and unique view inside the cave. Visitors in the cave can appreciate different kinds of fantastic stalagmite, stalactite, small caves and other great workmanship of nature. In addition, taking photos on the glass bridge or glass skywalk is a popular activity for visitors.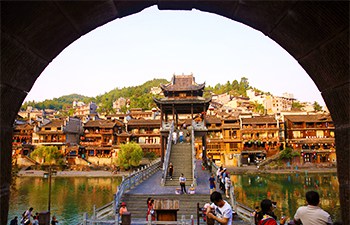 C. What is your travel budget?
a. If your trip is low- budget, we highly recommend that you can take part in any group tour and live Youth Hostel, which not only can help you save money, but will also help you make some new friends who have the same hobbies.
b. If you want to have a better travel experience, you can choose to rent a car and driver, make a personal travel plan and live in a luxury hotel during the days you stay in Dunhuang, which is more comfortable and free than taking part in a group tour.