Beijing, the capital of China, is a renowned ancient capital with about 3000 years history. It is not only the key city of politics, economy and culture, but also the ancient strategic center. Nowadays, Beijing is one of the most popular travel destinations which attracts hundreds of thousands visitors all over the world to come each year. In Beijing, there are two international airports and a number of direct international flights, which make Beijing become a considerable convenient entry city for foreign visitors. During your trip in Beijing, you would visit historical and splendid ancient architectures, get to know extensive and profound Chinese culture and taste exquisite and delicious food.
Geographic Position: in Northern China (115.7°— 117.4°E, 39.4°— 41.6°N)
Climate: monsoon-influenced temperate continental climate (cold and dry in winter, hot and rainy in summer)
Nearby Airports: Beijing Capital International Airport (PEK) , Beijing Daxing International Airport (PKX)
Nearby Railway Stations: Beijing Railway Station, Beijing East Railway Station, Beijing South Railway Station, Beijing West Railway Station, Beijing North Railway Station.
Learn more about Beijing at Beijing Facts: 10 Things You Didn't Know about Beijing.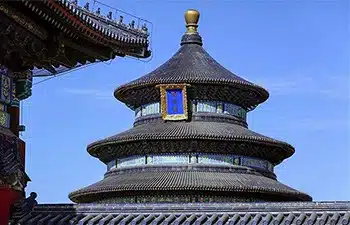 Chinese: 北京 Běijīng
Population (urban area): 21.58M (2018)
Area: 6,336 sq miles
Airport: PEK, PKX
Zip code: 100000
Time Zone: GMT+8
Top Things to Do in Beijing
Here are some top things to do in Beijing for tourists, which may help tourists have a better travel experience in Beijing.
Travel to renowned tourist attractions, such as the Great Wall, Forbidden City, Tiananmen Square and other must-visit attractions we highly recommended above.
Try to taste local snacks of Beijing, such as the Beijing Roast Duck, Fried Sauce Noddle, Sugar coated haws on a stick, Mongolian Hot Pot and so on.
It is a nice choice for tourists to watcha Beijing Opera performance in theatre or some tea house. Beijing Opera is regarded as the quintessence of Chinese culture. In the past time, the oversea performance of leading opera star Mei Lanfang contributed to eliminate the prejudice against Chinese opera and even Chinese people in the west at that time.
If you want to have an in-depth tour and full understanding of the hutong culture, you can not miss the rickshaw ride. Rickshaw is a two-wheeled passenger vehicle pulled by human labor. Visitors can take it when they tour hutongs and have a chance to enjoy the hutong life.
Read more about 10 Great Places to See Snowy Scenes in Beijing
What to Eat in Beijing
Roast duck is a famous Beijing dish with a world reputation. It originated in the southern and northern dynasties of China and was an imperial food at that time. Beijing roast duck is made of high-quality meat duck and roasted over charcoal fire with fruit wood. It has a golden look, fat but not greasy meat and tender with a crispy crust. People usually eat duck with other two types food: lotus leaf shaped pancake and hollowed sesame pancakes. People could also add some sweet bean sauce, green onion, cucumber strips and roast duck slice or garlic paste, soy sauce, cucumber strips and roast duck slice on the pancakes, then wrap the pancake and eat it.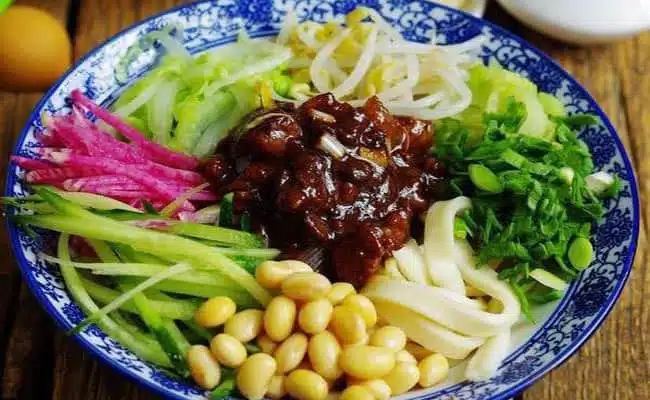 Shredded Pork with Sweet Bean Sauce 
Pork shreds with sweet bean sauce is a well-known dish, which is one of the classic representative dishes of Beijing cuisine. Lean meat of pork is the main ingredient, and supplements are sweet bean sauce, scallion, ginger and other condiments. It is cooked with the special cooking techniques of north China. The dish is very popular due to the moderate and unique flavor, and Chinese people usually eat it with pancake or rice.
Noodles with soybean paste
Noodles with soybean paste is a traditional Chinese style pasta, which is popular in Beijing, Hebei, Tianjin and other places. It is made by fried soybean sauce, noodles and different cut vegetable such as cucumber, Chinese toon, bean sprouts, green beans. People can also add condiment such as chili, vinegar to adapt to personal appetite.
Sugar-coated haws on stick
Sugar-coated haws on a stick is a traditional Chinese snack, which is made by the wild fruit with bamboo stick into a string and dipped in maltose syrup until cooled. It is the common snack of northern cities of China in winter, which tastes refreshing, sweet yet tart. It also has many the functions like whetting appetite, nourishing skin, eliminating the fatigue, clearing heat.
Copper pot shabushabu is an authentic Beijing dish with mutton as the main ingredient. The meat must be fresh, and people boil meat while boil many kinds of vegetables such as Chinese cabbage, coriander, spinach, tofu, silk noodles at the same time.