Located in a warm continental monsoon region, Beijing is characterized by a semi-arid and semi-humid climate, with four well-defined seasons, mild and fickle springs, stuffy and scorching summers, refreshing and cool autumns, cold and dry winters.
The annual average high & low temperature of Beijing usually fluctuates around 31ºC (87.8ºF) and -6ºC (21.2ºF) respectively. July is considered the hottest and wettest month of the year, with maximum precipitation of 185 mm. Beijing in January is coldest, getting the lowest temperature of -8ºC (17.6ºF).
As far as Beijing weather is concerned, the period between September and October serves as the best time to visit Beijing when tourists could enjoy an agreeable and comfortable climate. In addition, the months from March to May in spring are good choices to have an incredible exploration of Beijing.
Beijing Seasons – Temperature & Clothing Guide
Spring (March to May)
The weather in Beijing in spring is mild, windy, and changeable, with a large temperature difference between day and night. In early March, the weather in Beijing is relatively chilly, and the temperature fluctuates at 3-15ºC (37.4-59ºF); then it gradually climbs to around 30ºC (86ºF) by the end of May.
What to wear in Beijing in Spring
A thick windbreaker and a woolen sweater are necessary clothes to wear in Beijing in spring. It is very likely that the yellow sand sweeps over Beijing in early spring, which will cause severe air pollution. So, a filter mask is essential.
Recommended Spring Activities in Beijing
The appealing scenery and pleasant climate make spring a good time to travel to Beijing for some wonderful activities, like hiking to Mutianyu Great Wall, shooting cherry blossoms in Yuyuantan Park, appreciating peach flowers in Beijing Botanical Garden…
Summer (June to August)
Beijing weather in summer is scorching and muggy, with the temperature ranging from 30ºC to 40ºC (86-104ºF). July, the hottest month in Beijing, brings the highest rainfall of the year. The high temperature will continue in August; while by late September, the weather starts to gradually cool down.
What to wear in Beijing in Summer
Due to the hot and sunny weather, T-shirts, linen shorts, chiffon dresses are suitable clothes to wear in Beijing summer. Besides, sunglasses, a sun hat or a parasol, and sunscreen are indispensable items when you go out.
Recommended activities in Beijing in Summer
Normally, we do not recommend playing outdoors at midday due to the harsh weather. Try to visit some cool attractions, including Beijing Aquarium, Beijing Capital Museum, Gubei Water Town and Simatai Great Wall.
Autumn (September to November)
September marks the beginning of autumn in Beijing when the city is blessed with breezy and pleasantly cool weather. Temperatures are usually at the range of 14-26ºC (57.2-78.8ºF). However, as of mid-November, a cold snap hits and Beijing temperature plummets, sometimes dropping below 10ºC (50ºF).
What to Wear in Beijing in Autumn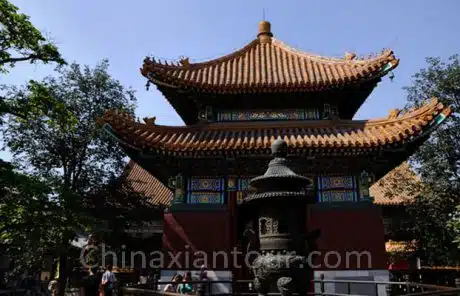 Long-sleeved shirts and casual jackets are appropriate clothes to wear in Beijing between September and October. While you also need to pack some warm clothing such as thick sweaters to protect against the coldness.
Recommended Autumn Activities in Beijing
Autumn is the best time to visit Beijing, which allows tourists to appreciate unique natural paintings composed of layers of red maple leaves at Fragrant Hill Park and Badaling National Forest Park, as well as yellow ginkgo leaves at the avenue of Yonghe Temple.
* Tip: China's National Day Holiday from October 1st to 7th is the peak tourist season that you should avoid as there will be a large influx of tourists into Beijing during this period.
Winter (December to February)
Beijing weather becomes frigid and dry in winter, with the coldest month falling in January. The mean temperature ranges from -8ºC (17.6ºF) to 6ºC (42.8ºF), occasionally dropping below -10ºC (14ºF) if it snows. There are cold winds blowing from the deserts of the north, causing small-scale dust storms that greatly reduce city visibility.
What to wear in Beijing in Winter
Anti-dust masks, scarfs, down coats, padded jackets, and thick sweaters are good items to pack when traveling to Beijing in winter. Remember to bring hand cream and lotions to keep your skin moist.
Recommended Winter activities in Beijing
Take pictures of the Forbidden City decorated with pure snow; enjoy the happiness of skating at Shichahai; warm up with hot spring bathing at Gubei Water Town; feel the speed and passion at Huaibei Ski Resort…