Hangzhou Travel Guide
Nestled along the southeastern coast of China, Hangzhou seamlessly blends tradition and modernity, captivating visitors with its stunning natural beauty and rich cultural heritage. With its enchanting West Lake as the centerpiece, framed by lush hills and adorned with historic pagodas and gardens, this picturesque city offers a harmonious blend of ancient wonders and contemporary attractions. From ancient temples and traditional tea plantations to vibrant art spaces and bustling shopping districts, Hangzhou invites you to embark on a captivating journey. Whether you seek a tranquil retreat surrounded by nature or an exciting urban adventure, Hangzhou's timeless charm and vibrant energy are bound to leave you mesmerized. Join us as we explore the treasures and uncover the hidden gems of this captivating destination.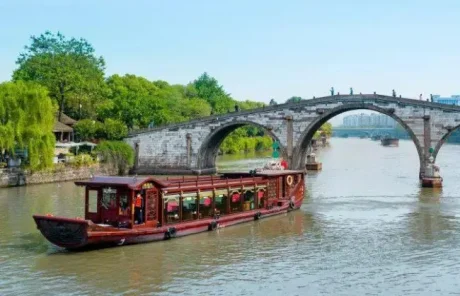 Chinese: 杭州 háng zhōu
Location: Southeast Zhejiang
Population (urban area): 12,376,000
Why Visit Hangzhou
Enchanting West Lake: Experience the allure of Hangzhou's iconic West Lake, with its serene beauty, scenic surroundings, and romantic boat rides.
Rich Cultural Heritage: Immerse yourself in Hangzhou's history and traditions through visits to ancient temples, historic streets, and cultural landmarks like the Six Harmonies Pagoda.

Longjing Tea Plantations

: Discover the art of tea production in Hangzhou's lush Longjing tea plantations, where you can enjoy tea tastings and learn about China's tea culture.
Stunning Pagodas: Admire the beauty of Hangzhou's pagodas, including the graceful Leifeng Pagoda and the majestic Liuhe Pagoda, offering panoramic views of the city and its surroundings.
Delicious Cuisine: Indulge in Hangzhou's renowned cuisine, known for its delicate flavors and specialties like Dongpo pork, beggar's chicken, and silky-smooth West Lake fish.
Hangzhou's "Heavenly City": Uncover the inspiration behind the city's nickname, "Heavenly City," as you witness the breathtaking scenery, tranquil atmosphere, and the sense of serenity that Hangzhou exudes.
Top Attractions in Hangzhou
Top Things to Do in Hangzhou
The captivating Hangzhou offers an array of activities to cater to diverse interests and preferences. Immerse yourself in this cultural haven with the following highly recommended experiences:
Enthralling Performances:
Immerse yourself in the world of artistic brilliance with Hangzhou's renowned cultural shows. The mesmerizing "West Lake Impressions" takes center stage, an open-air spectacle set against the backdrop of the stunning West Lake. Produced by the award-winning director Zhang Yimou, this captivating performance combines music, dance, and mesmerizing lighting effects. Additionally, the "Legend of Song Dynasty Show" showcases the history and legends of Hangzhou through impressive sets, costumes, and special effects.
Discover Quaint Water Towns:
Uncover the charm of Hangzhou's neighboring water towns, picturesque ancient villages built alongside enchanting canals and rivers. Embark on a short journey to Wuzhen, Xitang, or Nanxun, and immerse yourself in their preserved traditional architecture, cultural heritage, and unique rural lifestyles. Stroll along stone bridges, visit museums and temples, and experience the authentic beauty of China's countryside by taking a leisurely boat ride along the winding waterways. Read more about China's Top 9 Water Towns
Step Back in Time at Qinghefang Old Street:
Travel back in time as you wander through the enchanting Qinghefang Old Street. Dating back to the Southern Song dynasty, this pedestrian street offers a nostalgic ambiance with its historic buildings, quaint shops, traditional teahouses, and delectable restaurants. Indulge in a shopping spree for souvenirs, handicrafts, and local specialties. Immerse yourself in cultural performances such as puppet shows, opera acts, and folk art demonstrations. As the sun sets, experience the lively nightlife of Hangzhou at Qinghefang Old Street, where its vibrant atmosphere comes alive.
Unveil Traditional Industries:
Delve into the rich history and cultural significance of Hangzhou's tea, silk, and Chinese medicine industries. Satiate your curiosity by visiting the acclaimed museums dedicated to these traditional crafts. The China National Silk Museum provides a fascinating insight into the intricate silk production process. The China Tea Museum is an educational haven where you can explore the art of tea-making and partake in tea tastings. For those intrigued by traditional Chinese medicine, the Huqing Yutang Chinese Medicine Museum offers an immersive experience with exhibits, demonstrations, workshops, and classes.
Explore Hangzhou's Buddhist Heritage:
Immerse yourself in the serenity of Hangzhou's Buddhist heritage by exploring its exquisite temples, pagodas, and statues. The grandeur of Lingyin Temple, one of the world's largest and wealthiest Buddhist temples, will leave you in awe. Venture inside to discover its halls, pagodas, and a grotto adorned with centuries-old rock carvings of Buddha. For panoramic views of the surrounding landscape, ascend the five-story octagonal Leifeng Pagoda, which stands proudly overlooking the captivating West Lake. These spiritual landmarks are a testament to Hangzhou's historical and cultural roots.
Wander Through the Enchanting West Lake Wonderland:
Prepare to be enchanted by the natural beauty of West Lake, a scenic gem that embodies the essence of Hangzhou. Explore its picturesque gardens, idyllic islands, graceful bridges, elegant pavilions, and tranquil pagodas. Each spot within the West Lake area has its own captivating story and charm. Admire the ethereal beauty of the Three Pools Mirroring the Moon, traverse the enchanting Broken Bridge, stroll along the scenic Su Causeway, and ascend the peaceful Solitary Hill. With each season and time of day, the vistas of West Lake transform, offering an ever-changing and breathtaking spectacle.
Read more about Top Things to Do in Hangzhou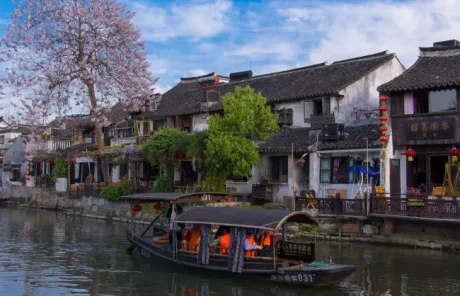 Recommended Hangzhou Food
Hangzhou's culinary scene is a delightful fusion of flavors, offering a diverse range of dishes that are fresh, light, delicate, and undeniably delicious. Here are some of the must-try Hangzhou delicacies:
Stewed Fish Head with Tofu in Casserole:
Experience the heartwarming flavors of tender fish head and silky tofu simmered in a comforting casserole. This beloved Hangzhou dish is perfect for winter, combining textures and seasonings for a nourishing culinary delight.
Fried Shrimps with Longjing Tea:
Immerse yourself in the exquisite blend of flavors found in this traditional Hangzhou delicacy. Fresh river shrimps are expertly stir-fried with fragrant Longjing tea leaves, creating a tantalizing dish with a crispy exterior and a subtle sweetness infused by the tea.
Sweet and Sour West Lake Fish:
Discover the pinnacle of Hangzhou's gastronomy with the iconic sweet and sour West Lake fish. Fresh fish from the picturesque West Lake is delicately cooked, retaining its tender and succulent nature. The sweet and tangy sauce, crafted with vinegar, sugar, soy sauce, and starch, elevates the natural essence of the fish to create a symphony of flavors.
Dongpo Pork:
Indulge in the legendary Dongpo Pork, a culinary masterpiece named after the renowned poet and gastronome Su Dongpo. Tender cubes of braised pork belly offer a harmonious balance of fatty and lean layers, showcasing Hangzhou's culinary prowess and leaving a lasting impression on every palate.
Hangzhou Weather
Hangzhou boasts a distinctive humid subtropical climate, characterized by its four distinct seasons. The city enjoys an average annual temperature of 17°C (62°F) and receives an average annual precipitation of 1,141 mm (45 inches). With an average annual humidity of 76% and an abundance of sunshine, averaging at 1,765 hours per year, Hangzhou offers favorable weather conditions for visitors. Notably, the city maintains generally good air quality, with an average AQI (Air Quality Index) of 66.
Hangzhou welcomes travelers throughout the year, but the most enchanting and popular seasons to explore the city are spring and autumn. Spring adorns Hangzhou with its most picturesque landscapes, where West Lake flourishes with blooming peach blossoms and vibrant willow trees. The crystal-clear lake sparkles under the gentle sun, creating a captivating sight. Autumn, on the other hand, graces Hangzhou with its finest weather. Mild temperatures and relatively dry conditions create an ideal setting for an enjoyable and comfortable travel experience.
Hangzhou Transportation
How to Get to Hangzhou
By Air:
Hangzhou Xiaoshan International Airport (HGH) is the city's sole airport, located 27 km (17 miles) east of downtown Hangzhou. It offers flights to around 100 domestic cities and 40 international cities. From the airport, you can take a taxi (100-120 yuan, 40 minutes), an airport shuttle bus (15-30 yuan, 50 minutes to 1.5 hours), or metro line 1 (3-10 yuan, 1 hour) to reach your destination.
By Train:
Hangzhou has three main railway stations, with Hangzhou East Railway Station being the largest and busiest. It serves high-speed and bullet trains to various domestic cities. From the railway stations, you can take a taxi (30-40 yuan, 20 minutes), a bus (2-5 yuan, 30 minutes to 1 hour), or metro line 1 or 4 (2-6 yuan, 20 minutes) to reach the city center or transfer to other metro lines.
By Bus:
Hangzhou has multiple long-distance bus stations offering services to neighboring cities and provinces. From the bus stations, you can take a taxi (20-30 yuan, 15 minutes), a bus (2-5 yuan, 30 minutes to 1 hour), or metro line 2 from Hangzhou Coach Center or line 4 from Hangzhou North Coach Center (2-6 yuan, 20 minutes) to reach the city center or transfer to other metro lines.
Metro:
Hangzhou boasts a comprehensive metro system with five operational lines: 1, 2, 4, 5, and 16. This network conveniently connects major attractions like West Lake, Lingyin Temple, and Xixi Wetland Park. The metro offers fast, affordable travel, with fares ranging from 2 to 9 yuan (0.3 to 1.4 USD) based on distance. Operating hours are from 06:00 to 23:00.
Bus:
With over 300 bus lines covering the entire city, Hangzhou's bus system is extensive and reliable. Buses run frequently, providing comfortable and economical transportation options. Fares typically range from 2 to 5 yuan (0.3 to 0.8 USD), depending on the bus type. Some buses are air-conditioned and equipped with English announcements. Payment can be made using cash or a transportation card.
Taxi:
Taxis are a convenient and flexible choice for navigating Hangzhou, particularly during nighttime or when carrying luggage. Taxis are readily available at airports, railway stations, bus stations, and on the streets. The initial fare is 11 yuan (1.7 USD) for the first 3 km (1.9 miles), followed by an additional 2.5 yuan (0.4 USD) per km (0.6 mile). A 20% surcharge applies to night trips between 23:00 and 05:00.
Bike:
Cycling is a popular and eco-friendly way to discover Hangzhou, particularly in the scenic areas surrounding West Lake. Enjoy the freedom to explore at your own pace, taking in the picturesque views and fresh air. Bike rental stations are available throughout the city, usually requiring an ID card or passport for renting. Daily rental fees range from 10 to 20 yuan (1.5 to 3 USD). Additionally, shared bike apps like Mobike or Ofo offer convenient bike rentals at a rate of around 1 yuan (0.15 USD) per hour.