Best Huangshan Tours 2020/2021: Mt. Huangshan and Hongcun Village Travel Experience
Huangshan Mountain (also called Yellow Mountain), listed on World Heritage-Mixed Property, is the symbol of Huangshan City's tourism. As one of "Ten Noble Mountains in China" and "The First Grotesque Mountain in China", Huangshan enjoys the loud reputation mainly with "Four Wonders": pine trees and rocks in peculiar shapes, sea of clouds and hot spring. Together with the Hongcun and Xidi Village around which demonstrates Chinese idyllic scenery and Hui culture, Huangshan mountain is always a popular subject for ancient painters and poets as well as photographers today.
How Do I Plan My Huangshan Tour?
You can have a trip to Huangshan with 1 day to 3 more days, mainly depending on your time and interest. A Huangshan day tour by cable cars takes you quickly catch Huangshan Mountain's essence on the top while 2-3 Huangshang tours by cable cars or hiking by foot bring you an in-depth thrilling experience to capture the life-time moments on this noble mountain such as sea of cloud, sunrise and sunset.
Besides, the picturesque folk villages around Huangshan, Hongcun Village, Xidi Village, Chengkan Village, Tangmo Village…are highly suggested to visit after your Huangshan trip. The ancient villages sitting against the background of hills and waters harmoniously depicts an elegant picture, plus the typical Hui-style folk dwellings inside and naughty children chasing each other on the stone-paved path addicting more and more travelers and photographers.
What's more, Buddhist Jiuhuashan Mountain and Taoist Qiyun Mountain are ideal places for Chinese culture or mountain hiking goers.
Huangshan Extended Tours: China Huangshan Tours 
There are convenient high speed trains shuttling daily from Shanghai, Hangzhou and Suzhou to Huangshan, perfectly enabling you to enjoy a Shanghai Huangshan tour, Hangzhou Huangshan tour and Suzhou Huangshan tour.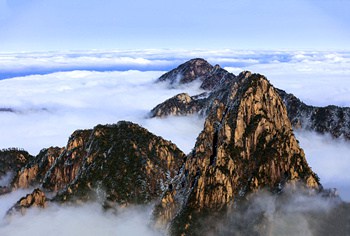 Mount Huangshan, also named Yellow Mountain, is one of the most famous mountains in China. Here, you can fully enjoy hiking either by cable car or pure walking, and appreciate the gorgeous natural scenery with incredible peaks as well as spectacular-shaped rocks. This 4-day winter vacation tour will...
---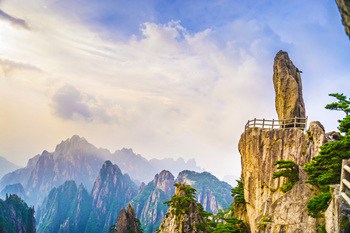 Jingdezhen, reputed as "the capital of porcelain" in China, has a long history of manufacturing porcelain. It is an excellent tourist city in China. With more than 2,000 years of smelting history, 1,000 years of official kiln history, and 600 years of imperial kiln history, it is a cultural city wit...
---