Best Huangshan Tours 2023/2024: Travel to Huangshan Mountain
Join in our Huangshan tours to explore one of the most beautiful and notable mountains in China, following our expert bilingual guide to seeking its "four wonders": strange pines, absurd stones, sea of clouds, and hot springs.
A Huangshan trip is far more than hiking Huangshan mountain and absorbing the natural beauty. Around the mountain, there are several ancient villages like Hongcun Village and Xidi Village which will feast your eyes with countless elegant and time-honored Hui-style houses, and calm your soul with their peaceful life.
The following Huangshan tours are designed to cater to people with different styles and needs, including private tours and group tours, one-day trips and multi-day tours, Huangshan hiking tours, tours with Hongcun or Xidi Village, hot spring tours, and tours to nearby cities like Jingdezhen, Shanghai, Suzhou, Hangzhou, Zhangjiajie, etc.
How to Plan a Huangshan Tour?
Visiting Huangshan in different seasons will reward you with different sightseeing. In Spring it is green, covered with different flowers; in Summer, the pine trees are at their most vibrant, it is more possible to encounter the sea of clouds; Autumn is a good time to appreciate stunning red leaves; in Winter after a snowfall, the whole mountain area is just like a fairyland.
How many days to stay in Huangshan?
You can plan 1-3 days for a Huangshan tour, depending on your time, and interest, since the whole Huangshan Mountain Scenic Area consists of over 50 peaks.
2 days is recommended mostly to cover both highlights along Front Mountain (Western Path) and Back Mountain (East Path) and enjoy the magnificent sunrise and sunset.
The 1-day trip is also possible, just need to start your trip very early, and take cable cars up and down.
3 days more is good to appreciate Huangshan at leisure and visit some nearby ancient villages for the unique Hui-style architecture and culture.
Scroll down to see our Huangshan tours of different categories: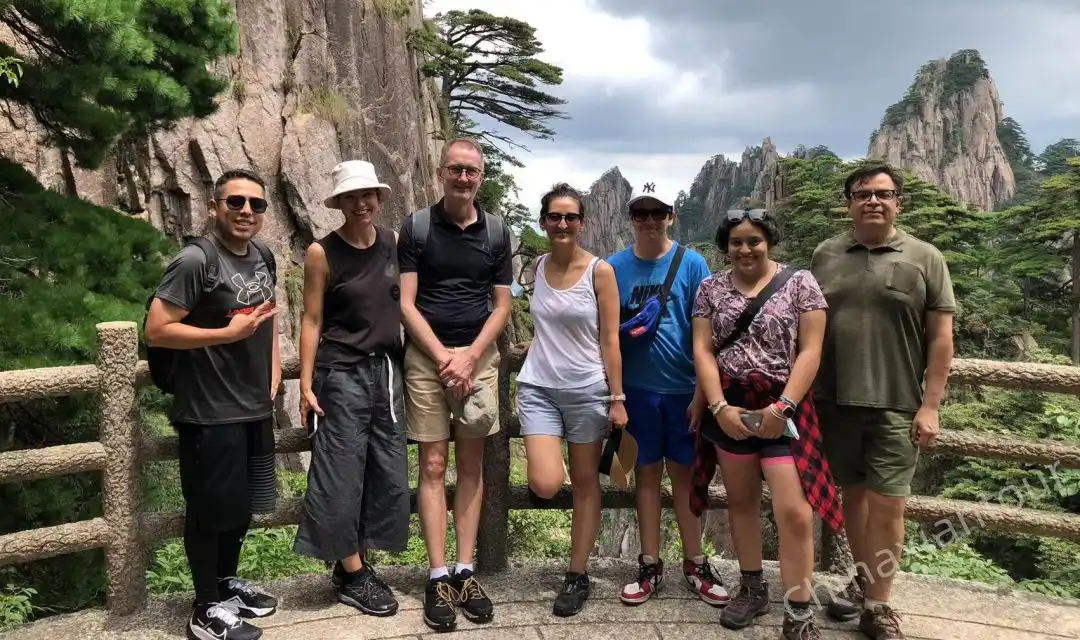 Explore the best attractions of either Huangshan Front Mountain or Back Mountain by joining the following classic Huangshan itineraries. We can help you to plan a Huangshan trip of 1-5 days to fit your energy condition and time schedule. And surely, the nearby ancient villages with traditional Hui-style architectures and centuries-unchanged rural lifestyles will also be included. All the tours are customizable, and we can organize many interesting activities according to your interest, including hiking, photography, countryside life and cultural experience, rural sightseeing, etc.
Huangshan Tours with Ancient Villages
Covering the cultural and natural essences of Anhui Provinces, the following short (1-4 days) yet top-rated Huangshan tours will offer you a glimpse of sublime granite peaks and fairy-tale cloud sea on Mt. Huangshan, and a tour to some antique villages, including Xidi, Hongcun Villages, where Hui-style architectures and daily life has remained unchanged for centuries. We have various themed tours to cater to travelers of different styles – families with kids, photographers, hiking lovers, and people who are keen on authentic village culture and life.
Huangshan Small Group Tours
On these Huangshan small group tours, you will travel with like-minded people to marvel at the magnificent peaks and sea of clouds, explore ancient buildings and Hui culture in the nearby villages.
China Tours including Huangshan
These are popular China tours to Huangshan and many other landmarks of China. Any of the tours will take you to savor the awesome scenery of the UNESCO-listed Huangshan and witness its "four wonders": weird rocks, odd-shaped pines, fantastic peaks, and hot springs. Beyond that, we also have tours covering Hongcun and Xidi Villages where you can admire ancient Hui-style architectures, and experience long-gone traditions and life, and extension tours to iconic places like Shanghai, Beijing, and Xi'an.
No Suitable Tour? Need Advice?